Sunset Rubdown : Shut Up I Am Dreaming
Spencer Krug is currently the most visible member of Wolf Parade, having played in Frog Eyes, starting the supergroup Swan Lake with Dan Bejar and Dan Mercer, and releasing albums under the name Sunset Rubdown. But aside from merely being busy, if his writing credits on Apologies to the Queen Mary were any indication, he's also the weirder of Wolf Parade's two leaders, Dan Boeckner taking a decidedly more "rock" route, if not necessarily a more straightforward one. Songs like "I'll Believe in Anything" and "You Are a Runner And I Am My Father's Son" gave some indication of the unusual, and wildly creative, places that Krug could go with his writing, but his new album with Sunset Rubdown, now a four-piece band, stretches his creativity even further.
Shut Up I Am Dreaming is a curious little album, one that never does the same thing twice, rarely sticks to a formula, evades any expectations and still comes out as a compelling whole, rather than ten songs randomly slapped together. What may initially sound like randomness begins to make sense in time, only because of Krug's flamboyant and theatrical approach. The most straightforward (and Wolf Parade-sounding) song on the record is strategically placed at track one. Titled "Stadiums and Shrines II," the opener comes like a waltz-time Bruce Springsteen anthem/ballad, and rocks, remarkably hard. His operatic bellow is immediately recognizable and comforting, a fitting voice for such a grandiose beginning, one filled with crashing guitars, wild soloing and ringing keyboard bells.
Just to show how unpredictable Krug can be, however, he follows the anthem with a sea shanty: the boppity, bouncy "They Took a Vote and Said No." "I'm sorry that I sang on your hands that have been in the grave," however, is a spooky baroque ballroom prance that finds Krug nearly whispering "carry on, carry on, carry on." Reverting back to a waltz on "Snakes Got a Leg III," Krug returns to playing rock music, if temporarily, with curious lyrics like "I've got a jacket/a coat full of contraband," when the lyrics are audible. The vocals often distorted throughout the course of the album, making deciphering them a bit more of a chore, but add to the album's mystery quite wonderfully.
My favorite track here may be "Swimming," beginning with an ominous piano sonata of sorts before bleeding into an eerie (a recurring theme on this record) art-rock romp. The vocals are still a bit obscured, but do wonders as a melodic device. The impending fear and haunted atmosphere comes to a climax in the final, sort of title song "Shut Up I am dreaming of places where lovers have wings," as Krug sings, "If I fall into the drink/I will say your name before I sink/but oceans never listen to us anyway." Ironic, then, that Sunset Rubdown unleashes an ocean of their own shortly thereafter, turning the eight minute track into a giant explosion of distorted rock before regressing into quietly strummed acoustic guitars and gently tapped piano.
There's a reason that Spencer Krug often draws comparisons to David Bowie. Not only is his songwriting flamboyant and his voice so unique, but he's proven himself to be just as versatile as the Thin White Duke, taking on fuzzy indie rock one moment and intricate, artsy lo-fi symphonies the next. If that's any indication of the future, then we should expect records of this quality from Krug for the next few decades.
Similar Albums:
Destroyer – Destroyer's Rubies
Wolf Parade – Apologies to the Queen Mary
Frog Eyes – The Folded Palm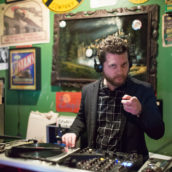 Jeff Terich
Jeff Terich is the founder and editor of Treble. He's been writing about music for 20 years and has been published at American Songwriter, Bandcamp Daily, Reverb, Spin, Stereogum, uDiscoverMusic, VinylMePlease and some others that he's forgetting right now. He's still not tired of it.