The Best Singles of the '00s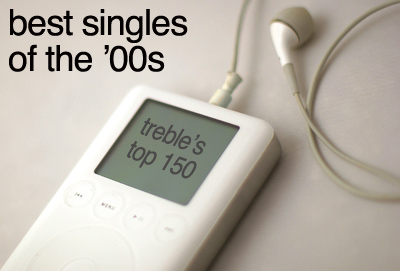 People have been talking about the demise of the album for as long as most of us have been cognizant of popular music. And yet, oddly enough, the art form hasn't bowed to the pressure or given in to the gossip. Yet as the '90s faded into the sunset, individual tracks became a bigger focus. We likely owe a lot of this to file sharing; when it's so easy to pluck that one song you can't resist from someone else's shared file, rather than buy in a bundle of ten or 12, human nature might compel you to do just that. At the same time, it's become a lot easier to send a friend a recommendation over Mediafire or Sendspace, rather than let him borrow that album that will never be returned. This may have led to more fragmented listening experiences, but it's also made musical exploration a lot more fun and fruitful in the process.
If we're really honest with ourselves, we've spent most of the decade on shuffle anyhow. One minute we want to hear hip-hop, some twee pop the next, and maybe some minimal techno after that. Why not hop around when there's so much great music to hear? It's that commingling of genres, often on a song-by-song basis, that made the past ten years unique. Where the '90s may have kept pop and the underground well segregated, these days you're just as likely to hear Beyonce at a hipster house party as you are the Arcade Fire at a hockey game.
In the process of assembling and voting for the best singles of the decade, it became apparent that even those of us with a strong predilection for one style over another still maintained a diverse array of sounds on one list. We feel this consensus does likewise, offering a sampling of 150 of the best sounds of the past ten years, from R&B to house to hip-hop and indie rock. We started with 100, expanded it to 125, and then decided to slap on 25 personal favorites after that. One thing's for sure, whether or not we covered as much ground as we had hoped, this makes for a damn good playlist.
"Whatever you do, don't tell anyone"
150. Queens of the Stone Age – "The Lost Art of Keeping a Secret"
(2000; Interscope)
Back in 2000, the Queens of the Stone Age were the best thing to happen to mainstream radio. Linkin Park and Limp Bizkit were kings of the rock dial, and the much-puffed-about garage rock revival had yet to happen. But somehow, through the mess of sports metal and grunge-lite came Josh Homme and his badass band of misfits, armed with C-sharp tunings, a heavy metal stomp and an irreverent sense of humor. "The Lost Art of Keeping a Secret" remains one of their strongest highs, juxtaposing chugging riffs with xylophone, hooks and a smile. Maybe I'm remembering this wrong, but this song alone made radio worth listening to ten years ago (well, at least until Kid A came along). Way to show `em the misfit love. – Jeff Terich
"Let peace and beauty reign"
149. Moby – "Spiders"
(2005; Mute)
It's hard to believe that Moby hasn't covered a Bowie tune because this is the most Bowie-esque single (not by Ziggy himself) ever recorded. It's hard to believe it's not Bowie—the lyrics, the sound it's all shades of the Thin White Duke. Moby's song is not only an ode, but ever since Bowie's recent and ongoing sabbatical, I would love it if one day Bowie turns his iTunes on random, and listening to "Spiders" is what inspires him to resurrect a third act to his influentially thriving career. (Don't worry, it makes sense, it's Bowie). I can imagine a thousand Bowie fans serenading the lyrics to "Spiders" outside of his New York City home. This is what I see when I spin "Spiders." After lifting the melody of "Heroes" in "We Are All Made of Stars," in this case Moby has crafted the ultimate tribute to Bowie's legacy. I love the lyrics: "Come back to us Spiders/ come un-crush my hand…" That image of un-crushing of the hands can be done magically with the return of Bowie. All is right in a world where Bowie can still sing for us. With "Spiders," Even though it was 2005, Moby had sent the message to the man himself, let's up he's still listening. – Adrian Cepeda
"I flipped an internal bitch"
148. Stephen Malkmus – "Baby C'mon"
(2005; Matador)
Steve Malkmus has always been an exceptional songwriter. In his near two decades of recording, Malkmus has more than proven himself equally capable of crafting gorgeous songs driven by anthemic melodies and coyly witty lyrics as he is of writing stellar, stoner-pop tracks, boasting killer riffs drenched in crunchy distortion. True to the slacker aesthetic he has come to symbolize, Malkmus has an inane ability of conveying incredible lethargy even when churning out masterpiece after damn masterpiece. So, when 2005's Face the Truth record yielded the lead single "Baby C'mon" it came as no surprise that the song came across as both immediately infectious and painfully effortless. What is different about this song from the rest of the Pavement/Malkmus canon is the balance the band is able to strike between the zany pop effort of the early Pavement records and the blues/guitar jam rock that Malkmus has been flirting with more recently. What the marriage achieves is a perfectly executed and well-timed bubblegum number, replete with a sprawling riff that seems to consist of about 50 notes. "Baby C'mon" is like the best song on Wowee Zowee, aided by ten more years of maturation and a refined understanding of how to pack in a lot of noise without exceeding a reasonable amount of time or becoming too wildly frantic and overambitious. – Ryan Agnew
"Solid good times"
147. Studio – "West Side"
(2007; Information)
In the last few years, Balearic came to be a buzzword that crossed the lips of countless folks who probably had a fifty-fifty chance of locating Ibiza on a map. That said, the influx of house-loving popsters, particularly in Scandinavia, has proven to be a particularly fruitful rush of new, amazing music. Studio, in particular, made a heady and alluring brand of dance pop, inflected with the darkness of post-punk. "West Side," which has no fewer than three versions (album, single, B-side) is one of the Swedish duo's coolest, riding a bass heavy groove that sounds almost like one of The Cure's early singles at half-speed. It's sexy and mysterious, but sends a missile straight to the pleasure zones, reaching a sensory stimulation peak with its echoing refrain of "solid good times." – Jeff Terich
"The champagne always tastes so much better, better"
146. Rachel Stevens – "Some Girls"
(2004; 19 Recordings/Polydor)
In the early half of the decade, the likelihood of a solo member of S Club 7 releasing something truly dynamite seemed about on par with Joey Fatone becoming N*Sync's solo breakout success. And yet, Rachel Stevens, with the aid of electro producer extraordinaire Richard X, pumped out a feisty single that took Goldfrapp's "Strict Machine" to its most glamorous, extravagant end. In its verses, Stevens projects a cool detachment, sounding sultry and just a little bit icy. But when the song erupts into its explosive chorus, out comes the diva: "Some girls always get what they wanna wanna/ all I seem to get is the other, other." In the wrong hands, this may sound like whining, but Stevens delivers it with just the right amount of fire. In fact, when she belts "you made a promise to make me a star!", she sounds downright pissed. And, well, here in the States she's still an unknown quantity, so maybe there's something behind that. Commercial success may be fickle, but with this jam, Stevens is pure gold. – Jeff Terich
"She's freaky and I like it"
145. Justin Timberlake – "Lovestoned/I Think She Knows"
(2007; Jive)
He's had bigger hits, but "Lovestoned/I Think She Knows" should have been JT's "Billie Jean." Disgruntled narrative, big-eyed wonder, creative guitar play that moves from comic noodling early on to a beautifully filtered break that splits the song from throat to waist at 4:55. Actually there's not many things this track isn't–it's a little nervy, a little sappy, a little hinky, a little funky, a lot over-the-top, in several ways centralizing all the diffuse, manic qualities of Futuresex/Lovesounds. Justin as shunned-idol may be a little bit of LOL, but "Lovestoned" is way better at it than, say, the more noticeable "What Goes Around/Comes Around"; by the end of it he's reduced to humming and muttering to himself and the beatboxing in the middle's totally forgiven. Ultimately it's like: if she knows and isn't doing anything she's a witch, burn her! – Anthony Strain
"It's a dizzy dance"
144. Jimmy Eat World – "Sweetness"
(2002; Dreamworks)
Jimmy Eat World released four amazing singles from their 2001 album Bleed American (whose title was one of the cultural casualties post-9/11, btw), and a strong case could be made for any of them being here, "Sweetness" is, simply, their most perfect song. Unapologetically emo, Jim Adkins belts "are you listening?," and follows it up with a recurring, six-syllable "whoa" that seems to carry more emotion in it than the questions and commands that precede it. It's not as angsty as "Bleed American," nor as motivational as "The Middle," but "Sweetness" is at least twice as big as those two songs combined, amplifying its impact with its start-stop patterns and driving rhythms. The one-note piano that enters during the coda only puts this alt-rock marvel over the top. "Sweetness" is a compelling force, completely futile to resist. So if you're listening, sing it back. Whoa. – Jeff Terich
"Tell me why it can't be true"
143. Air – "Cherry Blossom Girl"
(2004; Astralwerks)
As soon as the delightfully accented (though seemingly androgynous) vocal melted over swooning tides of acoustic guitar, we were smitten. The breezy, sexy second track off of 2004's Talkie Walkie is just shy of four minutes of cinematic wonder. Combining imagery as simplistically potent as 1998's "Teardrop" by Massive Attack, Air lend their usual dreamy touch to an infectious pop melody (with the help of a captivating arrangement by Michel Colombier) to create a classic French love story. With lyrics as primary as those found scribbled in a teenager's notebook—paired with soulful spells of nostalgic flute—Air's sweet tale of infatuation will leave you reminded of the softly exchanged whispers and promises of summer-long yearning. – Zeena Choudhry
"Wishing's just no good"
142. Robyn – "Be Mine!"
(2005; Konichiwa)
Sure, I was surprised. Who wasn't? A Swedish teen pop singer doesn't release a top 40 hit, disappear for the better part of a decade, then return with a mesmerizing set of D.I.Y. electro-pop and a new label named for a Wu-Tang Clan quote from a "Chappelle's Show" sketch without turning a few heads. Unexpected as it was, though, Robyn's 2005 return was one of the better things to happen in pop music in the last decade, not the least of reasons being her outstanding single "Be Mine!" Yes, that exclamation point is necessary; this isn't a humble request, it's a demand, albeit one that, perhaps, falls on deaf ears. With a striking string hook and an ascendant chorus splashed with delicious synth, Robyn coos her lovelorn lament, though there's not much of a happy ending: "You never were and you never will be mine!" The truth hurts sometimes, but it can also set you free. – Jeff Terich
"She sees red at night"
141. HEALTH – "Die Slow"
(2009; Lovepump United)
Going industrial is the best decision that HEALTH has ever made. Granted, they're still a pretty young band, and their chaotic self-titled first album was still pretty badass. But with "Die Slow," the Los Angeles group harnessed that destructive energy and funneled it into something much heavier and razor-focused. It's a sinister menace of a song, alluring but slightly terrifying, catchy but gnarly and discordant all the same. Yet even when the group reaches the song's gigantic, malevolent chorus, Jacob Duszik's vocals remain distant and airy, like a spectator to the carnage. I may elicit a few eye rolls when I say this, but listening to it for the first time gave me the same kind of rush I felt when I first heard "Head Like a Hole." Guess it only makes sense, then, that the group ended up opening for Nine Inch Nails shortly thereafter. – Jeff Terich