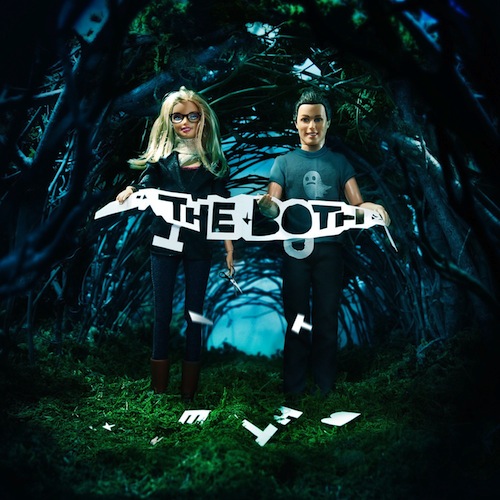 Buy at iTunes | Buy at Insound (vinyl)
No matter the combination, albums by big-name collaborators don't always turn out as promised. Take 2012's Love This Giant by Annie Clark (St. Vincent) and David Byrne (ex-Talking Heads). All signs pointed to the album being a funky post-punk showdown of epic proportions, but the end result sounded like a series of b-sides by either artist, over-saturated with horn parts and forced vocal harmonies to make the songs 'feel' like collaborations. 2009's Monsters of Folk suffered from similar shortcomings; bringing together the songwriting oomph of M. Ward, Conor Oberst (Bright Eyes) and Jim James (My Morning Jacket), only to offer some pretty lazy imitations of each singer's past work. Sure, these collaborations (and others like them) spawned some fun tours and allowed fans to see amazing musicians playing alongside one another; there's definitely value to that, but it doesn't change the fact that the resulting albums weren't very good.
But then again, plenty of collaborations work out well: featured guest vocalists, featured producers, even full-bands stepping in to back up the lead (Bob Dylan & The Band, Elvis Costello & The Roots, just to name a couple). So why is it that, whenever two prolific front-persons try to share the spotlight, the results often feel forced? Perhaps it's an unwillingness to share their best material; or maybe it's that the artists focus on having a good time together and don't have as much focus on the final product as they might when recording separately. After all, collaborations are often viewed outside the realm of both artists' discographies; we all know Rick James wrote and produced Eddie Murphy's "Party All The Time."
Given this long history of shortcomings, I hesitate to call The Both simply a collaboration between Aimee Mann and Ted Leo. In reality, regardless of either's past efforts, The Both is a new band in itself. For starters, there are no instrumental trade-offs on the record. Throughout the album's 11 tracks, Mann remains on bass (quite beastly, I might add) while Leo heads up guitar duties. The two split up vocals pretty evenly, but the songs still feel like they were written as a duo. There aren't "Ted Leo songs" and "Aimee Mann songs" here. These verses don't feel like they were drawn out of a hat of b-sides; the entire album offers a new approach, straddling a place between Mann's folk-influenced sensibilities and Leo's Mod Revival.
Much like D.C post-punk act The Evens, The Both provide a complicated perspective; they're still rambunctious indie rockers, but they've been matured by time, experience, and responsibility. There are still jams, but their appeal is more complex and calculated than standard garage rock. Likewise, rebellious messages stay in tact, but come across with an aged wisdom — raising questions more often than providing mantras. Furthermore, The Both is a consistent offering: 11 fine-tuned rock anthems that creep into your head in a way that only the strongest songwriting can.
Similar Albums:


The Evens – The Evens


Ted Leo and the Pharmacists – Shake The Sheets


Aimee Mann – The Forgotten Arm