The Clash : London Calling
It's fitting that Treble's Best of the '70s ends here. We may not have measured the entire decade as such, but after all was said and done, The Clash's monumental third album, London Calling was unanimously voted the best album of the decade. And it's no mystery why — it's the ultimate rock `n' roll album, skipping and hopping across genres, showing innovation and influence beyond measure. Mick Jones, Joe Strummer, Paul Simonon and Topper Headon were more than just punk rockers. They surpassed the constraints of the genre with this expansive double album, one that would put them in contention as, possibly, the greatest rock `n' roll band ever. And, quite frankly, their competition never stood a chance.
From the moment one sees the legendary image of Paul Simonon smashing his bass at the New York Palladium, that's when the experience with London Calling begins. The two-chord reggae punk of the title track then sucks the listener in, beginning a ride that speeds out of control over highs, then slows and coasts through lows, changing sounds and scenery with the greatest of ease. The Clash were taking rock `n' roll, not necessarily to its extremes (that was left for bands like The Birthday Party and Sonic Youth) but to the grandest heights it could possibly reach. If you're looking for the definitive rock `n' roll album, don't waste your time with The Stones or The Who. London Calling is what you need.
"London Calling," the song, is huge enough on its own that one hardly seems prepared for what's to come. Though friends of mine have often said it's far from the best song on the album, I'm inclined to partially disagree. It's one of my personal favorite songs and has been for some time. The melody, though simple, is as ominous and powerful as Strummer's apocalyptic visions. The song is a far cry from a celebration, and more of a doomed look at the world's impending doom:
"The ice age is coming, the sun's zooming in
Engines stop running and the wheat is growing thin
A nuclear era but I have no fear
London is drowning and I live by the river"
From there, however, the band moves away from their reggae influenced punk into rockabilly ("Brand New Cadillac") and lazy blues ("Jimmy Jazz") and ska ("Rudie Can't Fail"). One of the immediate highlights amid the first half of the record is "Hateful," a catchy, punk inflected bit of power pop with a bouncy rhythm and lyrics about a drug dealer: "Anything I want, he gives it to me/anything I want/he gives it but not for free." It is songs like "Hateful" where The Clash excels, for their combination of stellar songwriting and politics, of which Simonon said, "When people say that we're a political band, what they usually mean, I gather, is that we're political in the way of, like, left and right – politics with a capital 'P,' right? But really, it's politics with a small 'p,' like personal politics." And it's their examination of personal politics that made them so fascinating, as opposed to many of their peers that advocated anarchy or Communist ideals in song, but not focusing on anything really tangible. The Clash were, and don't get the wrong idea here, the people's band. They wrote songs that meant something on a more personal scale than merely saying "smash the state."
"Spanish Bombs," for instance, is about the Spanish Revolution, but not sung from a historical and observational perspective. The resulting song contains one of the band's most lovely melodies and some of their most memorable lyrics: "the hillsides ring with `free the people'/or can I hear the echo from the days of `39." And Mick Jones' delivery "Lost in the Supermarket" is an ironically emotional take on the banality of suburban life. His character "wasn't born," so much as he "fell out," empties a bottle and "feels free" and keeps the noises from "kids in the halls and pipes in the walls" as company. A more political, and for that matter "punk," side comes out on the standout "Clampdown," as Strummer sings "They put up a poster saying we earn more than you/when we're working for the clampdown," and later shouts, "Let fury have the hour/anger can be power!" In essence, it's a far more sophisticated and mature re-write of "Anarchy in the UK," albeit with an ultimately less nihilistic message.
It was also around this time that The Clash took on more experimentation with more internationally inspired sounds and textures, resulting in many reggae-tinged songs on the album. One of the most strongly dub-influenced songs is "Guns of Brixton," which is the only Paul Simonon-sung track on the album. "Wrong `Em Boyo" has a stronger ska influence, complete with a horn section. And the aforementioned "Rudie Can't Fail" also takes on ska, albeit with less a less traditional, more uniquely Clash sound.
But the second half of the album, be it a little more reggae heavy, still contains many of the band's best and most rocking songs. "Death or Glory," for one, is a cynical tale, yet one of Strummer's most lyrically humorous, taking the piss out of notions of fame:
"Every gimmick hungry yob digging gold from rock `n' roll
Grabs the mike to tell us he'll die before he's sold
But I believe in this—and it's been tested by research
That he who fucks nun will later join the church"
"The Card Cheat," with its triumphant piano and Jones' impassioned cries, is among the most anthemic and powerful here, a narrative about an actual card cheat who gets shot when the dealer catches him. A closer look shows that it's really about missed opportunities and regrets: "He only wanted more time/away from the darkest door/ but his luck it gave in/ as the dawn light crept in/ and he lay on the floor." And more reggae influence can be heard on "Lover's Rock," which delves into the subject of sexual equality.
Two of the greatest songs of the entire span of the album come at the very end. The first is the optimistic "I'm Not Down," a disco-punk rocker that revisits the time-tested theme of getting up when you're down and starting over from scratch. It's an anthem for the downtrodden if there ever were one, and one that I can personally find great inspiration from on my worst days. Jones sings with pride, "I've been beat up/I've been thrown down/but I'm not down/I'm not down." And the track that closes the album, "Train in Vain," stands as one of the best known singles from this era, and somewhat notorious for not actually being listed on the album's sleeve. Another one sung by Jones, it's a pure pop song, perfect in every way. From the beginning guitar pops to the harmonica hooks, this song is absolutely irresistible. And its lyrics also make for an interesting change of pace for the band, as it focuses on a broken relationship rather than social issues:
"Say you stand by your man
Tell me something I don't understand
You said you love me and that's a fact
Then you left me, said you felt trapped"
There's no doubt about it, London Calling is an exhausting listen, albeit an invigorating one. The Clash had plenty to say with this record, and not a moment is wasted. That's not necessarily the truth for their over-long 3-album set that followed, Sandinista. They never made an album as perfect as this again, and for that matter, neither did most other musicians.
On a more personal note, London Calling has always been one of my favorite records. But in a truly fucked-up twist of fate, my twenty-first birthday coincided with Joe Strummer's death. It bummed me out, certainly, but only adding to an already lousy birthday, my friends were all out of town for Christmas, and as such I had nobody to knock one back with, for the sake of toasting to Joe. I was inspired, however, to ensure that whatever I did with my life, it would have something to do with rock 'n' roll, because goddammit, Joe Strummer was rock 'n' roll.
Similar Albums/Albums Influenced:
The Jam – All Mod Cons
The Beatles – White Album
Television – Marquee Moon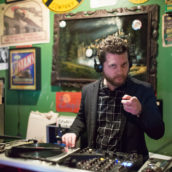 Jeff Terich
Jeff Terich is the founder and editor of Treble. He's been writing about music for 20 years and has been published at American Songwriter, Bandcamp Daily, Reverb, Spin, Stereogum, uDiscoverMusic, VinylMePlease and some others that he's forgetting right now. He's still not tired of it.