The First Annual Trebblie Awards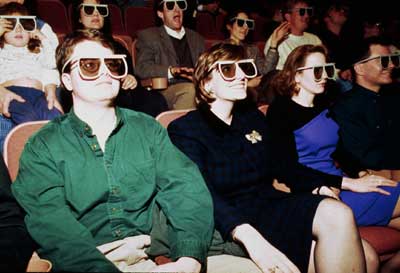 You've seen the Grammys. You've seen the Oscars. You've seen the Country Music Awards. What's that? You didn't? Well, neither did we. But, inevitably, if you watched any of these awards shows, you were disappointed. Lost in Translation losing to the damn Hobbit? Outkast got best album? Did those judges even hear that God-awful "Where are my panties?" bit?
Well, we here at Treble decided to give you our own list of awards for musical achievements in 2003. They're not categorized the way that the Grammys are, and they certainly aren't based on sales like the Billboard awards. Nope, what we have here is a series of awards given to artists who truly proved themselves as talented individuals. But there's no little gold statues, sorry. I hear those don't trade well at pawn shops, anyway.
So without further adieu, we give you the First Annual Trebblie Awards!
The Arist of the Year Trebblie:
Ben Gibbard
I think we all collectively agree here at Treble that Ben Gibbard can do no wrong. In one year, he managed to put out three records: The Postal Service's Give Up, Death Cab for Cutie's Transatlanticism and the Home EP, a split with the American Analog Set's Andrew Kenny. And they're all incredible at that. Gibbard showed his strength at writing danceable pop songs, heartbreaking epics and bite-sized acoustic pieces alike. Though he had some competition for this award (Ted Leo, TV on the Radio, Shins), Ben wins if for no other reason than he put out the most stuff (without any of it sucking, mind you). We commend you Gibbard. Keep up the good work. –JT
The "Feelgood hit of the summer" Trebblie:
Ted Leo/Pharmacists "Where Have All the Rudeboys Gone?"
Ted Leo can write a damn song. What's more, he can play a damn song. And "Where Have All the Rude Boys Gone?" is a damn good song. Really, this tune has it all: a catchy guitar hook, clever lyrics, a positive message, a transcendent coda and one of the best titles all year. Though it was never played on any commercial radio stations (surprise, surprise), "Rude Boys" was still the feelgood hit of last summer, and quite frankly, we can't get enough of it. – JT
The "Manta Ray" Trebblie for best b-side
Nominees:
Elliott Smith "A Distorted Reality is Now a Necessity to be Free"
Q and Not U "Book of Flags"
Nobody loves a b-side more than we do, and this year, there were two that stood out as being even better than the singles with which they were included. Elliott Smith's final release "Pretty (Ugly Before)" included the mesmerizing b-side "A Distorted Reality…" which was one of the more bizarre things Smith had ever done, yet stands up as one of his most beautiful songs as well. Q and Not U on the other hand released the "X-Polynation" single, which included "Book of Flags," a funked-out political rant that could get everybody at the WTO riots shaking their protest signs. -JT
Winner: Elliott Smith. Sorry guys, but you can't beat Elliott.
The "If this is anybody but the Doors, you're stealing our bit" Trebblie for the best Echo imitation:
Nominees:
The Shins- "Mine's Not a High Horse"
Starsailor- "Bring My Love"
James Mercer's vocals aren't exactly Ian-like; it is his guitar work in the aforementioned song that is eerily reminiscent of Will Sergeant's jangly picking. Throughout most of the album, and even the beginning of this particular song, Mercer's guitar is strummed a la Jeff Mangum's Neutral Milk Hotel. After the second chorus however, I expected to hear a keening voice crying "Lips like sugaaaar, sugar kisseeeeees." James Walsh channels the "still being used, thank you" soul of Ian McCulloch for the song "Bring My Love". Drenched in strings, it brings to mind the opening of "The Cutter", but the whole of the song could easily be dropped into any of Echo's later three albums, Evergreen, Flowers, or What are… – TT
Winner: Even though both James's are winners, Starsailor's song "Bring My Love" is overwhelmingly Echoish, whereas only one aspect of The Shins' song is.
P.S. Thank you Krusty the Clown for the great award title.
The "Bob and Doug McKenzie" Trebblie for Best Canadian Band
Nominees:
Broken Social Scene
Constantines
Canada's become the new hot scene to birth great music, of late, and though it's a huge country and has many different scenes, we're going to be ignorant and lump them all together. Two bands that stand out as the best of Toronto in 2003 were Broken Social Scene and The Constantines. The former put out a beautiful record that was as fragmented as it was flawless, while the latter posed as a DC punk band, fronted by The Boss. -JT
Winner: The Constantines. They're full timers, and one of the better bands you'll see live.
The "I wish I had thought of that…oh wait, I did" Trebblie for best cover song:
Nominees:
Johnny Cash & Joe Strummer- "Redemption Song"
Ryan Adams- "Wonderwall"
Aimee Mann- "The Scientist"
TV on the Radio- "Mr. Grieves"
Ben Folds- "In Between Days"
The Shins- "We Will Become Silhouettes"
Iron & Wine- "Such Great Heights"
What a great year for covers! The year started off with Ben Gibbard recruiting friends The Shins and Iron & Wine to cover songs from his Postal Service project before the project was even released! Therefore they can't win. I mean c'mon, aren't bands supposed to cover songs that they've grown to love? They had probably just heard the damn things! They are great covers though. Moving on, Brooklynites TV on the Radio did a brilliant rendition of an often overlooked Pixies song and gave it new life. Tunde Adebimpe's layered barbershop style vocals definitely help this song contest for the Trebblie in my estimation. In an EP mostly available online (I've seen it at a few indie record stores), Ben Folds brought us his piano-pop version of The Cure's "In Between Days", which is definitely worth the price of the EP plus shipping and handling. On the `almost not released' EP Love is Hell, pt.1, Ryan Adams performs a breathtaking turn on Oasis' oft misunderstood classic "Wonderwall". This pop song was so perfectly crafted from the get go that I thought it couldn't be improved. I was proven wrong. Aimee Mann re-released her Lost in Space album as a deluxe edition with live and bonus tracks including her cover of Coldplay's "The Scientist". She succeeded in making it her own while still staying true to the melancholic feel of Chris Martin's original, up until the end, that is. Finally, in a truly heartbreaking release, Cash Unearthed, two masters of the craft who we lost last year teamed up to cover Bob Marley's "Redemption Song". It just makes me want to cry. Beautiful. -TT
Winner: I'm gonna have to give it to Mr. Adams as the song he covered was truly transformed in his hands and voice to something other, better, and miraculous.
The Actually Something New and Interesting Trebblie:
TV on the Radio
There really is nothing that sounds like TV on the Radio. We writers try and try and try to come up with comparisons but, yet we somehow have to say, "it's a cross of Peter Gabriel, Brian Eno, My Bloody Valentine, etc." But you know what? Screw it. TV on the Radio is a legitimately unique band that stands as the most innovative new group to release anything in '03. And we dare you to not have "Staring at the Sun" stuck in your head. – JT
The Taking it to the Next Level Trebblie:
Nominees:
Death Cab for Cutie
The Shins
Muse
All three of these bands released albums that vaulted them into the stratosphere of rock music. I tinkered with naming this Trebblie after an album or band that truly exemplified that leap, (i.e. Life's Rich Pageant, Nevermind, Yankee Hotel Foxtrot, etc.) but instead just decided to leave it be. Transatlanticism is an album which makes me feel like I had been listening to teenagers for the last few records, and suddenly they had all become men. Steeped in sophistication and depth, this record is winning over more fans every day, to the point where this little Northwest label's release cracked the Billboard Top 100. And that doesn't even count indie store sales! Just listening to the title track is example enough that DCFC is a force to be reckoned with. The Shins' first release, Oh! Inverted World, is a great first album with a few standout tracks that James Mercer Michael Stipes his way through. And what I mean by that is he mumbles. In Chutes too Narrow, Mercer's brilliant lyrics can be interpreted! Yay! The music itself has grown up as well and has made this album one of the best of the year and one that has multiple songs that stick in one's head all day. Muse's UK only release Absolution is a study in darkness, albeit Brit-pop darkness, and the band has distanced themselves from their `the next Radiohead, Coldplay, Travis' label. Hopefully a US label will pick this one up so that you may all hear for yourselves. – TT
Winner: DCFC. Happy Bar Mitzvah boys!
The "making Geography fun" Trebblie:
Sufjan Stevens
In one of the most absurd artistic statements ever, Michiganite Sufjan Stevens released Greetings From Michigan, a concept album about his home state that ranges from Badly Drawn Boy-like songsmithery to Stereolab-ish lounge-pop. And apparently there's 49 more of these in the works. It's ridiculous, sure, but his music is so beautiful that you can't help but cheer the guy on. We'll just see if he can do California justice. – JT
The "Emo meets Eno" Trebblie:
The Postal Service
Not only did Ben Gibbard release Transatlanticism, but he also formed the duo The Postal Service with Jimmy Tamborello. This fantastic pairing produces heartfelt lyrics linked with computer driven beats and melodies. Many have compared the sound to that of the Pet Shop Boys, but I also think that it harkens back to great eighties keyboard bands like Yaz and Depeche Mode. Is there anything Ben Gibbard can't do? – TT
The "There's no such thing as too much of a good thing" Trebblie:
Ryan Adams
When Lost Highway purportedly balked at Adams' first attempt at his next album, the tracks which later became the Love is Hell EP's, he gave them his second try, RocknRoll (sorry, can't make the cool backwards letters). Lost Highway then released the album on the condition that they also release Love is Hell as two separate EP's. And thank you Lost Highway, for we the music fans are better for it. From RnR's "So Alive", "Luminol", the title track, and then "The Drugs Not Working" to LIH, pt.1's "Wonderwall", "The Shadowlands", and "Avalanche" finally to LIH, pt.2's "My Blue Manhattan", "English Girls Approximately", and "Hotel Chelsea Nights", Adams has proven Prince-style, that flooding the market is not always necessarily a bad thing. – TT
The "So much better than, so please don't compare him to John Mayer, David Gray, or Dave Matthews" Trebblie:
Damien Rice
Irish folkster Damien Rice quietly emerged out of massive popularity in his native Eire, to minimal cult status in America. Upon the release of the first single "Volcano," many people were beginning the comparisons to other adult-contemporary artists who were nowhere near as good. First off, Rice doesn't turn his face into silly putty when he sings, secondly, his songs can't be tacked on to trailers for movies starring Hilary Duff or Mandy Moore, and thirdly, he doesn't suck. If there is any comparison to be made, it is to Jeff Buckley, if Jeff had a cellist and female vocalist foil in the band. His album O is a brilliant debut, with unforgettable song after unforgettable song, not just one radio hit, and he is a rare treat to see live, covering Buckley himself, Radiohead, Prince, and many others. So stop those insipid comparisons please! – TT
The "Britney meets Mrs. Robinson" Trebblie
Liz Phair
Let's face it, Liz Phair is HOT! With Top 40 acts like Britney, Christina, Beyonce, etc, cashing in on their looks, thirty-six, that's right, 36 year-old Liz Phair is throwing her chips in as well. Sign up for her emails on the Capitol Records site and see the scantily clad pictures that come to you, or go to liz-phair.com and look at Gallery seven, jinkies! Unfortunately, her latest self-titled album did not reach the brilliance of Exile in Guyville, but take solace in the fact that she is still just as up-front in her sexuality as she was then. Young men take note: listen to "Rock Me" and realize that you just might have a chance with those silky smooth legs and poochy duck lips that make her hotter than her younger contemporaries! – TT