The Jimi Hendrix Experience : Are You Experienced?
The Rolling Stones and The Beatles showed how much damage two guitars can do. Skynyrd wasn't satisfied with two, deciding that three guitars was adequate for their style. But when you're Jimi Hendrix, the only guitar player you need is you. And The Jimi Hendrix Experience's debut, Are You Experienced?, proved just how much one guitar can do. And Hendrix did it well.
Jimi Hendrix has been called the greatest guitar player of all time. Neil Young said "no one's even in the same building as that guy." Hendrix even put Seattle on the map long before Nirvana or Queensryche, though The Ventures and Paul Revere and the Raiders did come first. Nevermind that. Hendrix is the one we're talking about. No one was louder. No one had as much style. And in 1967, most rock stars were British and white. But Jimi Hendrix managed to turn that around.
Along with bassist Noel Redding and drummer Mitch Mitchell, Jimi Hendrix recorded a nuclear bomb of a debut with Are You Experienced?, a heavy slab of intense, distorted rock that blew away the conventions of rock as we knew them. What's interesting, however, is that Hendrix was playing simple blues-based rock 'n' roll, much as The Stones did and Led Zeppelin would two years later. But Hendrix's blues was a psychedelic, heavy abomination that almost bore no resemblance to the traditional style of old, further proving that it's not just what you play, but how you play it. And Hendrix played it with passion, intensity and imagination.
Just about every song on Are You Experienced? is a classic. Though a handful of albums followed, it still stands as Hendrix's most consistent work. Album opener "Purple Haze" is probably Jimi's best-known song, save for, maybe, his Woodstock performance of "The Star-Spangled Banner." "Haze" has been rumored to have been written while Hendrix was on LSD, though his manager at the time denied it. In actuality, the song's lyrics, about a girl who puts a spell on him that leaves him disoriented and crazy, were taken from a longer poem Jimi wrote called "Purple Haze — Jesus Saves." This song's riff is quite possibly the most recognizable riff in rock music, aside from "Louie, Louie," and no less trippy to this day. A permutation of the song's verse riff shows up later on "Foxy Lady," another classic, which somehow meets somewhere between a saucy booty jam and heavy metal.
"Manic Depression" is my personal favorite, a mad waltz that shows off some of Mitchell's impressive drum skills. The song was written in response to a comment by producer Chas Chandler at a press conference that Jimi sounded like a manic depressive. "Hey Joe" is one of the only straightforward blues tracks on the album, a cover of Billy Roberts's original, about Joe, who murders his lover after he catches her cheating on him. "I Don't Live Today" is another heavy, psychedelic masterpiece, built on Mitchell's tribal drumming and Jimi's thunderous riffs.
The most tender song on the album is "The Wind Cries Mary," which some have said is Hendrix's best ballad. Its melody is pretty and simple, yet slightly unconventional and inventive. Lyrically, it is one of Hendrix's most poetic tunes, with lines like "somewhere a queen is weeping/And somewhere a king has no wife." "Fire" used to open The Experience's live sets, as it was one of their most intense and hard-hitting songs. It's also the shortest song on the record, which has something to do with it. It's almost punk rock in its explosive recklessness. Though the song is seemingly about sex or courtship, it was actually inspired by a cold walk to Redding's mother's house, which left a freezing Hendrix pleading to Margaret, "let me stand next to your fire." And the part where he says, "move over Rover, and let Jimi take over"? Well, Rover was Margaret's dog, who was blocking everyone from the heat from the fireplace. Though the story behind the song is a bit silly, it's no less an exciting piece of music.
The Jimi Hendrix Experience was the greatest trio of all time, hands down. Even though there was only one guitar player, he was the guitar player to have. Pete Townshend even told a story once about how Jimi Hendrix was trying to figure out which amps to use on tour. So Townshend told him what he used, and Jimi proceeded to purchase two of each and use them all simultaneously. This is the sort of explosiveness that took place at Hendrix's performances, and though his career was short (four years), his legacy will last as long as people are still playing guitar. And Are You Experienced? was the beginning.
Similar Albums/Albums Influenced:
Cream – Disraeli Gears
Led Zeppelin – Led Zeppelin
Love – Forever Changes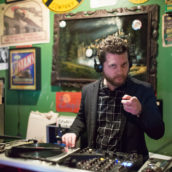 Jeff Terich
Jeff Terich is the founder and editor of Treble. He's been writing about music for 20 years and has been published at American Songwriter, Bandcamp Daily, Reverb, Spin, Stereogum, uDiscoverMusic, VinylMePlease and some others that he's forgetting right now. He's still not tired of it.