The Men : Tomorrow's Hits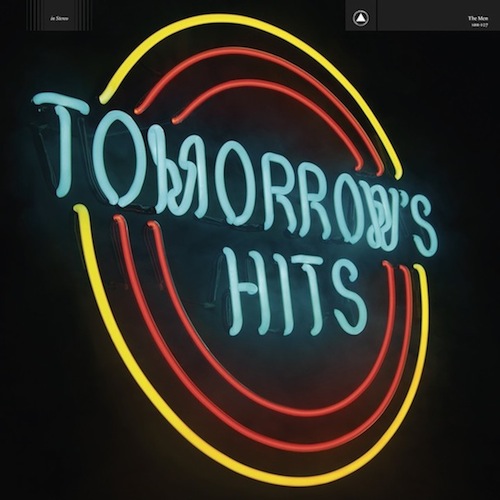 Buy at iTunes | Buy at Insound (vinyl)
The Men have steadily progressed, album to album, but they'll always be that contagious, freewheeling rock 'n' roll band with country soul and punk heart. The band is a rocking freight train of solid steel that sometimes sounds destined to fall off the tracks, but never does. No other song by The Men has demonstrated this as perfectly as "Pearly Gates," the longest and most fun track off of Tomorrow's Hits. The bouncing bass, barn burning guitars, rock solid drums, horns, harmonica, and piano all combine in a mean slab of American punk rock. There are so many sounds going on during "Pearly Gates" that it's hard to fathom how the song doesn't just spontaneously combust under the pressure of it all, but The Men are masters of controlled chaos. Even Mark Perro's lyrics ("I never wanted this for ya, a little pa pa pa paranoia"), which he yells to try to keep up with the pace of the instruments, fit the song perfectly.
Tomorrow's Hits is an interesting title for The Men's fifth album in four years. Their previous catalog had "hits" scattered throughout ("Bataille," "Candy," and "I Saw Her Face") but all eight tracks on Tomorrow's Hits wouldn't be out of place on your local classic rock radio station. This album was recorded before the release of New Moon, in a high-end studio, which the band had never done before. And while the songs were tracked entirely live, it's clear that Hits has a bit more polish than their previous albums. Now, we can hear more of Rich Samis' bass drum, and, for the first time, clearly understand most of the vocals. Perro, Ben Greenberg and Nick Chiericozzi all share lead vocals, and because their voices aren't that different, it can be tough to figure out who is singing on each track. It doesn't matter; each member of The Men commands whatever microphone or instrument is put before them.
The hardcore shoegaze punk of 2011's Leave Home — a style that has since gone untouched by the band — was a risk that put The Men on the map for good. The Men continue to bend genres, and Hits is actually a great mirror image of Leave Home, just not musically speaking. Both albums are eight tracks long, and the seventh song is considerably slower than the rest. So, what "Shittin' With The Shah" was to Leave Home, "Settle Me Down" is to Hits. A much-needed cool-down from "Pearly Gates," "Settle Me Down" goes surfing with the fishes, or lays you on a love seat floating on a cloud in a blue sky. The song shimmers, sparkles, and seems effortless. But The Men put their foot back on the pedal for "Going Down," closing the album out with a squirrelly, kick-ass guitar solo. (Though, respect the harmonica solos on "Dark Waltz" and "Sleepless.")
This is The Men. They may talk up the weariness that their relentless pace has left them with, as they do on "Sleepless" ("In the morning, I couldn't sleep, so I got up and hit the streets") but resting on their laurels just isn't in the band's blood. Music lifers, and punk pioneers, The Men were born to play great rock 'n' roll, and there could be no other way.
Similar Albums:


The Rolling Stones – Sticky Fingers


Ty Segall Band – Slaughterhouse


Titus Andronicus – The Airing of Grievances