The Men's Mark Perro on their 10 Best Songs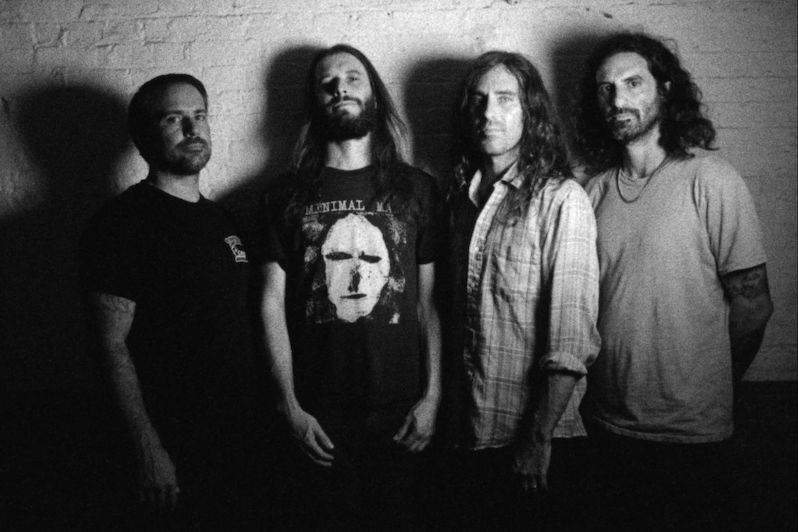 Ryan Marino
In their 15 years together, New York's The Men have reinvented themselves with seemingly every record they've released. In their earliest incarnation, they were a cacophonous noise rock band, later refined into a more structured and melody-driven kind of post-hardcore, simplified into melodic punk and then refashioned into a more acoustic-driven country rock. Yet if there's one continuous thread that connects everything in their body of work, from the free-form drones to the three-chord rippers, it's rock 'n' roll. And there are few bands in America doing it better than The Men.
With their new album New York City—itself a pretty loud and lively set of rock 'n' roll anthems—out now via Fuzz Club, we had a chat with the band's guitarist and vocalist Mark Perro to break down his picks for the 10 best The Men songs, with selections pulled from just about every one of their albums (except for Devil Music and Open Your Heart). We discussed their penchant for experimentation, hand-me-down keyboards, and why he'll never tire of the sound of an electric guitar.
---
"Round the Corner"
from New York City (2023; Fuzz Club)
Mark Perro: In a lot of ways, this new album is my favorite album we've ever done. That's a moving target—I've felt that way about many of them over the years. These songs are so fresh in my mind and I'm so energized about them. I picked these two, kind of for different reasons, but there's some similarities there. In my mind, I was kind of just looking for the ultimate fuzz and thickness in tone. "Round the Corner" got closest to that for me. I really love the groove we locked into, with Rich (Samis) on the drums, and the tone is thick. It's just so fun to play.
---
"Echo"
from New York City (2023; Fuzz Club)
MP: Similarly, it's heavy, it's thick, and it's what I was going after, sonically, for that whole record.
Treble: It seems like each record by The Men will take a stylistic shift after the last one. New York City feels stylistically somewhat far apart from Mercy—how much of that is by design?
MP: Yeah, I mean, that wasn't necessarily conscious. It seems that our records are cyclical in some ways. In my mind, we do come back to what New York City is made up of. Some of it is the environment. We played the Mercy record release show in March 2020, then that week the club closed down because there was a Covid exposure. That week was really when everything closed down in America. In some way I almost feel Mercy got shortchanged because of that. Everything we were planning to do, shows we were going to play, and just like everyone else we were just sitting around. Soon thereafter, Nick (Chiericozzi) and I started jammin', at least. We weren't even at a place where we were all getting together, and part of that stripped down sound, or less of the exploratory parts on Mercy, are a product of that, just getting together with our guitars and limited resources. I think you know, also part of society was stripped down. We'd go around our space and you wouldn't even see a car. Businesses were closed and we kind of funneled that starkness into the riff driven stuff that came out.
---
"Ailment"
from We Are the Men EP (2009; Self-released)
MP: I started running through the discography and picking out highlights and was one of the first real studio recordings we did. We were a three-piece at the time and this song to me really embodies everything The Men is about to me. That just one riff, that repetition, that thickness and simplicity, mixed with unabashed honesty. We've just been kind of running with that ever since. That's when Chris Hansell was still in the band, so that was a milestone for our time together, a highlight of the work we did together. It's just a great memory and a great song. I remember the three of us were working on stuff, I think Chris may have had the little riff that's the entire song, and I remember talking about it, saying "That's it, that's the whole song" and it blossomed into a 6-7 minute song. But to me it doesn't feel that long.
---
"Madonna; The Star of the Sea"
from Immaculada (2010; Deranged)
MP: This song represents to me a similar philosophy as "Ailment," but just taken in a different approach. My other real love, musical or philosophical or whatever, is drone, and we really branched out with that. We played with alternate tunings, we played with—what happens if we just hold this and don't do anything for however long and just created a vibration of sound. It was really cool. I vividly remember playing this song live. We didn't do it much, but we played it at the Market Hotel, very early in the band, and we played with a band called Drunkdriver, which had Michael Berdan, now in Uniform with another former member of The Men, Ben Greenberg. And it was just a great show. We were nervous to play with these bigger bands, and we opened with this extended drone and it was just an awesome experience.
Treble: How did improvisation help shape this song?
MP: There's a more structured outro to the song that's based on a part we wrote, but there's a riff that gets improvised upon and the drone, it's less than a riff—just get a sound and get it to a place where it can sustain itself and don't touch it, let it go. It's improvisation, but almost indirect improvisation. We're not even controlling it at that point.
---
"Dark Waltz"
from Tomorrow's Hits (2014; Sacred Bones)
MP: I guess stylistically we started branching out into acoustic sounds, but all these songs represent milestones of hitting certain sounds, going after certain textures and grooves, and trying to get a certain feel. I had just purchased a Wurlitzer piano, which I played on the record, and I've always loved that sound. It's one of my favorite instruments, one of my favorite sounds, and the combination of the acoustic guitar and the Wurlitzer, I love the way that sits together. There's a great drum beat and bassline, Kevin had just moved over to the bass duties, settling in there, and great lyrics. I think it hit a peak in our trajectory, we were really running on all cylinders. Ironically after that record, we went on a down trajectory for a little bit. It represents the height of that lineup to me. Just a great song.
---
"The Seeds"
from New Moon (2013; Sacred Bones)
MP: In some ways, recording that album was my favorite recording situation. We rented a house in Big Indian, New York, which wasn't a recording studio, it's just a house. And we brought all our gear up from New York—tape machines, computers, drums and amplifiers and all that stuff. And while the songs on that album were maybe starting to become traditional, the techniques we were trying were very experimental. "The Seeds" is an example of that. We had three acoustic guitars going, myself Nick and Ben, two six strings and a 12 string. We set ourselves up in the basement with one microphone, and we were running cables up to the living room and we were tracking it live. Just playing with room and how that would affect the reverb and the echo or whatever it might be. I remember sitting in the kitchen and Ben was still the bass player, Kevin (Faulkner) had been in the band for a while at this point, and he would play lap steel or little things here or there, and he'd been playing bass in the kitchen where we had the amp set up, and he played what kind of became the hook of that song.
---
"Open the Door"
from New Moon (2013; Sacred Bones)
MP: "Open the Door" was symbolic of that whole period for me. We're gonna try some stuff, maybe try some things that are a little out of our comfort zone. That was a real collaborative song. I remember sitting at the piano with Nick. I was playing this little progression, and we came up with a melody, and it was just a cool experience we had together.
Treble: This was the first record that featured acoustic instruments so prominently—was that an aspect of your experimentation?
MP: I think so. In my mind, our more epxerimental stuff has always been the more traditional things. We all grew up in punk and metal and certain sounds that are, at this point, second nature. I never really had the classical training or the training that others who maybe do those sorts of styles have. And I think that speaks for everybody. We want to chase this sound and idea and inspiration we have, and it just sort of happened. We always tried to approach the band with no filter. Whatever comes out is what comes out. And we were feeling comfortable doing that.
---
"( )"
from Leave Home (2011; Sacred Bones)
MP: We've never once referred to that song as "Parentheses." It somehow ended up on the record as that, because we didn't have a better title. But we call it "Comm," and the reason is t he MC5 song, "Black to Comm." That song rips off the MC5, rips off Spacemen 3, knowingly. But it's that spirit of simplicity. There's recordings of that song with Nick and me playing electric guitars, just playing an E chord, for five minutes, 10 minutes, just playing an E chord, loud and heavy. I've still never gotten over the sound of two electric guitars playing an E chord and ringing that out, pumping away at it. And a lot of our songs embody that. Many of them have piece of that in it, but this one really pushes it in particular.
---
"When I Held You In My Arms"
from Drift (2018; Sacred Bones)
MP: This is a cool one. This is an oddball that stuck out. When we were recording Drift, this wasn't part of the plan. Nick had maybe showed me once or twice, but we never played it as a band. Nick maybe had a structure for it in his mind, but it had never really gotten that far. We've always recorded live, but we come in well rehearsed, even if there's an improvisational element. That's why we feel so comfortable doing it live. This song is sort of the opposite. We had some time, and Nick had this song, so we said, "let's try it." As a result of that unknowing, we played incredibly simply, and I love that. The more space and subtlety that comes out, I'm proud of how we pulled that off.
---
"Children All Over the World"
from Mercy (2020; Sacred Bones)
MP: I love the synth sound we were able to grab. That's an old Casio keyboard that was a gift from my parents when I was in junior high school. The first electric keyboard I ever had. Somehow it survived all these years. I gave it to Nick many years ago, so it's still living. It's a cool, kind of nothing synthesizer, but it had this sound that reminded me of Prince, or these classic funky things, and I couldn't get enough of it.
Treble: There aren't that many The Men songs that use synth so prominently.
MP: Yeah, there really aren't. Nick and I made a Dream Police record with a lot of synthesizer on it. And we did some tape recordings with improvisational drones, but we stick to guitars for better or worse. When the keys do introduce themselves, it tends to be something acoustic, like a piano or Wurlitzer, but the synth's always hiding around, waiting to rear its head. It's only a matter of time.
---
Treble is supported by its patrons. Become a member of our Patreon, get access to subscriber benefits, and help an independent media outlet continue delivering articles like these.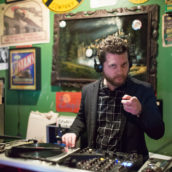 Jeff Terich
Jeff Terich is the founder and editor of Treble. He's been writing about music for 20 years and has been published at American Songwriter, Bandcamp Daily, Reverb, Spin, Stereogum, uDiscoverMusic, VinylMePlease and some others that he's forgetting right now. He's still not tired of it.