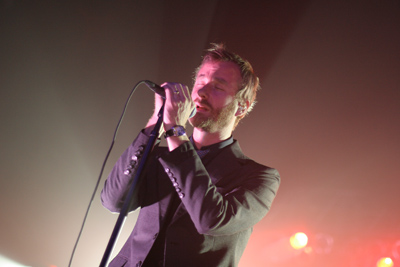 The National are often described as a romantic or sophisticated band, layering meticulously crafted melodies beneath Matt Berninger's intricate scenarios detailing the "unmagnificent lives of adults." And it's all true, of course. But it's not said often enough that The National are, first and foremost, a rock band, and a damn great one at that. And, when they so choose, The National can actually kick up some serious dust, a fact that may seem at odds with their somewhat elegant image, but somehow fits perfectly within their artful balancing act.
Their dark silhouettes stepping onto the stage before a purple backdrop, set to the hypnotic tones of Neu!'s "Hallogallo," The National projected the image of a larger-than-life rock band at Spreckels Theater in Downtown San Diego. Yet the set began in a low-key mood as frontman Matt Berninger, dressed to the nines, crooned over the slow-burning melody of Boxer standout "Start a War." As a harbinger of the two hours of music to come, however, it was something of a red herring.
As the evening progressed, the volume rose, the tempo quickened and the energy soared as the band charged through outstanding renditions of "Secret Meeting," "Mistaken For Strangers," "Afraid of Everyone," "Bloodbuzz Ohio" and "Squalor Victoria," which has transformed from a cool and brooding tune to one of the most explosive songs in the band's live set. Even more understated favorites such as "Sorrow" proved dynamic in this setting, while the positively explosive "Abel" found the band bashing out the furious rocker even more fiercely than on the studio version heard on Alligator.
Between the stunning ballads and fiery rockers, the band showed their humorous side, which only grew more amusing with each glass of wine. As the band tuned instruments before starting up again, mid-set, a hush fell over the crowd that was only provoked by an unidentified "shush." Berninger quipped, "Everyone please be quiet. Respect the musicians," before asking if any booze was served in the room. When his query was met with a resounding "no," he sought to rectify the situation by handing a bottle of wine to someone in the front row.
After closing a lengthy set with the gorgeous "England," from new album High Violet, the band returned with an extended, five-song encore, peaking with the explosive favorite "Mr. November" and Berninger telling a stagehand he "missed a spot," whilst pouring out a full bottle of red wine. The National may certainly be a sophisticated and detail-oriented group of musicians, but it's not said often enough that they're first class showmen as well.