The New Pornographers : Challengers
In 2005, The New Pornographers earned the coveted distinction of Treble's Album of the Year with Twin Cinema, an awe-inspiring pop triumph and the band's crowning moment, all the pieces fitting together just perfectly and each song sounding like a renewed and invigorated band ready to conquer the world. Then, just a year later, New Pornographers members Dan Bejar and Neko Case landed in our top ten of 2006 with Destroyer's Rubies and Fox Confessor Brings the Flood, respectively. With that kind of record (and mind you, accolades certainly didn't stop here), expectations run high, which leaves Challengers in something of an awkward position.
The Pornos could have gone the ill-advised Trail of Dead route and continually attempted to go bigger and bigger, or do as Modest Mouse have done and merely beefed up their production while sharpening their hooks. They took neither route, however, opting to do what they've always done by creating a charming, catchy power pop record, critical acclaim be damned, and they do it well. There are some noticeable differences since we last heard from the Vancouver collective, in that the album is actually noticeably toned down, its edges softened and its melodies frequently mellower than the group's have ever been. It's not as if they've turned into The Fray, so no need to panic on that front. Rather, Challengers is still the same fun band we've loved all along, just a bit more breezy and laid back.
With a bouncy beat and chugging triplet guitar riffs, "My Rights Vs. Yours" kicks off the album with a classic Carl Newman melody, quickly harmonizing its way to listeners' hearts with a tune that stands among some of their best. "All the Old Showstoppers" is a bit more ambitious in arrangement, with majestic instrumental breakdowns following the comparatively subdued verses. It's typically standard practice for the best songs to be reserved for Neko Case, and if you're prone to disagree just have a listen to "Mass Romantic" or "Letter From An Occupant" or "Bones of an Idol," though my brother will tell you otherwise about that last one. On Challengers, this isn't so much the case, as her lovely vocal performance on the title track is paired with a bit of a sleepy tune, pretty enough but seemingly missing something. No matter, good ol' Danny Bejar (as he is credited on the album) picks up the pace again with his excellent contribution "Myriad Harbour."
On "All The Things That Go to Make Heaven And Earth," the band starts to rock out just like old times, resurrecting the energy of classic tunes like "It's Only Divine Right" and "Use It." With the organ and acoustic guitar shuffle of "Entering White Cecilia," Bejar once again proves himself the star of this record. It's a simple song, and a catchy one at that, but with all the nuance and drama of a Destroyer song, which should seem obvious, though his New Pornographers tracks rarely sound like his solo work. Case steps back up to the mic on "Go Places," a decidedly more upbeat and compelling waltz number, epic in scope but still offered in typical four-minute pop fashion.
"Mutiny, I Promise You" is another rocking, Newman-fronted raveup, while Bejar's closing ballad "The Spirit of Giving" ends the album with a slow and ornate curtain closer, particularly notable for its orchestral interlude before the triumphant coda. And then they bow out with a humble wave and a smile. It's familiar and it's fun, and occasionally pretty, and only falters when it doesn't try enough. In short, it's an album by The New Pornographers, and in the end, that's enough for me.
Similar Albums:
Peter Bjorn and John – Writer's Block
The Shins – Wincing the Night Away
A.C. Newman – The Slow Wonder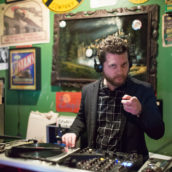 Jeff Terich
Jeff Terich is the founder and editor of Treble. He's been writing about music for 20 years and has been published at American Songwriter, Bandcamp Daily, Reverb, Spin, Stereogum, uDiscoverMusic, VinylMePlease and some others that he's forgetting right now. He's still not tired of it.