The Notwist : The Devil, You + Me
Six years ago, The Notwist released what is now considered their masterpiece, Neon Golden, an album that found the perfect convergence of rock music and electronica. Most bands that attempt such a feat end up sounding like Ministry, but for The Notwist, that combination entailed something far different. Their sound, having evolved far from the noisy rock of their first album, was a delicate, yet precise, mechanism. Drum machines and samples danced around streamlined guitars, while Markus Acher's soft, stoic voice gave the beautiful machine a narrative. Of course, this would probably be sufficient for listenability's sake, but Neon Golden was more than just an interesting sounding record, it was intricately crafted and incredibly moving.
There's a variety of reasons why the band took their time in releasing a follow-up to Neon Golden, among them the fact that a remix album followed, along with several releases from side projects such as Lali Puna and Tied + Tickled Trio. Yet that didn't make it seem like any shorter of a distance from that album to where we are now. With some patience and repeat spins of "Consequence," "Pilot" and "Pick Up the Phone," fans will be content to welcome the sound of The Notwist back onto the hi-fi with their sixth album, The Devil, You + Me.
On first listen, seemingly very little has changed in the band's M.O.: guitars and electronics still co-exist in harmony; Acher still sounds graceful and gentle and reserved. However there have been some interesting changes in how the band operates, though they are presented in a stealthy manner. As I said, by and large, this is still very much sounds like the product of the band who wrote Neon Golden, and yet there seems to be a strange shift in how the band structures each song.
Guitars play a much more prominent role than on the last outing, often washing each song in a sheen of rich tones and subtle shoegazer-isms. This is most apparent on the warm and gorgeous leadoff track "Good Lies," which sounds a bit like Broken Social Scene, or, come to think of it, something from the group's 1995 album 12. A strummy, sunny acoustic guitar opens the upbeat sound of "Gloomy Planets," while a softer acoustic sound creates a serene atmosphere within the title track. Throughout the album, these guitars are chopped and treated, as in the ominous "On Planet Off," but their presence is more strongly felt than it has been in a while.
Given that guitars are such an integral part in The Devil, You + Me's sound, it's curious that the songs, this time out, seem pieced together more like traditional electronica. Samples build and layer, while repetition seems much more crucial to the band's approach. If Neon Golden was their Kid A, consider this their Amnesiac, just released a bit later. Much in the same way that that album was a more accessible, yet jagged counterpoint to its predecessor's magic, the looped progressions on The Devil reveal a slightly less dreamlike, more grounded version of The Notwist. In the case of a tracks like "Boneless" or ," that slant toward simplicity and accessibility reveals one of their catchiest tracks to date.
The Devil, You + Me isn't the type of album to divide fans; those who loved Neon Golden will likely take to this just as easily. I certainly did. But it does seem more relaxed than before, and less urgent in its atmospheric concoctions. And yet, in some ways, it's more "pop" than the band's ever been before. It may lack that certain punch to the stomach that a song like "Pick Up the Phone" delivered, but there's no shortage of ear candy or mechanized beauty, which, six years later, is just as welcome an offering.
Similar Albums:
Broken Social Scene – You Forgot It In People
Lali Puna – Faking The Books
M83 – Before The Dawn Heals Us
Download at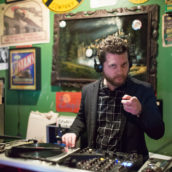 Jeff Terich
Jeff Terich is the founder and editor of Treble. He's been writing about music for 20 years and has been published at American Songwriter, Bandcamp Daily, Reverb, Spin, Stereogum, uDiscoverMusic, VinylMePlease and some others that he's forgetting right now. He's still not tired of it.