The Raveonettes : Observator
Six albums in 10 years, especially 10 years within the long and slow decline of traditional music sales, is a pace at which you cannot sneeze. Denmark's Raveonettes have worked hard to build up their fanbase, reputation, and critical callouses on top of callouses by playing eyeliner rockabilly and permutations thereof. The latest one, Observator, feels like a relatively upbeat affair, but I wonder if it's for the right reasons.
Sune Rose Wagner and Sharin Foo filter some of the smartest musical conventions of the 1950s and 1960s through The Jesus and Mary Chain's reverb screen. To their credit there's always been a bit of experimentation with that general formula, starting with the electronic beats on their debut Whip it On and stretching through to the muted piano passages on this album's first two cuts, "Young and Cold" and "Observations."
But the real twist on Observator is an entertaining yet puzzling center, one where The Raveonettes seemingly open their music history books to the chapter on Madchester. From "Curse the Night" on through to at least "Downtown" there's a raft of plangent guitar, and real and programmed drums, which run the baggy scene's gamut from laid-back stoner drawl to shuffling dance-rock. Sure, Wagner and Foo have dropped that gamut down an echoing cistern, but still.
The duo has delivered a best-of-the-year contending song on just about every album. Lust Lust Lust had "Dead Sound," Raven in the Grave had "Apparitions," even Pretty in Black had "Love in a Trashcan." Here it's "She Owns the Streets," one of a few cuts on Observator suggesting empowerment and strength. Yet even this seems like a slightly sadder twin of The La's "There She Goes."
Make no mistake, I've had Observator on repeat, and it might even sneak into my list of 2012 favorites. Yet it really only feels like The Raveonettes laid bare when the album closes with the fuzzy rave-up "Till the End." I have to ask myself: Do I like this album because it's them, or because it's them making overtures toward—oh, I don't know—early Blur?
Similar Albums:
The Jesus and Mary Chain – Psychocandy
The Stone Roses – The Stone Roses
Lush – Spooky
Stream: The Raveonettes – "She Owns the Streets"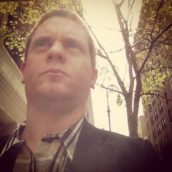 Adam Blyweiss
Adam Blyweiss is associate editor of Treble. A graphic designer and design teacher by trade, Adam has written about music since his 1990s college days and been published at MXDWN and e|i magazine. Based in Philadelphia, Adam has also DJ'd for terrestrial and streaming radio from WXPN and WKDU.