The Twilight Sad : Forget the Night Ahead
Upon first listen to "Reflection of the Television," the opening track on The Twilight Sad's second album Forget The Night Ahead, something feels a bit different. The basic elements are all in place: a pummeling drum beat, heavily-distorted guitars, James Graham's earnest burr. But there's something far more unsettling this time around. Craig Orzel pounds out a slow, rumbling bassline, sounding far more like Pornography-era Cure than My Bloody Valentine, as the band has frequently been compared. It's a slow and brooding opener, and one that only grows in its general sense of uneasiness, as Graham plays sinisterly with his words, singing "those people dance here" in one line, before switching it up to say "there's people downstairs" the next. And as he cries "you told me I'd get better," he sounds desperate, angry, hopeless. There's definitely something strange going on here.
Forget the Night Ahead is, sonically, a reasonably close kin to its predecessor, retaining the heavy, noisy, atmospheric rock sound of their excellent debut Fourteen Autumns Fifteen Winters. Yet, there's a curious duality to it; the band has grown more accessible in places, as the soaring alt-rocker "Seven Years of Letters" displays, but they've also retreated farther into shadows. It may be more immediate, but it's definitely less friendly than their debut, more claustrophobic and just a little bloodthirsty. Not to belabor the Cure comparisons, but on Forget, The Twilight Sad almost finds a happy medium between the torturous Pornography and the melancholy-with-a-smile Head on the Door.
Lead single "I Became a Prostitute" displays this contrast well, being both one of the catchiest and one of the most brutal songs the band has ever recorded. Andy MacFarlane's guitar is a roaring menace, as Graham bellows, "you are the bearer of a womb without love/ is that what you said?" Its punishing sonics and viciously depressing lyrics make it an odd choice for a single, but it's mighty hooks make it ideal. That The Twilight Sad are able to walk that line is no small victory. "Made to Disappear" is a stadium-ready hook fest, albeit still heavy on distortion, Graham invoking the album's title as he croons "forget the night ahead/ because we'll never find it on our own."
In spite of its more delicate, piano-heavy sound, "The Room" nonetheless retains traces of the bleakness that permeates the rest of the album, with lines like "the blood is never spilled after dinner" standing out. But with "That Birthday Present," the band returns to a menacing, guitar-heavy assault, MacFarlane layering on the noise heavier than usual, as Orzel and drummer Mark Devine carve out a furious, post-punk rhythm. The juxtaposition of Graham's lo-fi vocals against distant, distorted guitars gives way to a haunting piano melody on "Floorboards Under the Bed," while standout "Interrupted" takes a more radio-friendly route, while its hooky chorus finds Graham with just a little extra acid dripping from his tongue: "I won't feed you, feed you to the dogs again/ your heart stops beating, beat them to the ground again."
When James Graham sang "the kids are on fire, in the bedroom" back in 2007, even then, it sounded like a triumphant rallying cry. But when set against the disturbing confessionals and vitriol on Forget The Night Ahead, it may as well be "it's a beautiful day." Certainly, there are some angry spirits lurking within this album, but it suits the band quite well. While the heroic anthems may have been set aside for the time being, the band's excursion deeper into noise and misanthropy has most certainly paid off.
Similar Albums:
Mogwai – The Hawk Is Howling
The Cure – Pornography
A Place to Bury Strangers – A Place to Bury Strangers
Video: "I Became A Prostitute"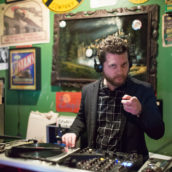 Jeff Terich
Jeff Terich is the founder and editor of Treble. He's been writing about music for 20 years and has been published at American Songwriter, Bandcamp Daily, Reverb, Spin, Stereogum, uDiscoverMusic, VinylMePlease and some others that he's forgetting right now. He's still not tired of it.