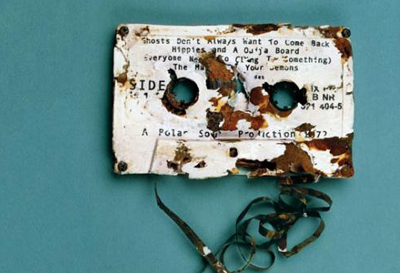 Now here's a crazy thought. September is next week! My how time keeps slipping away. In fact, in just a few months, we'll be in a whole new decade (sort of)! But while there's still time left in 2009, we're going to celebrate the music that we're looking forward to most. Fall is frequently the time when the most exciting releases come out, although this year has already given us so many incredible albums that it's hard to imagine those being topped. Nonetheless, there's some amazing stuff on the horizon (and some that may not turn out to be amazing, but hey, we're optimistic). Here are 26 albums that we deem most worthy of anticipation this fall. (Apologies to the other several dozen bands whose releases we didn't get around to).
BLK JKS – After Robots (Secretly Canadian, Sept. 8)
South African psych-rock outfit BLK JKS unleashed one of the most pleasant surprises of the year with their Mystery EP, which came out in the spring. But the inventive, wholly unique outfit has nine more songs in store for their official full-length debut, which balances TV on the Radio-like density and Afrobeat rhythms, and the occasional Cure-like pop tune. I can't find anything not to like in that.
HEALTH – Get Color (Lovepump United, Sept. 8)
HEALTH initially introduced themselves as one of the noisiest bands on the West Coast with their self-titled debut album. But the Los Angeles-based band offered up an amazing and surprisingly catchy single in "Die Slow" earlier this year, and that song, plus eight others, make up the group's second album, boasting both more noise and more melody than before. It's win-win, really.
Os Mutantes – Haih or Amortecedor (Anti, Sept. 8)
The return of Os Mutantes in 2005 was one of the most exciting events of the decade, as it proved that it's never too late for a great artist to return to performing and recording music. Four years later, Os Mutantes, which is essentially founding frontman Sergio Dias Baptista and some famous friends, have returned with their first album of new material in 35 years. Haih or Amortecedor finds Dias collaborating with Tropicalia legends Jorge Ben and Tom Zé. So while it may not be the complete original lineup of the group, it at least promises a handful of the best in their field, recording together in triumph after all these years.
Yo La Tengo – Popular Songs (Matador, Sept. 8)
Yo La Tengo might not have attempted to one-up the title of their last album, 2006's I Am Not Afraid of You and I Will Beat Your Ass, but that doesn't mean their upcoming album Popular Songs isn't worth getting (very, very) excited over. Yo La Tengo don't really put out bad albums, just albums that are either louder, softer or more laid back than others. This time around, we expect to see a combination of ballads, pop tunes and extended psychedelic freakouts. Basically, it's a Yo La Tengo album and that's awesome.
Jay-Z – The Blueprint 3 (Roc Nation-Atlantic, Sept. 11)
In the past decade, Jay-Z's output has bounced back and forth between sheer brilliance and baffling mediocrity. Few hip-hop albums rival his 2001 classic The Blueprint, so in an attempt to recapture that album's inspired power, Jigga named his latest the third in a series of Blueprint albums, though this one looks quite a bit different than the nearly guest star free album he unleashed way back when. Usual suspects like Rihanna and Kanye West lend their talents, in addition to some unexpected contributors such as Luke Steele, of Sleepy Jackson and Empire of the Sun. Rumors were circulating that MGMT were on the album as well. No matter who's on it, we just hope it's good.
Q-Tip – Kamaal the Abstract ( Battery, Sept. 15)
Eight years ago, Q-Tip was going to release his second solo album, under the title Kamaal the Abstract. His record label had different plans, however. After giving the album a catalog number and release date, they pulled it, saying it had little commercial appeal. What was more likely is that the album was simply ahead of its time. Maybe Q-Tip should have a sit down with Wilco. Promo singles scattered around the torrent sites as Kamaal became one of those great `lost album' stories. Well, come mid-September, the album is lost no more, due to be released by a different subdivision of the same label. Seriously, Tweedy and Tip need to get together. After all, apparently Q-Tip doesn't just rap on Kamaal, he also sings!
Richard Hawley – Truelove's Gutter (Mute, Sept. 22)
One of my favorites, Richard Hawley has always managed to capture the sights, sounds and smells of a working class upbringing and everything that goes along with it. The heartbreak, the romance and the small enjoyments of small city life inhabit Hawley's retro rock songs. But, apparently, the honeymoon is over. Truelove's Gutter is said to be Hawley's darkest record to date, all about broken people in broken times. I can't wait.
Rain Machine – Rain Machine (Anti, Sept. 22)
The name Rain Machine might not initially ring any bells, but when we tell you it's the first solo outing from Kyp Malone of TV on the Radio it shouldn't take much to understand why we're excited about this one. While Malone has proven his eccentric brilliance with TVOTR, and has also shown off his indie rock chops in Iran, Rain Machine is something else altogether, promising a blend of bluegrass, modern jazz and guitar rock that sounds odd on paper, but we assume will sound much more incredible on record.
Pearl Jam – Backspacer (self-released, Sept. 22)
What do a mixture of pop and new wave, Tom Tomorrow, Target stores and Brendan O'Brien have in common? They all have something to do with the upcoming Pearl Jam album. Yes, the band is saying the new sound is more pop or new wave. First single, "The Fixer," was written by drummer Matt Cameron and Eddie Vedder, chock full of changing time signatures. For the first time since Yield, Brendan O'Brien is at the helm, and he's reportedly given Pearl Jam a more accessible sound. While much has been made about PJ's deal with Target to sell the album, it should also be noted that they've arranged to have it carried also by iTunes and indie record stores.
The Very Best – Warm Heart of Africa (Green Owl, Sept. 22)
Last year Malawian-born London-based singer Esau Mwamwaya and production team Radioclit turned heads with their vibrant mixtape Esau Mwamwaya and Radioclit are the Very Best, incorporating African pop music and electronica into a sunny pop blend. The group, officially called The Very Best, are following that mix up with a proper full-length that features guest vocals from the likes of M.I.A. and Vampire Weekend's Ezra Koenig, whose vocal on the title track is already part of three of the year's most joyous minutes. It's a global stew that should appeal to fans of music both from Africa and with an African influence, but really it's just for fans of music in general.
The Twilight Sad – Forget the Night Ahead (FatCat, Sept. 22)
Fans of Scottish noise-pop got a good chunk of fuzz and hooks in We Were Promised Jetpacks' These Four Walls earlier this year. But The Twilight Sad, the fuzziest of Scotland's guitar slingers, are unleashing their second album this year, which promises to be a much darker affair than before, which is always a direction we're open to. Based on the video for "I Was A Prostitute," with its hypnotic imagery of a burlesque dancer, we're sold.
A Place to Bury Strangers – Exploding Head (Mute, Oct. 6)
A Place to Bury Strangers' 2007 debut was one of the most awesome slabs of noise rock to emerge in the last few years, employing lots and lots of feedback over Cure and Jesus and Mary Chain-inspired melodies (plus a little My Bloody Valentine and Big Black here and there as well). The group's new album Exploding Head is their first for new label Mute, and could very well provoke the Scanners-like reaction that the title suggests. Not content to be merely one of the best noise rock groups around, they take it to new extremes, creating a more jarring wall of effects while making their melodies even catchier than before. Basically: your head a-splode.
Mission of Burma – The Sound, the Speed, the Light (Matador, Oct. 6)
The first thing you need to know about the new Mission of Burma album is that it contains a song titled "1,2,3, Partyy!" The next thing you need to know about the new Mission of Burma album is that it is a new Mission of Burma album. But I suppose we'll give you a little more than that. It supposedly features songs about "fleshly concerns" (blush) and is a more spacious affair. That said, we expect it to still rock the fuck out.
Sufjan Stevens – "Run Rabbit Run" (Asthmatic Kitty, Oct. 6)
Fans of Sufjan Stevens, mostly those folks who jumped on board with Michigan or Illinois, dived into his back catalog only to be baffled by the electronic opus that is Enjoy Your Rabbit. Yeah, those looking for banjos and acoustic guitars were stymied, but we might see history rewritten with Run Rabbit Run. It's not exactly the next installment of the 50 States project, four years in the waiting and counting, but it is (sort of) a Sufjan Stevens release (one of two due this fall) and that will have to do. Run Rabbit Run finds the songs from Enjoy Your Rabbit redone for string quartet. Sufjan's collaborators, Osso, play the instruments, and various conductors, including Nico Muhly, take the reins.
Jemina Pearl – Break It Up (Ecstatic Peace, Oct. 6)
Be Your Own Pet, we barely knew ye, but we knew that Jemina Pearl was one hell of a fiery frontwoman. Whether Pearl would go solo wasn't so much of a question of if as it was when. That time is this October and Pearl has some heavy hitting partners on this debut, including label head Thurston Moore, TV on the Radio's Dave Sitek, and the incomparable Iggy Pop. If ever there were a grandniece heir to Pop's proto-punk crown, Pearl is it.
Echo & the Bunnymen – The Fountain (TBA, Oct. 13)
There are many things I would have never guessed 30 years ago. For one, I would have never guessed that Liverpool band Echo & the Bunnymen would still be going. On top of that, knowing how popular they became in the mid-'80s, I would have never guessed that there would come a day when an Echo album would only be released in the UK. Chris Martin guests on at least one track, but I guess that wasn't enough to get it a stateside release quite yet.
The Flaming Lips – Embryonic (Warner Bros., Oct. 13)
Just the mere suggestion of a new Flaming Lips album is enough for us to make room to go on and on about what it might sound like and whether or not it will be awesome. We're not positive one way or the other. But we do know that it's actually coming out in October, and early reports are certainly promising. The group is bringing some three-song samplers with them to select tour dates leading up to the album, so snatch `em up if you can. As much as we enjoyed the novelty of "The Yeah Yeah Yeah Song" in salad dressing commercials, we like the prospect of the group unleashing a psych-rock masterpiece even more.
Baroness – Blue Record (Relapse, Oct. 13)
Baroness first blew our minds with 2007's Red Album, a debut album that blended spacious indie rock with sludgy metal in unique fashion. The Savannah, Ga., band is returning with the aptly titled Blue Record this fall, promising more heaviness and more melody. Early reports indicate a more accessible, but still ass-kicking direction, with a touch more Southern rock for good measure. The only question now is what color the next album will be?
Sufjan Stevens – The BQE (Asthmatic Kitty, Oct. 20)
Again, sorry to disappoint, but this isn't the next in the 50 States series of albums. Instead, The BQE is Sufjan Stevens' 2007 expressionist multimedia art piece. An ode to the Brooklyn-Queens Expressway, the performance consisted of a short film, accompanying music provided by an orchestra, and hula hooping ladies. The package being made available in late October will include a DVD of the filmed footage, the soundtrack CD, extensive liner notes and a 3-D Viewmaster disc. Or, you can get the vinyl version that comes with a comic book. Not included: leg cramps from the stop and go traffic to La Guardia.
Russian Circles – Geneva (Suicide Squeeze, Oct. 20)
No matter what you call it: post-rock, metal, shoegaze, or other, a new album from Russian Circles is something to be happy about. It's only been slightly over a year since Station, the album that added Botch and These Arms are Snakes bassist Brian Cook to the mix. But, we're not complaining. As a friend of mine is fond of saying, "some is good, more is better."
Atlas Sound – Logos (Kranky, Oct. 20)
Only a few months after Atlas Sound, a.k.a. Deerhunter's Bradford Cox, released debut album Let the Blind Lead Those Who Can See But Cannot Feel, an early, rough version of his next album Logos hit the Web. A year early. In spite of that early digital snafu, the official album is coming out with some dramatic changes and polish, and single "Walkabout," with guest vocals by Animal Collective's Panda Bear, has been circulating on blogs and `zines for a while, only heightening the anticipation for the album. Whether or not you heard it the first time, this one should definitely be worth hearing.
Flight of the Conchords – I Told You I Was Freaky (Sub Pop, Oct. 20)
Flight of the Conchords was one of Sub Pop's biggest acts in 2008, thanks to an accompanying HBO show and viral videos up the wazoo. I Told You I Was Freaky is FotC's second full-length, and their third release for Sub Pop. There are a few songs from the Conchords' mixed-reviews-receiving second season, but there are some originals as well. It's business time once again…
Maps – Turning the Mind (Mute, Oct. 20)
James Chapman, aka Maps, made a little electronic niche for himself with some stellar single releases, leading up to the full length, We Can Create. Later this year, Chapman returns with an album based on the themes of changing mental states and mind-altering chemicals. Sounds familiar.
Wale – Attention: Deficit (Allido, Oct. 20)
Initially teased for a June release, then finalized for Sept. 22, then pushed back to Oct. 20, Wale's debut album is one of the most highly anticipated hip-hop albums of the year, and with good reason. After last year's Seinfeld-themed The Mixtape About Nothing, the D.C.-based rapper showed off not only his humor and vibrancy, but a go-go influence that set him apart from most of his peers. This new set was preceded by the underwhelming single "Chillin'," but second leaked track "Pretty Girls" is pretty hot, and with production from the likes of Cool & Dre, Mark Ronson and TV on the Radio's Dave Sitek, the album has promise to be a truly exciting one.
The Roots – How I Got Over (Def Jam, Oct. 27)
The Roots have been spending a good amount of their time providing a funky backdrop for Jimmy Fallon, but the long-running hip-hop group are still finding time to record and release new original music, and only a year after their last effort, Rising Down. It remains to be seen whether they'll continue the dark, synth-driven sound of their past couple records, but based on the title track, this could very well be a laid back and soulful affair, which would also be just fine.
The Swell Season – Strict Joy (Anti, Oct. 27)
How do you follow up an album that led to a hit indie film and earned an Academy Award? You get Peter Katis to produce, other members of the Frames to back up, and simply write more of the same gorgeous guitar and piano folk music ever. Then you name it after the work of an Irish poet…and delay it for a month or so. Arrrgghhh…
Annie – Don't Stop (Smalltown Supersound, Nov. 17)
Yeah, this damn thing's finally coming out. Annie got the world's attention with her sassy electro-pop album Anniemal and since then, she's been working on a new album, which was supposed to come out forever ago. She released the singles "Anthonio" and "I Know UR Girlfriend Hates Me," but neither of those is going to be on her new album which will finally hit shelves on November 17. And, if anything, that's a relief. Instead of rehashing old singles, the Norwegian pop princess is handing over a completely new set of music, which makes the prospect of this one all the more enticing.