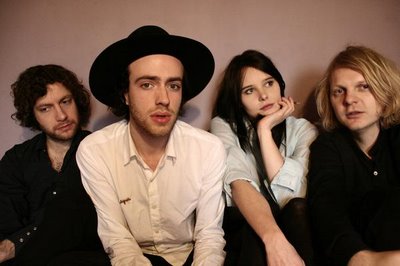 It's extremely hard to remain unbiased, and expel pre-conceived notions when seeing a live show. It's even harder to do so when the bar is set high, rather than low. "Expect the worst, hope for the best" is a far more preferable mantra than, "expect the best, and somehow end up with the worst." I have been a fan of London based, New Zealand bred band The Veils since a copy of The Runaway Found made its way into my music collection somewhere in the latter half of 2005. A few weeks ago I reviewed their latest release Sun Gangs, which you should know already, since I'm assuming that you read it. Frontman and primary songwriter Finn Andrews weaves an album of 11 heart-wrenching tracks, chock full of sadness, hopefulness, reflection, and pain.
It's clearly no secret that I love this band. However, seeing The Veils live has officially enhanced my opinion of them from a strong like to full-blown obsession. In fact, I had such a moving experience at their Mercury Lounge show, that three nights later I went to the Bell House in Brooklyn to see them again. Mercury Lounge is a tricky place. It's not easy to see the entirety of the band, and so for the full set I was pretty much bombarded with Finn Andrews and bassist Sophia Burn, not that I'm complaining. The Bell House show was a good opportunity to observe the rest of the band, as the stage is set higher so it's easier to see. Previous drummer Henning Dietz left the band prior to this tour and Raife Burchell stepped in without missing a beat, pun intended. The fluidity between Andrews, Burchell, Burn and guitarist Dan Raishbrook was perfection and, although sad to say, there was no obvious component missing.
Andrews is a complete enigma. Lead singers are stereotypically the obvious ringleader: brash, outspoken, unruly, strident and craving attention. While Andrews no doubt, gets attention, I'm not quite sure if it's a craving on his part. He is soft spoken, when not belting out his expertly written choruses at least, and almost childlike in nature. When Andrews addresses the audience, it is not with the commanding vigor of the all too common front man. He is timid when he speaks, and treads lightly, thinking intently before the uttering of every word. Yet at the same time he is also hilariously witty, as if completely by accident. Andrews is concerned with the audience's well being, as if not believing that they would be enjoying themselves, perhaps a mark of insecurity. "I apologize for all of my talking. I'm not sure why I can't stop. My talking is shit," he repeatedly says to the audience only to be met with cheers and laughs.
The song selection was impeccable, the band choosing a variety of tracks from Sun Gangs, their previous release Nux Vomica and even a slowed-down version of "The Tide that Left and Never Came Back" from 2004's The Runaway Found that sounded even better than the original. For the encore both nights, Andrews took the stage solo, with just his guitar to belt out the title track from Sun Gangs, before being joined by the band for the finale.
Before "Larkspur," Andrews gave some insight into the origin of the track, saying "I wrote this song because I want to write songs as good as Roy Orbison and Elvis. This song isn't as good, but it's a song about that, which is very clever. It's called `Larkspur' which is a word I thought I made up, but it turns out it's a small town in California and it's a plant as well. It's a bunch of things. To me it will always be a word that I made up."
On the Bell House night, Foreign Born was the headliner, alternating with the Veils from the previous Mercury Lounge show. I certainly am not discounting Foreign Born, I think they're great. However the emotional intensity of Andrews and company is unmatched by any performance I have seen before, and after their set a number of audience members called it a night. I can't say that I blame them: watching The Veils is exhausting. From the furious use of a bow on the guitar by Raishbrook to the straining, emotive vocals and subsequent facial expressions of Andrews, it is trying to sit through their set. It is, however, totally worth it. At the end you walk out feeling completely at ease, completely satisfied and completely entranced. It is impossible to take your eyes off of them. Andrews is a true genius for the lyrics and melodies he concocts, especially for a man of 25, yet the combination of his colleagues on that stage is magical and truly is a sight not to be missed. It is a travesty, a true disservice that everyone in America has not seen this band.