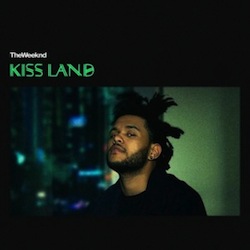 Abel Tesfaye, otherwise known as The Weeknd, has been using R&B as a medium for non-traditionally soulful music since 2011, when he first uploaded his album-length "mixtape" House of Balloons to the Internet and became a minor celebrity. Two more mixtapes — Thursday and Echoes of Silence — followed that same year; both are admittedly worthy of further treatment but will not receive it here. It is instead more important to note that Tesfaye's celebrity is fueled by the demographic that he sings to: modern youth. In this sense his stage name is apropos, accompanying his music in evoking the pathos, the dark beauty, and the smoldering, psychological tension of the weekend party scene — true, raw experience for many, undoubtedly, who listen to him. And what better to softly deliver the swing of emotions that this environment engenders (from sinister fantasy to desperate lust to drugged emptiness) than Tesfaye's breathy falsetto, adrift in an electronic ocean of unnatural sounds and indistinct samples? Indeed, The Weeknd's music — its combination of the pomp, euphonious beauty and confessional nature of earlier soul within the more complex, paranoid context of the present — speaks to this generation with a directness and familiarity that is nearly unrivaled.
But the album is the currency of critics, and The Weeknd's decision to release his first as a combination of mixtapes was a misstep. Not that his proper debut, Kiss Land, has been unanticipated, but the sensibility surrounding its release is absolutely more skeptical than it would have been otherwise. That much is apparent in the underwhelming critical response that it has received. But what else is going on in Kiss Land, the album that The Weeknd made to evoke "fear," and which was obviously made with earnestness?
An acrobatic idea, first and foremost. Tesfaye's vision — using a type of music that is supposed to be beautiful as a medium to channel horror — is intriguing and deserves discussion, even if his craft (and that of his producers) does not realize it with complete success. The fact that the execution fails the idea on Kiss Land undoubtedly validates the fears of many a critic who listened discerningly to the mixtapes, but it does not erase the poignancy and success of particular moments on the album. Time and time again, The Weeknd attempts to unsettle his listener with unexpected additions to his arrangements: hammering piano on "Love in the Sky;" incorporeal female screams on "Kiss Land;" and the Portishead sample on "Belong to the World." On each of these tracks the singer's cleverness pays off and allows him to approach the success of "Initiation," the most perfect articulation of his vision to date. But despite these occasional surprises, the songs on Kiss Land generally do not diverge from The Weeknd's earlier catalog in makeup — consisting of sample-incorporating synthetic arrangements — instead continuing to swell even greater. As a consequence, the sparseness that often enhanced the effect of Tesfaye's crooning, especially on House of Balloons, is lost, leaving only the monolithic (often indiscernible) productions to loom over and further obscure underdrawn lyrical impressions of the singer's emotional life. So Tesfaye's closing assertion on "Kiss Land," "this ain't nothing to relate to, even if you tried" is sadly accurate. Truthful though this strategy may be to The Weeknd's personal experience, the art suffers for it.
Further, Kiss Land truly leans to convention more than experimentation, despite the experiment that is its purport. This could be a product of any number of things, but the likeliest appears to be Tesfaye's obsession with the work of Michael Jackson, clearly present in Echoes of Silence on "Dirty Diana" and emerging here on the unabashed disco of "Wanderlust." The presence of popular hip-hop is also impossible to ignore, suggested both in the appearance of friend and frequent collaborator Drake, and the lyrics, which directly adopt the sensibility of contemporary rap. The lyricism throughout Kiss Land is thus below average, occasionally offering a glimpse of impressive thought or profound emotion, but most often burying them under unsubtle ruminations of materialistic pseudo-fantasy; indulgently blending reality and dream.
Lest I return too often to Yeezus, Kiss Land is a similar offering. Though the concept is impressive — especially for a mainstream musician — the actual work does not follow through successfully, abetting just as many poor artistic decisions as good ones and relegating the experimental elements to the fringes, where they stay incomplete and ultimately languish piecemeal across the album. Then again, one doesn't visit kiss land for restrained formality and a clear sense of direction, do they?
Similar Albums:


Drake – Take Care


Kanye West – Yeezus


The-Dream – IV Play