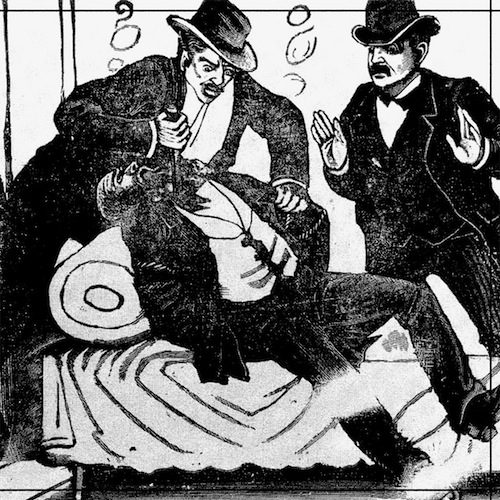 One of the risks with being a prolific band is the threat of self-parody. For the past seven years, Louisiana sludge metal group Thou have bludgeoned listeners both with the power of their music and the sheer quantity of it. To date they've released four full lengths and roughly a dozen splits and EPs; many of which are lauded by critics and then honestly missed or unjustly ignored by everyone else. And yet, they show no signs of slowing down. Sacrifice is their newest EP, arriving on the heels of most recent full-length Heathen, and containing five songs that were recorded during the same session. It's a condensed collection that at times feels as effortlessly honed as the accompanying full-length, if not a little uneven for the chances it takes.
Thou first gained notoriety with their 2008 full length, Summit, which was something of a game changer in the way it reimagined the nihilistic sludge championed by bands like Eyehategod or Unearthly Trance to allow for small glimmers of hope to percolate into the sense of overbearing hopelessness. Heathen is a similar long player that has the tone and feel of a culminating statement of the melodi-sludge Thou have perfected.
Thou's productivity suggests they can write a 10-minute epic in a matter of hours, but they are far from complacent or one-dimensional. Like any great band, Thou show a willingness to experiment, dabbling frequently with black metal, punk, hardcore, noise, drone and grunge. The band has stated in interviews that it's in the steady slew of EPs and splits that they experiment with sounds they'll implement in future full-lengths.
Sacrifice is a relatively brief collection of misfits and headbangers. It opens with the most familiar Thou territory, "New Orleans is a Hole" — a woozy stomp that weaves through several different riffs before locking into a slow march over a bed of white noise;  "Pill" is the most novel track stylistically, as it sets a chorus reminiscent of '90s nu-metal in the crosshairs of a Crowbar number. The best track is "Eulogy," a condensed serving of riffs blanched of any sentimentality, showing that Thou can efficiently snap necks as aptly as they can slowly peel at blackened heartstrings. The EP ends with a cover of Nirvana's In Utero b-side, "I Hate Myself and I want to Die," that sounds as natural as anything the band would write on their own.
Thou are at their most majestic when they unload their steady lashings with a sense of overarching purpose (even when that purpose is as inscrutable as vocalist Brian Funcke's lyrics). Sacrifice doesn't cater to this sensibility and instead aims its focus on economic mayhem, with a drone palette cleanser on "I Believe Because It Is Impossible." Sacrifice is not the band's most formidable material — look to Summit and Heathen for that — but even when playing it casual Thou inflict an impact stronger than most of their peers.
Similar Albums:


Thou – Heathen


Pallbearer – Sorrow and Extinction


Serpentine Path – Serpentine Path