Tom Waits may be the only artist alive that manages to get even weirder with each release. In the seventies he specialized in piano balladry, which gave him the reputation of being something of a drunken West Coast version of Billy Joel. Then in the eighties, he turned his efforts toward a more Weill-influenced sound, combining Captain Beefheart, sea chanteys and only a fraction of the ballads that flooded his early releases. But now that Waits has entered the 21st century, he has taken the weirder elements of his music further, almost dropping the tender balladry entirely. His newest release, Real Gone sees Waits ditching his tried and true piano for a strange, gothic Americana sound that echoes weirder moments from Rain Dogs and Swordfishtrombones while veering futher into a creepy, Nick Cave-like territory.
But what makes Real Gone so obviously strange is the percussion, or lack thereof. The crashes and thuds that you hear aren't drums, they're Tom Waits, making fucked up sounds with his mouth and sampling them for use in place of percussion. You heard me right — it's Waits beatboxing. It's not as absurd as it may sound. Okay, it is that absurd. But we're talking about Tom Waits here, and he's never let us down before. For the most part, this strange vocal approach actually works. In "Clang Boom," he merely sounds like he's scatting, while companion "Clang Boom Steam" actually sees Waits resembling factory machinery. Waits' son, Casey, actually provides real drums on a handful of songs, like the bluesy "Make It Rain" and the bittersweet "Dead and Lovely," though the vast majority of songs rely on Waits' own mouth sounds to carry their beats.
Though the piano is out of the picture this time around, Waits gets by just fine with the musicians he brought with him, most notably former bandmates Larry Taylor and Marc Ribot. Ribot's guitar flavors most of the songs with its rough, Latin-influenced blues sound. If Beefheart joined the Buena Vista Social Club, it would most likely sound something like Real Gone. "Baby Gonna Leave Me" and "Hoist That Rag" are manic and rockin', while "How's It Gonna End" and "Day After Tomorrow" are slower and more subdued. Primus' Les Claypool even plays upright bass on a few tracks, though don't expect the bizzaro slap of his other band. When you play music with Tom Waits, you play by his rules.
Lyrically, Waits keeps up his tradition of telling peculiar stories within song, many of the selections here containing casts of characters comparable in oddness to those of Rain Dogs or Frank's Wild Years. This time around we are introduced to Horse Face Ethel and her Marvelous Pigs, one-eyed Myra, Zuzu Bolin, Everett Lee, Saginaw Calinda, Knocky Parker, Bowlegged Sal, Joel Tornabene, Shane and Bum Mahoney, Piggy Knowles, Sing Sing Tommy Shay and a girl who's dead and lovely. There are no one-eyed dwarf captains here, but Waits' current ensemble is enough to keep us amused for quite a while.
It's hard to pick a clear favorite song on this collection, as Waits' albums are always consistently good (and weird) through and through. Everything sounds a lot dirtier on Real Gone, which gives each of the songs their own rough, rugged character. "Dead and Lovely" is a wonderful, old-timey jazz ballad that sees Waits combining his penchant for slower ballads with his knack for creating wonderfully dark slabs of gothic folk. "Metropolitan Glide" is an agitated, muddy dance number, utilizing Casey Waits' turntable skills. And "Hoist That Rag" is a primal, Cuban mambo that sounds like a mutated cousin of "Jockey Full of Bourbon."
As a rule, Tom Waits doesn't make bad records. On the contrary, he makes awesome records that never disappoint. And though his songwriting rarely deviates from the dark and the strange, it's what makes him who he is. Real Gone is a strong outing from an artist who has stood the test of time and even gotten better as a result. Nobody can fuck with Tom Waits, and Real Gone is proof of that.
Similar albums:
Tom Waits – Mule Variations
Nick Cave – Nocturama
Joe Henry – Scar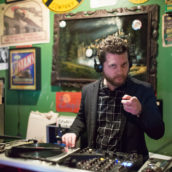 Jeff Terich
Jeff Terich is the founder and editor of Treble. He's been writing about music for 20 years and has been published at American Songwriter, Bandcamp Daily, Reverb, Spin, Stereogum, uDiscoverMusic, VinylMePlease and some others that he's forgetting right now. He's still not tired of it.