The Top 100 Hip-Hop Albums of the '90s: 1990-1994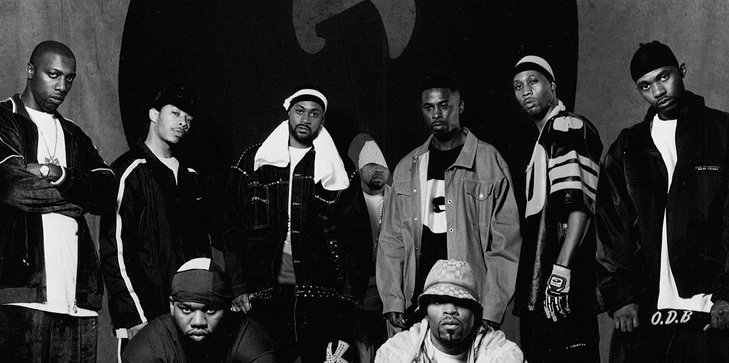 1993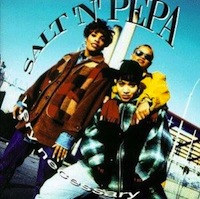 10. Salt 'n' Pepa – Very Necessary
(Next Plateau)

Even though Salt 'n' Pepa was one of the first all female rap groups, Very Necessary transcended definition by gender. With their R&B edge and crisp flow Salt, Pepa, and DJ Spinderella presented a hip-hop experience unlike any other at the time with their fourth studio album. Very Necessary provided a unique counterpart to the gangsta trend of the time, its lyrics about femininity and relationships without violence or angst unprecedented in rap circa 1993. One of their biggest hits, "Whatta Man," featured the guest vocals of En Vogue and showcased Salt 'n' Pepa at their finest. And "None of Your Business" is another standout with some prideful rhetoric about women having the freedom to do what they please. From the grinding and good-natured, yet bawdy "Shoop" to a call for AIDS education, this trio was all that and a bag of tricks. – Dan Pritchett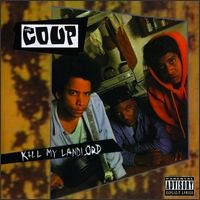 9. The Coup – Kill My Landlord
(Wild Pitch)

Who knew that the sound of revolution was so funky? Apparently Oakland's The Coup did and on their debut album, 1993's Kill My Landlord, they brought equal parts funk and rage to create one of the most intellectual yet danceable albums of the year. Led by the outspoken Boots Riley, The Coup took the social commentary of their contemporaries and took it to new heights. Kill My Landlord is peppered with lyrics centered on Marxist ideology, social inequality, police brutality and the ills of capitalism, making it the lyrical blueprint for numerous conscious hip hop albums to follow. That being said, the intense subject matter of the lyrics may not have held as much weight if not for Riley's funk inspired production and the turntable wizardry of the impeccable DJ Pam the Funkstress, both of whom combined to make Kill My Landlord sound like the freshest protest music ever. – Ryan Brun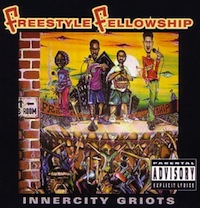 8. Freestyle Fellowship – Innercity Griots
(4th + B'way)

Jazz rap brought scat and dap to the boom-bap—the instrumentation, arrangements, drum breaks, and laid-back attitude of bebop and other jazz forms seeped into hip-hop as the 1990s progressed. It made its way across the U.S., hitting its West Coast peak in 1992 with The Pharcyde's Bizarre Ride II. That may have been the sound's single biggest album on that side of the country, but Freestyle Fellowship would end up with the longer legacy through the ongoing work of main mouths Aceyalone and Myka 9. They and their friends P.E.A.C.E. and Self Jupiter first convened at the Good Life Cafe in South Central L.A., and while they didn't completely reject the gangsta rap tropes that surrounded them they certainly favored more positive, fluid vibes, and found those more often in jazz than G-funk. Innercity Griots, their second album, found them creating incredibly soulful moments that resembled Gil-Scott Heron's knowing R&B ("Park Bench People") and the new hotness of acid jazz ("Inner City Boundaries"). But this was still a rap album at the end of the day, and the crew here really seemed to embrace the "freestyle" in their name. From the lyrical calisthenics peppering group-intro cut "Everything's Everything" to big single "Hot Potato," Freestyle Fellowship's big strength was a level of pass-the-mic interplay and complexity to make Beastie Boys jealous. – Adam Blyweiss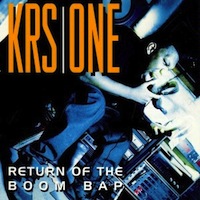 7. KRS-One – Return of the Boom Bap
(Jive)

The blast-master KRS-One may be on a long list of the greatest rappers of all-time, but he's on a short list of the greatest emcees. With crowd-rocking ability acting as the differentiating factor between the two titles, KRS-One has an absolutely Zeus-like stage presence and looks visibly pained if a beat's playing and he's not rapping over it — a trait that makes the one minute and forty second introduction to "Higher Level" feel so unique. During that intro KRS-One adds a bit of color to the recording process: "We just chilling right here in D&D Studio, it's about 5 o'clock in the morning." That time-stamp finds KRS between personas; during the day he's warning children not to use guns ("Uh Oh"), empowering black women ("Brown Skin Woman"), and hating on the police system ("Sound of da Police," "Black Cop"). By night, he's smoking weed with hip-hop legends ("I Can't Wake Up"), and taking down wack emcees (almost every other track). But at 5 o'clock in the morning the party's over and all the children are still asleep, giving KRS-One the freedom to tackle one of his deepest topics: black culture accepting white religion. Paired with one of six DJ Premier beats on the album, KRS-One's lyrics are as powerful and provocative as ever: "I don't want a God that blesses America / I could never really vote for the devil / Let me take you to a higher level…" – Donny Giovannini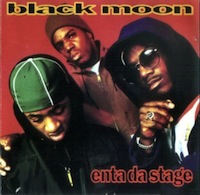 6. Black Moon – Enta da Stage
(Wreck)

Black Moon's debut is the record that got away. By all accounts, it's an amazing album, but it never did — and, by and large, still doesn't — receive the level of recognition that it deserves. It's sometimes true that the best creative work is done under extreme stress, and that's definitely the case with Enta Da Stage, which was spawned from the turmoil-ridden mind of a teenage Buckshot. Yes, it's just as violent and confrontational as advertised, but I dare you to not be intrigued by it. If you want to be surprised, spin Enta da Stage in one sitting, and then listen to just about any East Coast hip-hop classic from the next few years. What you'll find are indisputable traces of Black Moon everywhere (yes, including Illmatic). But even with its great legacy, the terrible, wonderful art of Enta da Stage has never quite been recreated. It's inimitable. – Connor Brown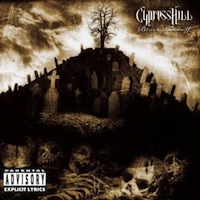 5. Cypress Hill – Black Sunday
(Ruff House-Columbia)

There has long been a myth stating that marijuana is a gateway drug that will lead to the use of other substances. The same thing can be said for the hydro-obsessed group Cypress Hill and their hypnotic sophomore effort, 1993's Black Sunday. Fueled by untold amounts of weed, Cypress Hill unleashed a sound that was both exciting and original. Familiar were the tales of gangbanging and city life, but Black Sunday also offered eccentricities all its own. The nasal whine of B-Real's flow combined with the harsh bark of his counterpart Sen Dog to create one of the most dynamic MC pairings of the '90s. Add in the clam-baked, bass heavy production of DJ Muggs and Black Sunday is an instant classic. Propelled by the crossover hit "Insane in the Brain," Black Sunday helped introduce hip-hop to an entire generation of people that otherwise might not have given in to the pressure. – Ryan Brun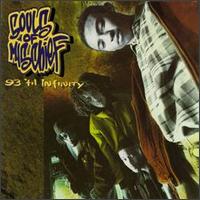 4. Souls of Mischief – '93 Til Infinity
(Jive)

For LA, it was rolling down the street while rapping out of a hydraulics-juiced low-rider. For New York it was rhyming in the middle of a crew, probably on top of a roof or underneath the Brooklyn Bridge. But the Oakland scene of the '90s is harder to visualize. It had The Coup getting down with politically conscious content, E-40 testing out different thizz faces, and Capital Tax coming with an East Coast style somewhere between Brand Nubian and Poor Righteous Teachers. Formed when they were still in high school, Tajai, A-Plus, Phesto, and Opio added another special sauce to the Oakland pot as Souls of Mischief. The group is best known for their title track, "'93 Til Infinity," a song that I suspect has as been endorsed as "chill" more than any other song, ever. It's a perfect, if not tired, descriptor for the song, but hardly representative of the entire album, especially the first six songs which get delivered with an uncanny sense of both urgency and swagger. The content is interesting but the lyrics themselves aren't extremely poetic, or even that important — all four emcees succeed because they twist and bend words with offbeat cadences and perfectly timed transitions. The end product is a kind of cool that doesn't conform to any stock photos or motifs — a perfect fit for Oakland and also the reason that '93 Til Infinity remains surprising even today. – Donny Giovannini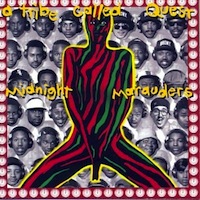 3. A Tribe Called Quest – Midnight Marauders
(Jive)

Sophisticated, socially conscious rap was the scene. As the early extremities of gangsta rap emerged, so did its counterpart. Within that intellectual counterpunch to the increasingly explicit and desperate social commentaries being leveled by gangsta rap, The Low End Theory earned Tribe a permanent place on the map — Midnight Marauders broke the glass ceiling. A crossover between heady rap and pop rhythms, and while they lost the pure jazz samples, in doing so they did then what Kanye does now: bridge the gap between indie/alternative and mainstream.
Virtually every gangsta rap trope is inverted here with inventive, accessible style: the diss track "Sucka Nigga" ending with the voice of a recording saying, "you're not any less of a man if you don't pull the trigger / you're not necessarily a man if you do"; the framing device in the place of skits; the background cover homage to 71 prominent hip hop figures as a form of authenticity instead of posturing images from the street; citing statistics and professing the need for AIDS education at a time when Snoop Dogg was cutting edge for rapping about using condoms; "This is '93 and this shit is real / black people unite and put down your steel."
Aside from the ideals of the subgenre they were helping to define, they added horn samples to the more skeletal stylings of Low End Theory and turned Ron Carter's bass into an unconscious monster. In doing so, Tribe adds to the merit of their history, of their cause. Both their past and their present were necessary to educate such an audience. As such, this is one of the most digestible, smartest examples of ambition pushing a group of (already era-defining) artists to top itself. – Justin Stephani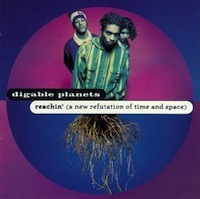 2. Digable Planets – Reachin' (A New Refutation of Time and Space)
(Pendulum)

Smooth and mellow. Hip hop had seen smart, defiant, aggressive, white, gritty, clean, more openly ambitious and much more revealing efforts of greater cultural contexts; but nobody had sounded quite like this before. Defying regional designations on this debut — while they were based in Brooklyn as a group, Butterfly is from Seattle, Ladybug is from Silver Spring and Doodlebug is from Philadelphia — Digable Planets, to this day, maintain a space all their own.
They aren't going for the intellectual strain so much, yet there's still a realism to it that grounds its lyrics firmly in the socially conscious realm. The samples give it a headiness, yet they're not obscure, just—True. The inimitability, then, comes from 1) that spaced-out production (a descriptor meant both literally and figuratively), which spans soul, funk and jazz, running the gamut of recent black music history and presented in such a way as to make all of it totally digestible in one package, and 2) the smooth sophistication of their lyrics. Again, not intellectually superior, just smarter and cooler than you could think of while discussing a variety of topics and anecdotes (e.g. being Real, Roe v. Wade, et al), most of them proving to be timeless, especially one chorus: "I'm cool like that." It sounds lame and it really should be, but they make it work—very, very well—and that's pretty much the point of this unbelievably, utterly effortless debut effort: These people are way fucking cooler than you are. – Justin Stephani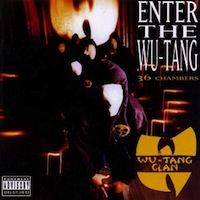 1. Wu-Tang Clan – Enter the Wu-Tang (36 Chambers)
(Loud-RCA)

As one of the most iconic hip-hop records of all time, 36 Chambers doesn't need much of an introduction. Of course, the Wu-Tang Clan's debut is another instance of a hip-hop masterpiece that wasn't fully understood upon its release, but grew to its pinnacle of acclaim in subsequent years. What changed? Well, it became clear as the decade unfolded (check the next few years of this list and see for yourself) that 36 Chambers likely represented the greatest single concentration of talent ever amassed on a single rap album. Even putting talent aside, however, the intensity and rawness of the young Wu-Tang Clan comes through so powerfully on 36 Chambers that it will shake any receptive listener, even now. Surveying the ten albums presented here, 1993 certainly stacks up as a great year for hip-hop music, but sorry, this one isn't even close. – Connor Brown