The Top 100 Hip-Hop Albums of the '90s: 1990-1994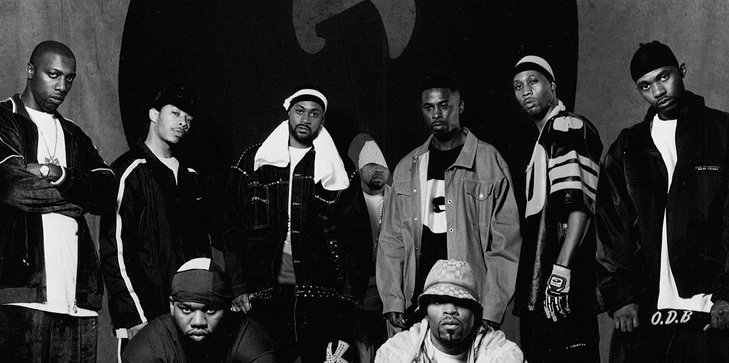 As recently documented by NPR, 1993 proved to be an important — nay, essential — year for hip-hop. It was the year that saw 2Pac become an icon, Biz Markie entangled in a precedent-setting sample lawsuit, and the rise of the Wu-Tang Clan. Indeed, there are few other years in hip-hop history that have borne witness to so many important releases or events, save for 1983, in which rap powerhouse Def Jam was founded in Russell Simmons' dorm room, or 1988, which saw the release of about a dozen or so game-changing releases.
So this got us thinking: Is there really a best year for hip-hop? As Treble's writers debated and deliberated, we came up with a few different answers, mostly in the forms of blocks of four or five years each. But there was one thing they all had in common: they were all in the 1990s. Now, some of this can be chalked up to age — most of Treble's staff and contributors were born in the 1980s, and cut their musical teeth in the 1990s. But looking at the tallies, one can't overlook the sheer volume of groundbreaking, innovative and just plain great hip-hop released during the decade.
Part of what makes the '90s such a landmark era for hip-hop is just how many different scenes were being cultivated at once. The Five Boroughs further refined a long tradition of innovation in beatmaking, leading to a hardcore hip-hop renaissance. Meanwhile, on the West Coast, bulk orders of Zapp and Parliament records became sample staples of the G-funk era. There were dirty sounds coming out of the south, conscious raps out of Chicago, and several cartoonish villains seemingly leaping from comic book pages. In the '90s, there was a lot to keep up with. In fact, the sheer number of great albums released meant that a lot of favorites ended up falling just short of the cut. So, you know, we know that they're not there. No need to remind us.
So we're offering up our picks for the best hip hop albums of the 90s, in tens, year by year. We start with 10 for 1990, the next day add 10 for 1991, and so on. This is how we chill, from 1993 til…
As a side note, we will be suspending daily record reviews while the rollout happens. They'll be back on Monday, Aug. 19.
1990
1991
1992
1993
1994
1995
1996
1997
1998
1999
1990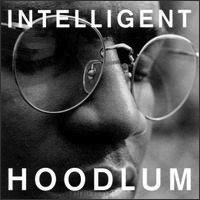 10. Intelligent Hoodlum – Intelligent Hoodlum
(A&M)


Occupying the liminal space between hip-hop's primary early '90s divergence, Intelligent Hoodlum's name is his story in two words. Sometimes he gets this across by thudding listeners over the head with halting, blunt raps, yet they're not without a certain earnest charm. Perhaps more impressive is the rhythmic interplay that persists; how Marley Marl stands up rolling rhythms in the background, laying the accents bare for the rapper later named Tragedy Khadafi to showcase his lyrical dexterity and deft storytelling, all the while adjusting the ambience based on the varied subject matter. But most impressive is the perhaps unconscious ambition behind Khadafi's position as an "Intelligent Hoodlum": "I write just like a novelist / No one's as hard as this / Step from the stage because I'm sparkin' it like Spartacus." Constantly maintaining authenticity, constantly going after something more.
After all, "Keep Striving" is a goddamn PSA about staying positive and working hard, yet it's all in the name of surviving the streets, even if that means dealing with an at-times equally nefarious industry like hip hop. It's as gift-wrapped a message as you can get, balanced by songs like "Arrest the President," in which his aggression is concentrated into mini-couplets that flash in the dark production like rapid-fire epiphanies. It's a dichotomy that appears to be at-odds within Hoodlum: To be the big brother for every kid exposed to the streets at an age too young just like he was, or should he use his microphone and growing voice to share his aggression, unveil the oppression that is the cause of his community's cyclical circumstances. As an anthropological document, more than a virtuosic one, this album remains timeless. – Justin Stephani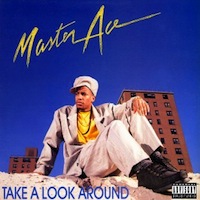 9. Masta Ace – Take A Look Around
(Cold Chillin')
In 1988 Masta Ace made his initial mark in hip-hop's sphere, appearing on Juice Crew's In Control Volume 1 where he took part in the posse cut "The Symphony," alongside heavyweight emcees Kool G Rap, Big Daddy Kane and Craig G. Even though Ace was last of the group to release a solo album, his debut Take a Look Around is a classic mostly constructed by famed producer Marley Marl. The album's opener, "Music Man," features a sample from Grand Funk Railroad's "Nothing Is the Same," which is one of the many examples of carefully chosen backdrops intertwined with a slow and steady beat topped off with Masta Ace's timeless flow. Of Take A Look Around's many breaks beneath Masta Ace's raps, nothing beats "Brooklyn's Battles." The most notable moment on the record is the tribute/ impersonation of label mate Biz Markie in "Me and the Biz" who reportedly couldn't make it to the studio for the desired collaboration, but the homage makes this album that much more interesting. – Dan Pritchett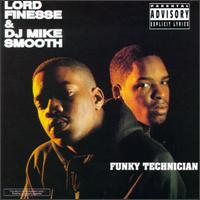 8. Lord Finesse and DJ Mike Smooth – Funky Technician
(Wild Pitch)


In the grand hierarchy of hip-hop royalty, Lord Finesse seems to be, in name only, just beneath Prince Po and King Tee, and above Earl Sweatshirt. But in practice, Finesse has a uniquely playful fierceness that puts suckers to shame, performing lyrical jousts on the mic rather than simply sit back in his throne and watch the jesters play the fool. No, Lord Finesse is a man of action, and he drops effortlessly exclamation-addled battle fare throughout the 13 tracks on Funky Technician, few that come with as many "Oh shit!" moments as the three-minute standout "Just a Little Something." While Funky Technician is credited to Finesse and Mike Smooth, who provides some splendid scratching, the production credits are a "who's who" of track superstars — Premier, Diamond D, Showbiz. That this didn't gain much traction outside of the underground in 1990 is a head scratcher. Funky Technician has "classic" written all over it. – Jeff Terich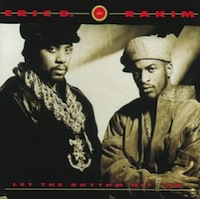 7. Eric B & Rakim – Let the Rhythm Hit 'Em
(MCA)


Eric B & Rakim dominated hip-hop in the 1980s — between Paid In Full and Follow the Leader, the duo established themselves as the most unstoppable MC/DJ team in the game. Of course, hip-hop itself was changing, and by the '90s, as the polarized Native Tongues and gangsta rap movements began to rise, Eric B & Rakim didn't have a place at the table. It's too bad, really, as Let the Rhythm Hit 'Em is every bit the dynamite selection of beats and rhymes its predecessors were. Eric B drops break after break of deep funk, as Rakim unleashes string after string of rapid-fire lyrical assaults, chief among them the laser-focus of the title track. Maybe the marketing wasn't right, but the music was on point. – Jeff Terich
6. LL Cool J – Mama Said Knock You Out
(Def Jam)


The endlessly quotable opening words of this album's title track — "Don't call it a comeback" — are really part lie, part revisionist history. In reality, LL Cool J's 1989 album Walking with a Panther, in spite of at least two hall-of-fame singles of its own, had cooled the hard reputation he'd staked on Radio and Bigger and Deffer. Uncle L was suddenly, cartoonishly all about bling and babes, at a time when an overinflated ego could still separate you from your street cred. Enter two saviors: First came LL's grandmom, a driving force in his life, who told him to slay his critics the next time around. Then came the pride of Queens, producer Marley Marl. [It should come as no surprise that he produced two other albums on this list.] LL seemed to feed off of MM's beats; they inspired a new level of ninja efficiency in his shout-outs to both homeboys ("Farmer's Blvd.") and homegirls ("6 Minutes of Pleasure," "Around the Way Girl") and brought back a measure of legitimate menace behind his mic ("The Boomin' System," "Murdergram"). – Adam Blyweiss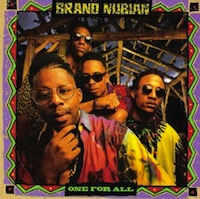 5. Brand Nubian – One For All
(Elektra)

Brand Nubian, like so many other rap artists in the '90s, never sounded better than they did on their debut, One For All. White hot, and with a huge chip on their shoulder, Brand Nubian tear through 16 impeccably produced tracks without losing an ounce of steam along the way. This consistent energy is reinforced by equally intense lyrical content, which would best be described as "conscious" but really transcends that term, often moving outside of sociopolitical concerns to address sex, life and religion with wit, humor, and a regrettable hint of misogyny (though not quite as bad as some of their genre contemporaries). Though Grand Puba & Co. may not have been at their most incendiary here — Everything is Everything wins that contest — the inspiration and skillful execution behind One For All carry it to its place on this list. – Connor Brown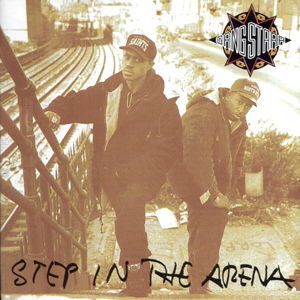 4. Gang Starr – Step in the Arena
(Chrysalis)

Though they were always on the same team, toward the end of their career many fans attributed most of Gang Starr's success to DJ Premier's beats — a somewhat defensible position considering the man is undoubtedly on a short list of the greatest producers of all time.  But to shine the spotlight behind the boards goes against the coda of '90s hip hop, which, unlike the 80s, had big personality rappers taking a lion's share of the attention. Whatever effect this had on Gang Starr's chi and eventual breakup is unclear (Guru felt the need to declare their success was "Mostly the Voice" on '94's Hard to Earn), but in 1990 their camaraderie was rock solid.
Step In The Arena starts out with an almost primal display of fitness: from the title track, to "Form of Intellect" and on to "Execution of a Chump," Guru is braggadocious without ever resorting to petty gangster threats. It's a confident and tough personality that doesn't feel inconsistent with later instances on the album when Guru raps about girls interrupting his spaghetti, or young boys getting sucked into gangs on "Just To Get A Rep." Aggressive, intelligent, hungry and tightly packed, Step In The Arena is a perfect entry point to one of the greatest hip hop duos of all time. – Donny Giovannini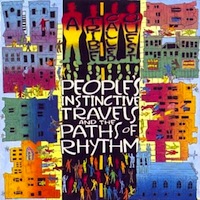 3. A Tribe Called Quest – People's Instinctive Travels and the Paths of Rhythm
(Jive)

At the midpoint between De La Soul's introduction of "D.A.I.S.Y. Age" and their subsequent, full-throated takedown of their own creation, fellow forward-thinking New Yorkers A Tribe Called Quest dropped a debut album with just as much freewheeling invention and songs jam-packed with outside-the-box ideas. The group's induction ceremony into the Native Tongues family, People's Instinctive Travels and the Paths of Rhythm is slightly undercooked when held up against the jazz-rap masterpiece that came a year later, but the ideas were there from the beginning, and most of them pretty damn impressive. Q-Tip (The Abstract) and Phife (The Five-Footer) tag-teamed hilarious road trip mishaps on "I Left My Wallet In El Segundo" and got in touch with their sensitive sides on "Bonita Applebum," while Ali Shaheed Muhammad laid the groundwork for the group's trademark laid-back sound, dropping jazz fusion sounds on "Push It Along" and flipping a Lou Reed sample on "Can I Kick It?" It's a hell of a first effort, but really just the beginning of the journey. – Jeff Terich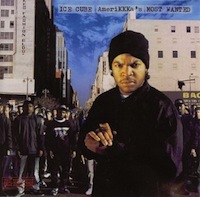 2. Ice Cube – AmeriKKKa's Most Wanted
(Priority)

In late 1989, Ice Cube split from N.W.A., the massively successful (and controversial) hip-hop crew from Compton, Calif. Undoubtedly, many fans and critics wondered if Cube would be able to sustain on his own, but they didn't need to wait long for their answer. Ice Cube's unleashed his debut solo offering AmeriKKKa's Most Wanted in May of 1990, and instead of taking a step back from the provocative nature of his previous work, Cube pushed ahead and provided the world with another stark portrait of ghetto life in Los Angeles. Lyrically, AmeriKKKa's Most Wanted didn't pull any punches, touching on topics ranging from drugs, women, gangbanging and the racial disparity that existed in the projects. Although there were other MCs at the time that addressed these same issues, no one did it with the same force as Ice Cube did on his debut, cementing his status as one of the most entertaining, yet socially honest MCs of the '90s. – Ryan Brun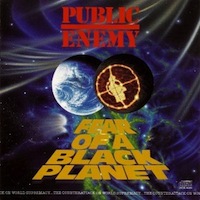 1. Public Enemy – Fear of a Black Planet
(Def Jam)

Chuck D, Flavor Flav, Terminator X, Professor Griff, and The Bomb Squad production team assembled Public Enemy's initial masterpiece It Takes a Nation of Millions to Hold Us Back in 1988. It was rap's first salvo in an artistic war on facets of long-institutionalized American racism in the military, the prison system, radio programming, and drug addiction. This was a measured and informed attack, one replaced wholesale on Fear of a Black Planet with frenetic sonic paranoia. Griff made public anti-Semitic statements that led to his dismissal from PE before work began on the Nation of Millions follow-up; the backstage politics informed not just the new rhymes ("Told a-rab get off the rag") and themes but the sampledelica, all impossibly more manic than before. Chuck D's media-portrayal cut "Burn, Hollywood, Burn" filters lyric anger from Ice Cube (oh, the irony) and Big Daddy Kane; "Meet the G That Killed Me" is a brief but multi-layered screed about AIDS; "911 is a Joke" is Flavor Flav's performance pinnacle, a legendary commentary on emergency response in the 'hood. The buzzing soundcraft sets up angry, fearful atmosphere on tracks like "War at 33 1/3" and "Contract on the World Love Jam," crazed sonic assemblage on one of the last great sample-based rap albums before legal wrangling changed hip-hop for the worse. And this doesn't even touch the album's biggest hits like "Welcome to the Terrordome" and "Fight the Power." If rap was indeed the black CNN — Chuck D's money quote from this period — Nation of Millions may have been a report on the call for organized black rebellion. Fear of a Black Planet, subsequently, could be the editorial suggesting that such an effort was failing and chaos reigned instead. – Adam Blyweiss