To experience Under Byen is to step into a darkly alluring, eerie yet intimate world where nothing is familiar but everything is oddly stimulating. The cinematic Danish post-rock practically doubles as noir pit orchestra, creating music that is oddly evocative, even for those who don't speak the band's native language (and that goes for us as well-Danish isn't a tongue that comes easy around here). Yet, if Sigur Rós has taught us anything, it's that you don't even actually need to sing real words to express palpable and profound emotion. In the case of Under Byen, the words are real, even if the meaning is not so apparent, but the power and expression behind their subtly complex and mysterious music needs no translation.
Under Byen's 2006 effort Samme Stof Som Stof was, simply, a masterpiece. It was an epic and profound work that juxtaposed the sinister with the graceful, the beautiful with the terrifying. That its follow-up should come four years later isn't so surprising; their music is sprawling and spectacular, teeming with layers upon layers of delicate ambience and harsh rhythm. One could easily listen to an album by Under Byen and attempt to peel off its strata piece by piece, absorbing a new and spectacular aspect with each spin.
What is surprising about Alt er Tabt, the band's fourth full-length, is how much more immediate it is than its predecessor, immediate being a relative term. Whereas Samme Stof Som Stof contained a handful of seven- and nine-minute epics, building and releasing with a slow and tempered construction, the majority of material on hand this time around stays well under five minutes. And for that matter, this album has hooks. It has grooves. It's not so much a dance album, or even that much of a pop album, frankly, but it's the closest to either that Under Byen has ever come. The title track, with its accompanying video of kitchen mishaps, is one of the sexiest things the band has ever crafted, all serpentine post-punk bassline and escalating strings.
Should anyone be under the mistaken impression that a more accessible permutation of Under Byen might be mistaken for one lighter or less haunting, Alt er Tabt translates to "all is lost." This ain't no party, disco, fooling around or otherwise. But Alt er Tabt does find the band placing a more heavy emphasis on more immediate melodies and pop songcraft, even if it's a form of such that only bears a passing resemblance to anyone else's definition of pop. The brief leadoff track "8" is a simple, ghostly folk tune propelled by a repeating pattern of fingerpicked guitar (or even perhaps banjo) over an unsettling bed of strings. In stark contrast, "Territorium" opens with a steady 4/4 trip-hop beat and a memorable bassline hook before a cascade of more strings, melodica, Far Eastern samples and various other curiosities come rushing in. It's not only a strikingly urgent sound from the band, but sonically sublime.
There are fleeting traces of Brian Eno in the electronic pulse of "Ikke Latteren Men Øjeblikket Lige," before it escalates into a strangely fun chorus of saxophone and cowbells. The nearly six minute "Unoder" is the album's longest track, which is to say not terribly long by the band's standards, but it slowly and meticulously layers piano riffs atop spectral ambience as it leads up to a big and dramatic conclusion. There's even a bit of galloping surf twang to standout "Konstant," which features a bassline that's only coincidentally reminiscent of Love and Rockets. The intensity of "Er Noget Smukt Glemt Findes Det Muligvis Endnu" makes it a terrifyingly climactic high, while "Kapital 1" and "Protokol" carry the album out a bit more gently, though without sacrificing any of their funereal intrigue.
The curious dichotomy of Alt er Tabt is that in opening up their sound to more concise structures and more direct melodies, Under Byen have managed to further explore their darkest tendencies. This is an album with the potential to keep you up at night, but in the wee hours of the morning, it also doubles as a gorgeous companion. Alt er Tabt may be a shorter, even more accessible than its predecessor, but it's no less chilling, and for that matter, no less beautiful.
Similar Albums:
Slaraffenland – Private Cinema
Efterklang – Parades
Bark Psychosis – Hex
Video: "Alt er Tabt"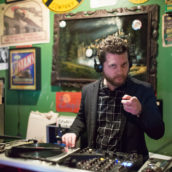 Jeff Terich
Jeff Terich is the founder and editor of Treble. He's been writing about music for 20 years and has been published at American Songwriter, Bandcamp Daily, Reverb, Spin, Stereogum, uDiscoverMusic, VinylMePlease and some others that he's forgetting right now. He's still not tired of it.