Weezer : Pinkerton (Deluxe Edition)
A record that has become more influential and regarded with the luxury of the passing of time, Weezer's Pinkerton left critics and fans scratching their heads a bit upon its release in 1996. Commercially, Pinkerton stalled where its hit-stacked predecessor made Weezer a household name. Critically, the album was met with a bit of a lukewarm reception. And its singles, "El Scorcho" and "The Good Life," despite maximum earworm factor, never quite caught on to mainstream radio audiences in the same way that "Buddy Holly" or "Say It Ain't So" did just two years prior. I even have a distinct memory of playing the album for a friend of mine, a fan of the Blue Album, when it first came out, and he reacted with the remark, "this album sucks."
Five years pass, however, and Weezer returns from a hiatus that saw band frontman Rivers Cuomo graduating from Harvard and Pinkerton becoming a cult favorite. Even for a band who released an album as universally adored as their self-titled debut, the delayed adoration that Pinkerton received seemed intense. College students wrote term papers about its connection to "Madame Butterfly" (upon which it's loosely based), and it retroactively became a sort of proto-emo classic.
In hindsight, this probably shouldn't be much of a surprise. Weezer, from day one, was a band whose songs revolved almost entirely about the trials and tribulations of dealing with the opposite sex. And when it wasn't, as on "Say It Ain't So," their rock anthems doubled as therapy sessions. Rivers Cuomo's lyrics have often seemed agonizingly naked and open, though they seem far more palatable when paired with a great melody. And on Pinkerton, both of those elements were dialed up, revealing a rawer, more direct approach to songwriting present in both the lyrics and the melodies.
Following a series of increasingly more commercial and, admittedly, bizarre Weezer albums, it seemed for a while that Rivers Cuomo was uninterested in revisiting Pinkerton. But much of that personal distancing he may have done speaks to the vulnerability on the album. Yet it's hard to know how much, if any or all of it, is autobiographical. At least from an aesthetic standpoint, the connection it has to "Madame Butterfly" is fairly consistent. The title comes from the Navy officer who marries the opera's title character, and there are frequent references to Japanese culture, both in song and in the artwork. The closing, gentle acoustic track "Butterfly" finds Cuomo describing the act of catching a butterfly in a jar, much like Pinkerton "caught" his Japanese wife. And "El Scorcho" is riddled with references, from its opening lament, "God damn you half-Japanese girls" to the line "listening to Cio-Cio San/ Fall in love all over again."
That said, it's hard not to see Cuomo using the operatic references as a mere veil to his own sexual frustrations and, for that matter, his disillusionment with being a performer. His jaded outlook and exhaustion are reflected in "Tired of Sex" and "The Good Life," which finds the burned-out singer asking, "Tell me who's that funky dude/ looking back at me?" Elsewhere, he seems, frankly, kind of creepy, fantasizing about a Japanese fan masturbating over her fan letter written on ornate stationery. And on "Pink Triangle," he and a lesbian were "as good as married in my mind."
These aren't the songs of someone with a healthy attitude about relationships, or for that matter, life. But despite showing self-destructive behavior on a song like "No Other One," or a pitiful timidness on "Why Bother?", Cuomo comes off as ultimately likable, and a little lost, much like many of the young men (and women) who came to find solace in the album's 35 minutes. And the melodies go a long way toward maintaining that likable image. While Pinkerton isn't a massive leap from its predecessor, it's certainly more unconventional both in production and songwriting. "Getchoo" just sounds dirty and dense, while "No Other One" recalls mid-90s Flaming Lips with its mesmerizing slide guitar. The Moog in "Tired of Sex" mirrors Cuomo's ebullient expressions of exhaustion, and the sharp snaps of acoustic guitar in "El Scorcho" are, oddly, simultaneously elegant and messy. Pinkerton didn't streamline the sounds on the Blue Album, it made them a lot more interesting.
As worthy a candidate as any for a Deluxe Edition in recent years, and more so than most, Pinkerton has more than its share of extras. As with any of these reissues, some of the extras leave something to be desired. Frankly, I don't think I need to hear another live recording from Reading or Glastonbury ever again. But the B-sides and acoustic versions certainly offer something extra for the fan seeking more but hasn't already downloaded every outtake circulating online.
Pinkerton is the odd album to which a little hindsight has made all the difference. Once it left critics and radio programmers a bit baffled. Now it's widely regarded as a classic, though it's easy to see why, once, the album left some cold. Humiliation, self-loathing, bizarre fantasies and depression aren't the most marketable qualities in an album. It just so happened that this 35-minute power-pop album about one man's sexual dysfunction, wrapped in operatic metaphors, had a lot more depth than anyone was willing to acknowledge.
Similar Albums:
The Rentals – The Return of the Rentals
Pixies – Bossanova
Flaming Lips – Transmissions from the Satellite Heart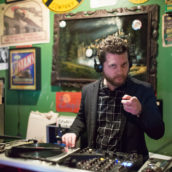 Jeff Terich
Jeff Terich is the founder and editor of Treble. He's been writing about music for 20 years and has been published at American Songwriter, Bandcamp Daily, Reverb, Spin, Stereogum, uDiscoverMusic, VinylMePlease and some others that he's forgetting right now. He's still not tired of it.