The press release for Wiley's new album, 100% Publishing, is absolutely ridiculous. The first two sentences accomplish the following tasks: first, stating that the Grime innovator is the "Lord Byron of Rap." The second sentence defends the first statement by stating that this similarity is so obvious that there's no need to explain it. The first sentence is odd in and of itself, especially in a press release, a medium known to sell artists on generalized and overarching grounds. To boldly liken a rapper to a bisexual Romantic poet with no explanation is truly making a specialized observation. The second sentence is odd because it ironically belies its own function, by declaring that there's no need for further explanation. It's essentially like a fireman stating that a house is so incredibly charred that there's no need to douse the flames.
I know I should probably isolate the album itself, and not the supplementary material that's contextualizing it but this odd comparison is a fantastic introduction to the veteran U.K. rapper's latest effort. Wiley is an amalgamation of various genres and scenarios, and to try and dig up the origins of them would be entirely in vain, much like attempting to find logic behind the Lord Byron comparisons. 100% Publishing opens with "Information Age" a tempest of rhythmic darts which fly rapidly over jungle sounds and synths, perhaps a commentary on the onslaught of data that bombards us on the daily. Wiley continues his barrage of, affectionately speaking, non sequitur arguments with the infinitely interpretable "Numbers in Action." The drum 'n bass powered track, like Wiley's press release, hears the rapper aggressively making declarations that are only vaguely explained.
While it's consistently difficult to deduce the actual meaning of much of 100% Publishing's lyrical collages, the stress Wiley is projecting is vividly clear. Wiley is at his best when he's spouting off nebulous clusterfucks of lyrics. The album runs into difficulty when it seemingly "focuses," both from a musical and lyrical standpoint; the sugary "To Be Continued" suggests that Wiley has been listening to too many Tony Robbins tapes. However, viewing 100% Publishing from a bird's eye view, even the attempts to emulate mainstream subgenres of rap play well against Wiley's chaotic money-hungry rants, and provide a fairly accurate and appropriately confusing look at the Grime legend.
Similar Albums:
Kano – Home Sweet Home
Lethal Bizzle – Against All Oddz
Tinchy Stryder – Third Strike
Video: Wiley – "Numbers in Action"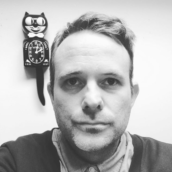 Paul Glanting
If a meteor was just hours away, Paul Glanting would recall that he has been in a Lil Wayne music video and has a 4.7 (out of 5) on Rate My Professor. He is at work on his first novel, Adjunct Megafauna.