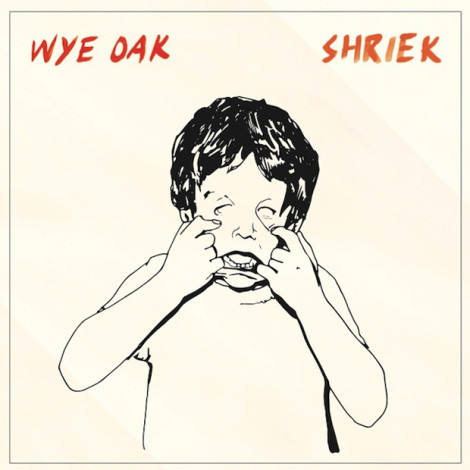 We've seen the pattern before: indie rock band gets burned out, ditches their old scene/town, moves across the country, and then proceeds to work on an album with former bandmates long distance. Is this more about the mythos of creation and romanticizing the sensitivity of the artists, or is it just that the logistics of long-distance collaboration has become a lot easier, and thus bands are willing to do it to avoid breaking up?
Whatever it is, it seems to work. Every time. Take the new Wye Oak album Shriek, for instance. After pouring themselves into their last album Civilian and embarking on a merciless touring schedule to promote it, drummer Andy Stack moved to Portland, leaving vocalist/guitarist Jenn Wasner behind in their hometown of Baltimore. Obviously the distance didn't stop them from making a new album, and one in which the duo embraces a new and unique sound. Shriek isn't a rehash of the urgent, jagged tones on Civilian. In character and instrumentation, it's a very different album. Bouncing between classic dream pop reminiscent of the Cocteau Twins and noise pop (most evident in "Paradise"), Wasner and Stack straddle two distinctive sounds with the matured ease of artists who understand their craft on a fundamental level.
Tracks like "Before," "Shriek," and "Sick Talk" effervesce in pleasant waves of synths and drum loops. Wasner's vocals carry sunlight and hope as she muses about being reborn and emerging from a dream brand new. Shriek is the brighter side, the payoff. It's the antithesis of Civilian, where the themes and tones were shadowy and dark, constructed of half-light and driving guitars and drums, all of it designed around the concept of suppressed emotion, blunted desire and regret. The disposition of many of the tracks comprising Civilian ("Holy, Holy," "We Were Wealth," "Hot as Day") was tamped down, conceptually toying with thresholds to within an inch of release, and the essential thrust was about enduring a the deprivation of the climactic moment that would provide resolution. There was something that felt half-finished about Civilian. Instrumentation and tempers were kept perpetually taut, like a guitar string about to snap.
Only, we didn't realize how incomplete things were with Civilian. Not as in undone, or half-made; incomplete like we were missing the other bookend and all the stories were about to slide off the shelf. It isn't until the opening tracks of Shriek that Wye Oak offers a bit more clarity. The keys strike out simply on "Before," Stack's drums march in, and then Wasner's voice rings out, saturated in sunny reverb. It's like a window opens in a stuffy room, a fresh breeze blows in, and everyone takes a deep breath. "I tell you stories / but truth be told / I can't remember," Wasner sings, "What came before / that's how I know / that's how I know / and I am brand new / and also whole / that's how I know." There's a lot here about being reborn or recreated, but it's folded into the song in way that could be read as either desirable or regrettable. There are moments of real darkness on Shriek, but they're a blip on the radar. In the blink of an eye, the funky bass grooves return and balance is restored.
Shriek feels so unusual arriving behind the distorted shadows of Civilian that it's almost like Wye Oak became a different band. Is that a product of living in separate cities—an East meets West sort of thing? Is it about the unique approach Wasner took to writing—building from bass rather than guitar—or is it something else? What's clear is that Wye Oak is willing to reinvent, influenced by new flavors, distilled into their elemental parts and refined into an elegant and intoxicating product.
Similar Albums:


Future Islands – Singles

St. Vincent – St. Vincent


Braids – Flourish // Perish