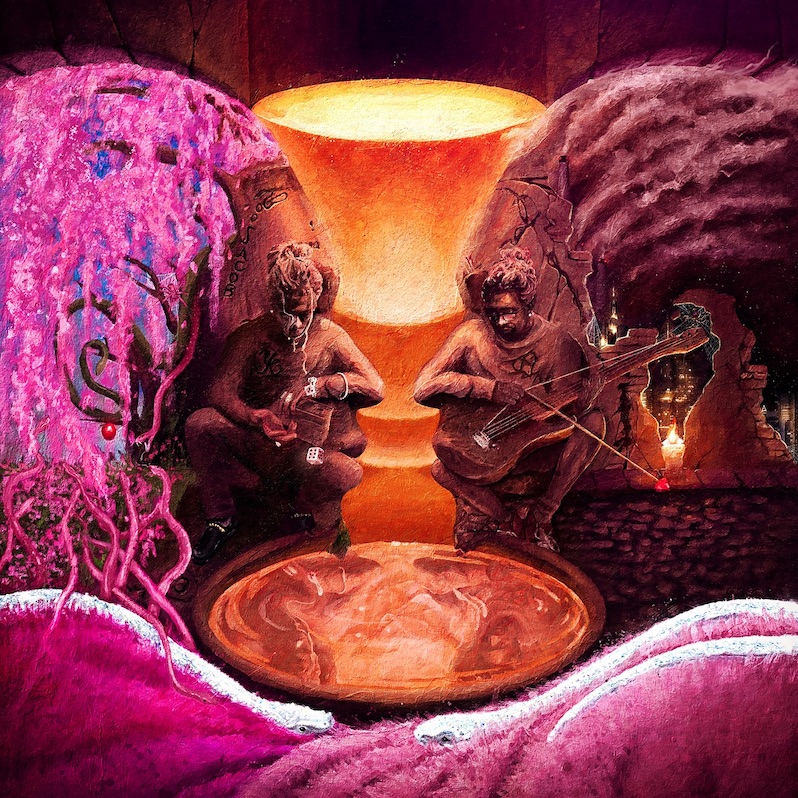 Young Thug has been pulling off a balancing act lately. Ever since his acclaimed 2016 tape Jeffery, oddball Atlanta rapper/singer/songwriter Jeffery Lamar Williams has slowly revealed more layers of himself, at the same time avoiding a truly confessional turn. He named every track on Jeffery after a person who inspires him, but none of the songs are about their namesakes. He presented 2017's Beautiful Thugger Girls as a heart-on-his-sleeve country/rap crossover, but it really only half-adheres to that conceit. His debut studio album, 2019's So Much Fun, was somehow both a leap forward and a callback to his lunatic early style. Though these projects sounded nothing alike, they shared a commitment to misdirection.
He gave us no reason to believe Punk would be an exception. Far from being his Rebirth or Whole Lotta Red as the title would suggest, this is Thug's mellowest release to date. But even that doesn't tell the whole story. Punk almost feels like two records: on the one hand, a tight, progressive assortment of guitar-driven singer-songwriter tracks (the first six songs)—on the other, a medley of So Much Fun-esque pop cuts (virtually everything else.)
Opener "Die Slow" immediately drops us into a muted sonic environment. Over warm falsetto backing vocals and a meditative guitar line in the vein of Mark Kozelek, Thug doesn't rap, sing, yelp or growl as we'd expect. Instead, he simply speaks, recounting a tragic story of family strife in more personal detail than he's ever offered on record.
"Stupid/Asking" features a similarly subdued instrumental palette that echoes Frank Ocean's "Self-Control," and perfectly complements a story of relationship woes told from the female point of view. The song is a standout, a thoughtful exercise in empathy and self-criticism. The Gunna-assisted "Recognize Real" is even more low-key, with a prominent acoustic guitar and little else in the way of instrumentation, not even drums.
But something changes on the seventh track, "Rich N***a Shit." For whatever reason, Thug abandons the new sound he'd been building for a grab bag of more traditionally varied tunes. Lack of cohesion is rarely an issue with Thug projects—an anything-goes eclecticism is often part of their appeal. But given how strong the first stretch of Punk is, the shift registers less as a stylistic quirk than an unfulfilled promise. With the exception of the eminently sweet "Love You More" and the woozy keys-driven "Fifth Day Dead," the back half of the record feels somewhat lifeless. It's disappointing to imagine how much further Thug could have taken the "punk" conceit with these recordings, as in the blistering, guitars-first rendition of "Hate the Game" he performed in his recent Tiny Desk concert ahead of the album.
Still, Punk is a fun listen all the way through. Like most of his work, it's studded with little lyrical gems that slowly reveal themselves on repeat listens – goofy, innocent non-sequiturs like "Bought my dog a new kennel, it's a palace" from "Rich N***a Shit," "I told my teacher I'ma buy more watches 'cause I was tardy" from "Recognize Real," and "Hey lil' mama Kawasaki let's ride" from "Stupid/Asking." Nuggets like these are a huge part of Thug's appeal, and it's heartening to hear that he hasn't lost his sense of humor.
All things considered, Punk feels like a transitional record, a bit of a tease, while still being the most substantial glimpse we've gotten into who Jeffery Lamar Williams really is. It may not be his Blonde, but it suggests that he has it in him.
---
Label: 300
Year: 2021
---
Similar Albums:
Casey Burke
Casey is thinking about modern hip-hop and 70s rock. He's written for Grandma Sophia's Cookies, Brainchild, Plaze Music and WTJU.