The Fresh & Onlys : House of Spirits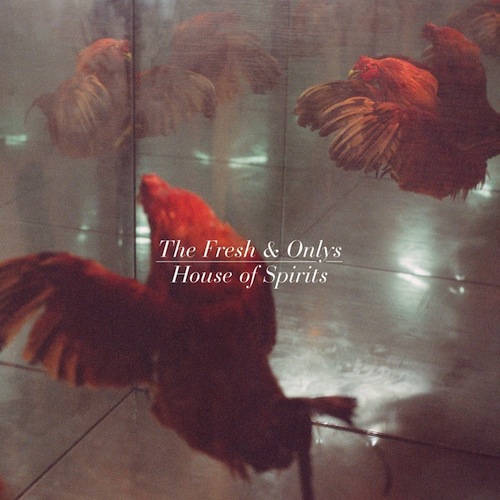 Buy at iTunes | Buy at Insound (vinyl)
San Francisco's acclaimed garage scene has been a heavily covered topic ever since excellent psych/punk/pop records by the likes of Thee Oh Sees, Ty Segall, the Fresh & Onlys and Sic Alps started to seep into critical consciousness back in 2008 and 2009. Hell, one of the best shows I ever saw was Thee Oh Sees opening for Segall in Brooklyn in front of 1,000 stoned, red-eyed music junkies all there to witness something. Since all the key Bay Area players knew of each other, collaborated with each other, played kind-of sort-of similar music, and used vintage recording equipment like the Tascam 388 tape machine, they were all clumped together by the music press into this wondrous bughouse of melodic magic. Indeed, San Francisco seemed like a delightful place to make music with true characters, and the output was prolific for a while, but at this point, some of its notable musicians have begun to move away. Segall moved to Los Angeles last year, and Thee Oh Sees mastermind and Castle Face Records owner, John Dwyer had Segall help him move there earlier this year, even though his label is still based in the Bay Area. Sic Alps, the resident weirdo rippers, disbanded some time ago, and Tim Cohen, the soul and spirit of The Fresh & Onlys, lives in Arizona.
Back in 2011, Cohen told Pitchfork that it's unfair to be the sum of your influences during a San Francisco scene report called Positive Destruction. In that same feature, the Fresh & Onlys described themselves as an "attic band"; Cohen created the songs in his loft, and he and bassist Shayde Sartin also said that they were too arty to be a garage band. Now, with new album House of Spirits, Cohen & Co. deliver the most imaginative variation of The Fresh & Onlys to date.
Instead of fleshing out new songs in his attic, Cohen wrote part of House of Spirits at a detached horse ranch in Arizona with little more than a guitar, drum machine and Korg keyboard. From the sound of all 10 songs here, the rest of the Fresh & Onlys — Sartin, Wymond Miles and Kyle Gibson — did a great job of taking Cohen's original compositions and fleshing them out with more atmosphere. No doubt, Cohen is the brain of the band, but the other three players are the brawn. Brawn might be an awkward word to use here — The Fresh & Onlys have become more of a delicate-sounding band since signing with Mexican Summer for 2012's immaculately poppy Long Slow Dance. However, despite the accessible melodies that the band is making these days — "I'm Awake" sounds very much like a Shins song — The Fresh & Onlys still experiment; they go places.
House of Spirits ends with "Madness," its guitar noise sounding like an oncoming storm; Miles even throttled his guitar with a power drill in the studio to get the proper, intense sound. Earlier, "Bells of Paonia" is blanketed in guitar fuzz behind a pounding bass drum that reaches total repetition before a searing guitar solo cuts through the song like an unexpected twist of a knife. Cohen sings, "Took a pill and rolled down a mountain" to open the track before repeating, "she's the one that I remember" in a whispered tone at the end. House of Spirits has this whimsical cloud over headed, no matter how poppy or weird the music gets, and Cohen's lyrical imagery is grand and a little haunting: "Home is where your feet are, walking in the wee hours, living the good life"; "Who let the devil walk into my house when I was born dying."
Whether or not San Francisco's scene is dead — mainstays like producer Eric Bauer, Sic Alp Mike Donovan, Kelley Stoltz and Sonny Smith still reside in the city — a song like "Hummingbird" off of House of Spirits seems to carry the flame of what once was and maybe could still be. The guitar plugs in, the cymbal crashes loud, and The Fresh & Onlys are off to the races. For a band that has softened up, and branched out, they still understand their rock 'n' roll roots.
Similar Albums:


The Fresh & Onlys — Long Slow Dance


The Shins — Winching the Night Away


Thee Oh Sees — Castlemania