The 10 Best Hip-Hop Albums of 2018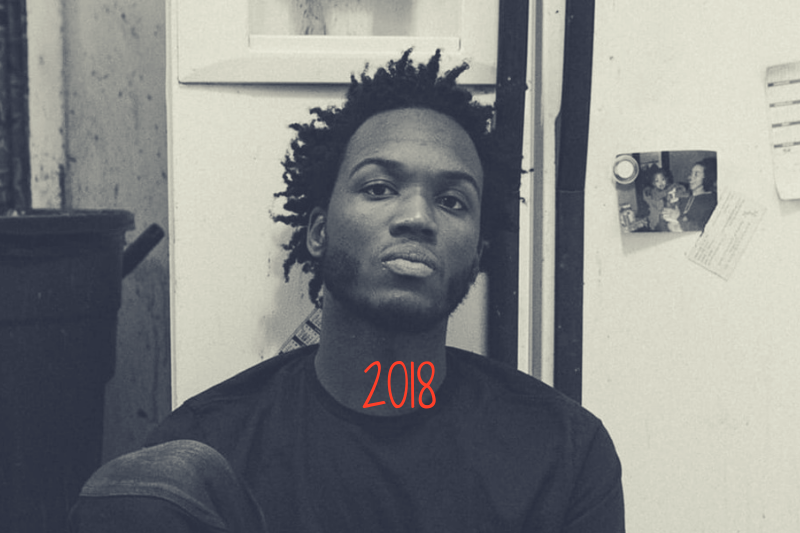 Unlike in political dynasties, which infiltrate society and have ramifications for decades, hip-hop crowns and exiles its luminaries at a restless clip. Longevity in rap music is incredibly rare, and if 2018 is any indicator of the future, world domination is becoming not only more scarce, but less important; in the age of infinite rap music, it can mean more to have a dedicated following than to get airplay. The genre's vision of cultural capital is expanding, subject matter broadening, sounds shifting and warping; rappers are finding new ways to be funny and esoteric and cutting, striking new ways to thumb their noses at puritanical gatekeepers.
While our top-ten list does feature some hip-hop mainstays, 2018 saw a slew of heavyweights release records that do not appear in our top ten. This is not to disrespect Drake, Kanye West, Eminem, Nas, Nicki Minaj, or Jay-Z, all of whom yielded projects this year. But for as long as rap's been a genre, it's been inextricably tied to the angst of the youth, to the kids on the ground level pushing the culture forward, and this year proved that's still 100 percent the case. This year, the old guard's records were outdone by other ones that were scrappier, fresher, and weirder.
---
10. JPEGMAFIA
Veteran
(EQT)
JPEGMAFIA doesn't do much by accident. Veteran, the Baltimore artist's breakout record, is actively harsh, willingly provocative, occasionally genuinely unpleasant, and altogether exhilarating. His beats, all self-produced, sound like if you went back in time to 1988, kidnapped The Bomb Squad, took them to 2018, and made them make beats out of computer malfunction noises, careening from pummeling snares to hi-hats made out of ratcheting sounds to drifting post-cloud rap, but all arising from the same noise-first, fuck-your-feelings ethos. The first word in a great many JPEG write-ups is "confrontational," and that's no accident; his lyrics are sharp and pointed and angry and smirking and plenty other adjectives. Veteran is probably also one of the best records so far about what it's like being a relatively socially conscious person in the modern age, about the non-stop onslaught of news and the self-perpetuating outrage of online and about the politicization of existence in the era of universal celebrity and hyper-media-consciousness. So here's to proof that rap music can still find fascinating and new ways to engage with the aesthetics of protest art in 2018. – BD
---
9. Joey Purp
QUARTERTHING
(Self-released)
Chicago continues its output of savvy rappers who guffaw at major labels. Joey Purp's QUARTERTHING has a humorous duality where he constantly mocks avarice while also joyously rolling around in its delectable vice. Purp's ferocious chorus on "Look at My Wrist" seems to satirize gloats of "damn, look at my wrist, dawg… damn, look at my crib, dawg" but he sure seems to revel in the glitzy debauchery that he portrays. This is a microcosm of QUARTERTHING, where the Chicago rapper roars over electro-powered beats with urgent confidence while skepticism is never far behind. On the RZA-featuring "Godbody Pt. 2", Purp's lofty ambitions are tempered with his observant snark: "I dream of Porsches and families that don't know divorces." But the highlight of QUARTERTHING is the title track, where Young Purple's charismatic narratives sound off on vice and globetrotting, but always with cautious optimism. – PG
---
8. Smino
Noir
(Zero Fatigue/Interscope)
Here's a hypothetical scenario: Big Boi wants Outkast to tour again but Andre 3000 is simply not interested. Big Boi is disappointed but determined to make it work and so he enlists the services of St. Louis rapper Smino to carry Andre's verses and to fill the transcendental void, left behind by Andre. Outkast purists may find replacing Andre 3000 blasphemous but hear us out: Smino's Noir is a dazzling burst of hip-hop steeped in mysticism and neo-soul. "L.M.K." hears Smino's lighthearted, albeit Afrocentric, raps regularly drift into whimsical and otherworldly grooves. While it's not uncommon for a rapper to also sing, what makes Noir so enthralling is that it is difficult to decipher when Smino is rapping and when he's singing—is it possible to do both, simultaneously? Regardless of what the cognitive scientists say, songs like "Z4L"—a cartoonish and lusty jam—and "Tequila Mockingbird" seem to suggest so. While it clearly takes influence from Goodie Mob, Erykah Badu, etc., Noir, with no recognizable features or production credits, is the rare record that truly feels like it's an artifact from uncharted reaches. – PG
---
7. Vince Staples
FM!
(Def Jam)
After the brilliant hip-house freakout that was Big Fish Theory, this year's FM! saw Long Beach spitter Vince Staples returning to the sharp-edged rap sounds of his earlier records and delivering maybe his most blistering work to date. With the help of beatmaker Kenny Beats, whose blearily synthetic tracks have made him a frontrunner for producer of the year, Vince crafts a 20-minute missive on the commodification of rap and the detachment of consumers from the reality of the violence they hear about. FM!'s name comes from its framing device—it's presented as a speculative episode of Big Boy's Neighborhood—which functions mostly to draw attention to the commercialization of Black trauma. But the radio format also signifies Vince's conscious effort to engage with his considerable pop instincts; some of the songs here, especially "FUN!" and "Don't Get Chipped," are among the most immediate he's ever released, and they somehow manage to be both 1. deeply catchy and 2. weird and experimental and 3. almost entirely about violence and desensitization and death. FM! continues to prove that Vince is among the smartest and subtlest rappers working, even if he's completely aware of it. – BD
---
6. Cardi B
Invasion of Privacy
(Atlantic)
If this list were a ranking of 2018's most prominent characters, surely Cardi B would be duking it out with Travis Scott for supremacy. Nonetheless, Invasion of Privacy is whatever you need it to be: feminist chimera, boots-strap bildungsroman success story, the return of bric-a-brac New York rap and on and on. Regardless of the interpretation, Cardi B raps with violent efficiency. The opening track, "Get Up 10," showcases Cardi's Bronx-accented bars as she aggressively boasts about her canny social-media ascent from poverty to enterprising poly-hyphenate. Additionally, Cardi never shies away from, and even manifests pride for, her former career as an exotic dancer. In fact, cuts like "Money Bag" and "Bickenhead" proudly flaunt utilizing femininity as a road toward cold hard cash. Don't be misled by the pop ethos garnered by Invasion of Privacy's ubiquitous single, "Bodak Yellow"; this is a dyed-in-the-wool New York rap album, and Cardi B's abrasive flow would be right at home alongside Big Punisher or Mobb Deep. – PG
---
5. Brockhampton
iridescence
(Question Everything/RCA)
One of the most important things to recognize and acknowledge about BROCKHAMPTON, San Marcos' own all-American boyband, is that they are a lot. There's the all-caps stylization; there's the constant release schedule; there's all those members; there's the post-Kanye notion of being involved in everything, man. I get it. But here's the thing: the chaos is the point. What's really special about BROCKHAMPTON is how all of these smart and talented kids crash their best and worst ideas into one another, how they emphasize collaboration and work off of each other's energy. iridescence is a frenetic and scattered and fraught record absolutely full of concepts, both musical and lyrical. The boyband's core of in-house producers dig into their eclecticism here, finding room for inside-out blacklight trap beats and drum 'n' bass and acoustic balladry and straight-up siren-blare fight music; and the vocal members of the band are more stylistically inventive and emotionally effusive than ever, from Kevin Abstract's courageously and openly queer sentimentalism to Dom McLennon's twisty, incisive political discourses to Joba's manic-depressive candor and on and on and on. iridescence can be an overwhelming listen, but it's worth the trouble for the moments when all of the moving pieces of the crew align just right and they just absolutely transcend. So just lean into the chaos. – BD
---
4. Mac Miller
Swimming
(Warner Bros.)
Kanye said that "people never get the flowers while they can still smell them," and sadly, that seems to be the case with Mac Miller's final, and most lauded, album, Swimming, released just a month before his death. Over ethereal production from luminaries such as Dâm-Funk, Jon Brion and Blood Orange, Miller's opus hears his battle rap-dexterity glow with melancholy on tales of heartbreak, drugs and depression. "Hurt Feelings" certainly showcases Miller's lyrical prowess, but perhaps its most impressive property is its self-deprecating emotional maturity. Swimming is at its best when it's a hyper-dynamic collision course, where the funk-heavy production converges with Mac Miller's melodic bars, exemplified on "Self Care," another track that raises the question: where did all these rappers learn to sing so well? Swimming represents an apex in Mac Miller's character arc, akin to the enlightened maturity leaps on albums like ATLiens and 4:44. People will say his death is tragic because he had more to give but part of the tragedy is not living long enough to simply bask in the vast swath of progress between Blue Slide Park and Swimming. Perhaps a cloud's eye view of progress will have to do.  – PG
---
3. Noname
Room 25
(Self-released)
Telefone, Noname's 2016 debut mixtape, was such a stunner that it's both improbable and totally rational that Noname's follow-up, Room 25, would be completely excellent. Noname continues to be one of the genre's best writers, blending conventional rap styles with her own distinct, imagistic modes; she has this fascinating ability to be both starkly emotionally honest and kind of opaque at the same time, bouncing between clear self-expression and sequences of association. Her love songs ("Window") are warm and affecting, her self-reflections ("Part of Me") are cutting and considered, and she's still terrific at shit-talk ("Ace"). And it's not like this is just a really great slam poetry reading; Room 25 has songs, with well-defined concepts and solid choruses, all richly orchestrated and rendered in warm neo-soul hues by Phoelix (who produced the whole project). With this record, Noname has constructed a complex and powerful self-portrait that speaks thoughtfully about its creator and the world around her. It's a goddamn achievement. – BD
---
2. Pusha T
DAYTONA
(Def Jam)
Typically, you would think that an album in the top three of a year's-best list would be prophetic of the months to come and occupied by a firebrand who will forge the zeitgeist into their image, for the foreseeable future. However, in the case of DAYTONA, this spot is emblematic of last gasps. For one, it may be the last gasp for the vitality of G.O.O.D. Music, as quarterback Kanye's trajectory has drifted from auteur to annoying, to simply irrelevant. It may also be the last gasp of biting brutal beef; this younger generation of rappers just does not seem as interested in building their legacy on the (figurative) blood and bones of others. That said, DAYTONA comes out swinging, with gloves off and fists wrapped in broken glass that has been lit on fire. "Infrared" catalyzed some of the cruelest barbs in rap history (Pusha's accusations toward Drake escalated from ghostwriting to being a minstrel to being a deadbeat father). "If You Know You Know" is a transcendent banger with Pusha T's always technically-savvy chest-puffing bars over frenetic guitar samples. "Santeria" further cements Pusha T as one of rap's most cryptic alphas and "What Would Meek Mill Do?" establishes King Push's ability to cunningly subvert norms, law, and morality, victoriously declaring, "I am the hope the dope-dealers won." DAYTONA is vintage Clipse meets halcyon Kanye, even if it is the swan song for an entire era of rap music. – PG
---
1. Saba
Care For Me
(Self-released)
So there's this great Superchunk song from 2013 called "Me and You and Jackie Mittoo" on an album called I Hate Music, and I've been thinking a lot lately about the line that gives the album its name. Mac McCaughan sings:
I hate music, what is it worth?
Can't bring anyone back to this Earth
Can't fill the space between all of the notes
But I got nothing else, so, I guess, here it goes
The idea here (right?) is that, for an artist, one of the things that loss most makes you want to do is make art about the loss, and that making art about loss isn't going to change anything, but all there is to do is make art. Art isn't therapy, but I do think it can be therapeutic; it's a way of processing, of making sense; even if it's a shout into the darkness, it's still a shout.
Last year, in February, rapper Saba's best friend and close collaborator, John Walt, was fatally stabbed in Chicago, their hometown. The killer was a stranger, who, according to Saba on "BUSY/SIRENS," just killed Walt because he was cold: "Jesus got killed for our sins / Walter got killed for a coat." Saba was forced to deal with the untimely and needless death of the person he was maybe closest to. And so he learned to cope. He made this record, Care For Me, the best rap album of 2018 and one of the clearest expressions of grief and loss I've ever heard.
Saba produced and wrote this album with his friends in PivotGang, a Chicago rap collective that once counted John Walt among its members, and the whole thing just crackles with organic warmth and understanding and empathy. On CARE FOR ME, Saba works actively and tirelessly to process his friend's absence, reaching out in every direction to find support and meaning, even when there doesn't seem to be either. He leans on friends and relatives: "All that I am is my family these days." He tries to understand his grief in the broader context of his mental illness: "I don't know how long I've had depression … I ain't trust nobody new since 2012 / I ain't let nobody in." And most devastatingly, he looks right at his friend's death and at the friendship that death ended, confronting memories both good and bad and struggling to reconcile his love for John Walt with his anger and sadness.
One of the most affecting tracks on CARE FOR ME is "CALLIGRAPHY," which deals with the paralysis of grief—the "stop all the clocks" of it all, the heaviness—and on that song, Saba talks about not being able to move forward in the wake of Walt's death: "I'm not mad at God, I just can't get out of bed." There's nothing to do with that pain, Saba seems to say, but to feel it, and to recognize it, and to know that it means something. And sharing that feeling in music can't bring anyone back to Earth. But we've all lost somebody, and we've all had to be the person left behind, and we've all had to figure out how to still be here. Care For Me gets at that feeling and asserts that it's real and that being alone doesn't have to be part of it. This album is a light in that darkness.- BD
Honorable Mentions
Denzel Curry – TA13OO (PH/Loma Vista)
Sometimes moody and sometimes jovial, if the Pharcyde and the Gravediggaz made an album together over pristine trap beats, it might sound like this effort from the world's second-most famous Denzel. – PG
Jay Rock – Redemption (Top Dawg Entertainment/Interscope)
Watts' Finest proves once more on his third studio album that he's Black Hippy's secret weapon. His cannon of a voice is a great rap instrument, and his eye for detail only gets better, as does his ability to just battering-ram his way through authoritative street shit at will. – BD
Jean Grae & Quelle Chris – Everything's Fine (Mello Music Group)
On Jean Grae and spouse Quelle Chris' comedic/rap medley, Everything's Fine, Nick Offerman and Hannibal Buress join elite company (Chris Rock, Jerry Seinfeld, Bernie Mac) as comedians featured on rap albums. Another accolade that suggests that Grae is approaching the point where the rapper, comedian, author, actress, Craigslist entrepreneur, should be considered an American treasure. We agree. – PG
Maxo Kream – Punken (TSO/Team Clicc)
Maxo Kream belongs on every list of great rap storytellers. Punken is just completely full of such vivid images and full characters and ideas and the beats all slap hard enough to knock the back bumper off of your crappy sedan, and Maxo is so compelling on record. With a little more unity of concept, this'd be a top ten entry, for sure. – BD
Playboi Carti – Die Lit (AWGE/Interscope)
If we accept that the only way to be a good rapper is to go full lyrical-miracle-spiritual and rap like a semi-automatic, this is a terrible rap album. But if you're willing to concede that great, simple choruses and energy and genuinely kinda-beautiful post-ambient beats can make a rap album great, too, then you ought to give this one a shot. The kids are all right. – BD
Travis Scott – ASTROWORLD (Grand Hustle/Epic)
ASTROWORLD is like a piece of Frozen memorabilia: a mere star in the massive commercial galaxy of GQ's man of the year, Travis Scott, a phenomenon that also includes rambunctious concerts, sneakers, highly coveted tour merchandise, 3D printed-album covers, and action figures. That said, "SICKO MODE" is one of 2018's true rockstar-sized bangers, that's been stuck in our head for months. – PG