The 10 Best Orbital Songs, as chosen by Phil Hartnoll

Kenny McCracken
You don't quite get the scope of how many classic techno tracks are in Orbital's catalog until you start listing them out in front of you. Since 1989, Paul and Phil Hartnoll have been shaping the sound of techno and, by extension, the broader world of electronic music with their beat-laden, hook-driven productions, rooted in a classic techno pulse and often featuring a socially conscious outlook to go with their dancefloor-focused sounds. And in doing so, they've delivered 10 full-length albums, several film and TV soundtracks, and somewhere on the order of four-dozen singles, among them a number of classic tracks that left an immense impact on club, pop and underground music.
Ahead of the release of the duo's new album Optical Delusion, which is out now, we reached out to Phil Hartnoll, one half of the pioneering UK duo along with his brother Paul. He happily obliged to offer up his picks for 10 of the best Orbital songs, and he didn't shy away from the hits either, from the blasphemous pranksterism of "Satan" to the ethereal bliss of "Halcyon + On + On." In the process he shared some incredible stories about their first ever pressing, playing in the U.S. for the first time, an unexpected phone call from the Butthole Surfers' Gibby Hayes, and collaborating with Stephen Hawking.
Hartnoll presented his favorites in order of preference.
---
"Chime"
from Orbital (1991; ffrr/London)
Phil Hartnoll: This has to be my number 1, as this track is the nucleus of Orbital's career. After playing our C90 cassette to many record labels, in the bid to score a record deal, we met Jazzy M, a DJ and independent record shop owner. On hearing "Chime," he wanted to put it out as the first release on his Oh Zone label.
We pressed up 1,000 copies, going door-to-door selling copies to independent record shops. It gradually gained popularity in the clubs and started to become what would be classified as an anthem nowadays. By the time we were pressing up the 3rd batch of 1,000 copies, Pete Tong, who was running FFRR (London Records) at the time, noticed the buzz around "Chime" and licensed it from Jazzy M.
When FFRR released it on a major scale, it went straight into the Pop Charts at number 17. Keep in mind, this was an instrumental dancefloor track by an unknown, non-pop electronic band. In turn, we got thrown into the deep end of pop and got invited to perform on Top of The Pops, a BBC chart TV show that's normally filled with poptastic bands very unlike us. We fought with the producer, not understanding why we couldn't play live. We didn't win that battle and had to awkwardly mime in protest. Thinking we were so clever, we placed all the power plugs to our synths on top of the machines and got political "No Poll Tax" T-shirts made up. Breaking another rule of the BBC, no bands weren't allowed to promote political stances. As you might see, we were so out of place, naive and very awkward on our performance. After the show, we got banned from ever performing again on Top of The Pops. Until 2001, when Top of The Pops had a new producer who had the brilliant idea that all bands should perform live. What a good idea BBC! We went back on and performed "Funny Break" live.
---
"Funny Break" (Plump DJ's Remix)
(2001; London)
PH: The previous story reminded me of one of our favourite remixes, "Funny Break (Plump DJs Remix)". We love the Plump DJs, as they were the pinnacle in the "Breaks" scene since the early Noughties and still producing now. Check out their latest release "Dreamland," a fantastic track. We love them so much, that they supported us on tour in 2004. It was such fun, as we got to see/hear them every night during tour.
---
"Satan"
from III EP (1991; ffrr/London)
PH: One of our very early tracks, written before "Chime." It was in response to a story we heard about Judas Priest being either sued or accused big time of devil worshipping, based around one of their tracks being played backwards and having hidden satanic messages.
Our sense of devilment came up with the idea of making a track that just says how it is, "Satan, Satan, Satan". We sampled the Butthole Surfers' guitar to add to the track, not worrying about sample clearance as we didn't have a record deal at the time. It did however make it onto our first album and as the concept of sampling rights was going mad at the beginning, we kept quiet about the Butthole Surfers.
Then one day there was a message on our parents' answering machine from Gibby Haynes, who was asking for a callback. We both shit ourselves as things were starting to go well for us, the last thing we needed was to be called out and sued for sampling them. After a few Vodkas, I called Gibby back expecting the worst but I couldn't have been so wrong. Gibby was brilliant, saying how they heard about Satan and were actually playing a version of it live. He hit me with the idea that we should both release "Satan" at the same time, make out to the press that we hated each other and say we both had real problems with claiming original rights to the track. Nothing came of that idea but I had a brilliant conversation with Gibby Haynes, planning our pretend hatred for each other.
We are still playing "Satan" live in its many transitions and iterations. Ultimately, the original concept behind "Satan" was pinnacle when we played in Poland. We had a demonstration outside the venue, with banners and boards, saying we were Evil Devil worshippers. I explained to them that if you play the track backwards it says "Jesus Loves You".
---
"Belfast"
from Orbital (1991; ffrr/London)
PH: Growing up in England and in London in particular, we got very used to the threat of bombs, lone bags, as it was targeted by the IRA. No judgment calls on that, just a fact. I understood the frustration that the IRA were expressing and adapted to the threat.
The only thing that was shown on TV about Belfast was about the so-called Troubles, which was all a very grim and far worse way of living than the threats in London. With the British army all over the place, I couldn't imagine that oppression. So one day during the 1990s, we got a call from a very cheeky sounding David Holmes, asking if we would come and play live at his club Sugar Sweet in Belfast. We didn't hesitate with the curiosity of what Belfast was actually like. We packed the car with our equipment and got on the ferry. To this day, it was one of the best gigs based on the reception we received and the atmosphere we experienced. It was bonkers! It was also the first gig we played "Satan" that didn't clear the dancefloor. Religious differences or politics didn't even get considered, the crowd were so welcoming, appreciative and full on bonkers. They were amazing!
We stayed at his mom's house and woke up to his sister's confirmation day, still a bit spangled from the night before. We felt like we were really intruding but we were welcomed as "David's English friends," so we had a cup of tea with his Mom and left respectfully. On leaving David asked us if we had any other new music, so we left him with a cassette with the then "untitled demo" of the track that became "Belfast." He loved it and so did his mates.
It is such a beautiful track, really summed up the time and vibe we had during our visit there, hence why we named it "Belfast."
---
"Impact"
from Orbital [Brown Album] (1993; ffrr/London)
PH: One of my all-time favourites. It's all about Global Warming from 1993 and we are still playing a version live to this day but now with the addition of a Greta Thunberg speech, with her "Our House Is on Fire" comment.
The samples, "It's a cry for survival" and "I'm burning, the earth is burning. I'm hot," helped kickstart the track by expressing our frustration about Global Warming and the cover up funded by the fossil fuel industry. The corrupt politicians got paid off, to squash the truth which unfortunately is still going on and no real action being taken to combat the destruction of Earth for humans and other life to exist.
A monster of a track with 303 acid vibes, mixed with Jack Dangers (Meat Beat Manifesto) breaks. It IS a cry for survival. Don't believe the hype.
---
"Halcyon + On + On"
from Orbital [Brown Album] (1993; ffrr/London)
PH: Conceived from being friends with Kirsty Hawkshaw and constantly pestering her to come and sing with us. Before we knew it, she had released "It's a Fine Day", looking like a little pixie, hitting the pop charts and deservedly so. Conveniently, with that release she put an a cappella on the B-side. We decided to sample her and then a friend, Paul Issacs, suggested to reverse it. Boom, it worked wonderfully.
When it came to naming the track, it reminded me of a Valium-type state of mind, floating without a care in the world. It also reminded me of our experience of our mom taking Halcyon (Triazolam), a tranquilizer for over seven years with side effects being psychosis. This idea was then morphed further into a story for the video of the track. A story being about a housewife that has given it all or at least she thinks she has but finds herself all alone after the kids have left. She is left in a legal drugged up state, lonely and not sure of who she is or was. She goes about her daily routine haunted by her imagination of her children who appear everywhere she looks.
At the time I convinced Pete Tong to give us the budget to make our own video for "Halcyon." Pete gave his OK and, luckily, I had a director friend Sarah Miles, who took on the job. She helped develop the story and also had a really young cinema photographer, Seamus McGarvey, a friend that pulled out all the stops to help make the little film as it is. I exploited two of my children to perform in the video (Louis and Milo). Well, they had to earn their keep somehow…
---
"Are We Here?"
from Snivilisation (1994; ffrr/London)
PH: Taken from Snivilisation, one of my favourite albums. When we heard, "What does god say?", we just had to steal it and build a track around it. We coupled that sample with "Are we unique, are we something utterly special in the universe…"
During my secondary school, I asked many, many questions in R.E. (Religious Education), as I just didn't get the idea of being scared by an ominous, huge, non-entity named God. The God that we must adhere to, through fear of either being out of favour, stuck by lightning or being condemned to Hell. This really scary place where you are burning forever and also, confirmation of not being on the guest list to Heaven. I asked a lot of questions which just ended up me being a pest and getting sent to the headmaster, whom would in turn hit me most violently with a knotted bamboo cane. Could you see yourself hit a child with a cane for challenging a philosophy?
On a more cheery note before Snivilisation was written, a friend took me to his friend's graduation show in North London. I was blown away by Alison Goldfrapp as in the artist now known as Goldfrapp. She was dressed as a Dutch milkmaid, had a real cow next to her and a nerdy musician making noises with his electronic equipment. She was yodelling away over electronics with a cow. Brilliant! I had to get to know this person. I invited Alison to come and sing for Orbital and now the rest is history. She is all over Snivilisation, on the album In Sides and features heavily on "Nothing Left" from The Middle of Nowhere. She then went off and did her own thing as Goldfrapp, which we both love.
---
"Dwr Budr"
from In Sides (1996; ffrr/London)
PH: Welsh language for "dirty water." We had an idea of titling tracks towards an awareness of the sorry state and quality of our water supply in different languages. The exploitation of the private companies that took over, when our nationalized water companies were sold off during the '80s. We only got as far as this track title and "Kein Trink Wasser."
We didn't start "Dwr Budr" with that in mind, it just seemed to fit the subject of dirty water, especially after we saw the clips of The Sea Empress, crashing off the rocks of the Welsh Coast and tons of its oil contents polluting into the sea. We used the vocals of Alison Goldfrapp again, taken from a previous vocal session.
---
"Remind"
from Orbital [Brown Album] (1993; ffrr/London)
PH: This track signifies a very special moment in Orbital's growth. We consider "Radio Babylon" (1990) by Meat Beat Manifesto, to be a very pinnacle track that invented Breakbeat. We made friends with Jack Dangers, the main man behind Meat Beat Manifesto very early on but how, I can't even remember. However, we got invited to support MBM on their USA tour in 1991, and it was our first proper rock 'n' roll tour.
The first date was at the Limelight in New York City. It was a converted church, one of the best venues ever, as it was a club and also a live gig venue. We absolutely loved the fact that it used to be a church and was now a hedonistic music venue, preaching hedonism. Unfortunately, MBM had problems with their visas and didn't make it to the first week run of gigs. We had to play to an audience that bought tickets for MBM and instead just got us. We did OK considering the situation, but not sure the MBM fan thought the same. But we did notice the pocket of ravers that did turn up for Orbital, that were clearly switched onto Rave. Overall, a very good introduction into a USA tour.
"Remind" came about after we completed the remix "Mindstream (mind the bend the mind)" for MBM. We loved how it remix turned and decided to make another version without MBM parts and then called it "Remind." We did one more remix for MBM, "Edge of no Control (Take control)." We should have stolen that one too. Big thanks to Jack for taking us under his wing.
---
"Where Is It Going?" feat. Stephen Hawking (Phil Hartnoll n Steve Mac Remix)
from 30 Something (2022; Orbital Recordings)
PH: This is one of the greatest moments for me. We got invited to write a track for the opening of the Paralympics which would feature a speech from Professor Stephen Hawking. We received the recorded speech and tried to build a track to fit around it. After many attempts, we realised we already had an existing track, "Where is it Going?" that fit the emotion that we were looking for and suited the occasion for the opening of the Paralympics. We vocoded Stephen's voice and came up with a version gelling us all together.
For some unknown reason we had a different rehearsal day to Stephen but I met this brilliant lady, who would be looking after him the next day. I told her all about Orbital, explained about our torch glasses and gave her a pair in the hope that Stephen would wear them on the night. He embraced the idea and wore the torch glasses, bearing in mind that Stephen would have to take off his prescription glasses to do so. We were blown away! So, there we were, with Stephen Fecking Hawking, our frontman with wheelchair and torch glasses. Paul and I, just behind him in a trio of wonderfulness, being part of the opening of the Paralympics. It really showed his sense of humour and understanding of fun. On the day, the creatives chopped and cut into the track but we pulled it off. I said to him, that he most likely didn't realise he had such a great singing voice.
The next day I sent him the mix, which he loved and responded with excitement about releasing it. Typical intellectuals, they all want to be rock stars. Unfortunately, due to bullshit bureaucracy, the Olympic company wouldn't give permission to release it, as they stated they owned his speech.
All I can say, Stephen Hawking was a fun loving, up for its beautiful man apart, as well as being one of the most genius minds ever. Unfortunately, Stephen left this world before we released our Orbital 30 Something album. I begged his estate lawyer, to request permission from his family, so we could release the track. They agreed! What a superstar, one of the biggest moments of my Orbital days. Love him.
---
Treble is supported by its patrons. Become a member of our Patreon, get access to subscriber benefits, and help an independent media outlet continue delivering articles like these.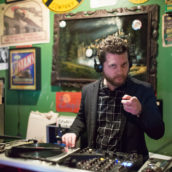 Jeff Terich
Jeff Terich is the founder and editor of Treble. He's been writing about music for 20 years and has been published at American Songwriter, Bandcamp Daily, Reverb, Spin, Stereogum, uDiscoverMusic, VinylMePlease and some others that he's forgetting right now. He's still not tired of it.