10 Essential Delaware Albums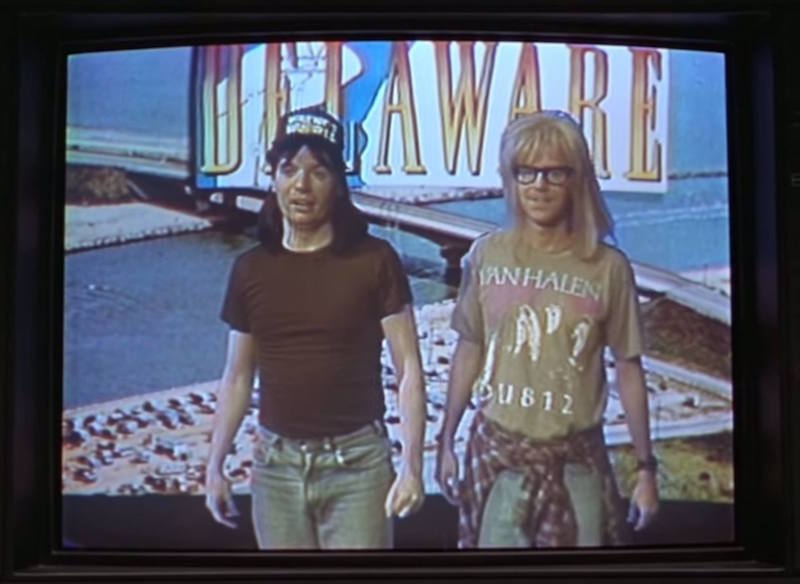 Welcome back to the Treble World Tour, a series of Top 10s covering albums that best represent certain locations—cities, states, territories, even entire nations. We consider representative releases on three levels: They were made by artists from a place, they contain music about or inspired by the place, and/or they were made in that place. And what better way to occupy ourselves in this first month of the new year than with music tied to America's first state?
Like some of its other East Coast neighbors, Delaware doesn't have the population or real estate to generate as wide and successful a spectrum of music. As its geography makes the state a conduit to other destinations, so is the artistry and influence of Delaware mostly found in people who came and went instead of those with hardier roots. Nevertheless, there are certainly native sons and daughters who stayed true to the state and left lasting sonic impressions.
From the overflow of Philly doo-wop to the northern tip of southern blues, the popular music of Delaware comprises so much more than just a name (sorry, Drop Nineteens). So, rest of the nation, grab your credit cards and prepare for the spending spree on first-rate music from the First State.
---
Clifford Brown and Max Roach – Clifford Brown and Max Roach
(1954; EmArcy)
Wilmington-born Clifford Brown did a lot with what little time he had. The trumpeter released 10 albums during his brief lifetime, cut short at 25 in a late-night car accident, and his greatest moments were those that found him working closely with North Carolina drummer Max Roach. The two delivered a handful of excellent hard bop recordings together, none as revelatory as the simply titled Clifford Brown and Max Roach. The players' chemistry—along with saxophonist Harold Land, pianist Richie Powell and bassist George Morrow—makes each track an utter delight, and the bluesy tone of the tracks keeps everything in a groove, even when the two marquee soloists are given the real estate to do their thing. Brown's career and life came to an abrupt end only two years later, his influence far outweighing the size of his catalog. But jazz disciples can pay their respects back in his hometown, at Wilmington's Mt. Zion Cemetery.  – JT
---
Snakegrinder – Snakegrinder and the Shredded Field Mice
(1977; Akarma/2017; Light in the Attic)
Where most of the artists on this list became famous once they set foot outside the limits of their home state, Snakegrinder until recently were likely never heard of outside of Delaware. Their sole album, Snakegrinder and the Shredded Field Mice, was a private press set of jazzy psychedelic rock that merged Dead-like jams with keyboard-heavy daydreams plucked from some far-off vortex. Indeed, Snakegrinder isn't quite the best name to summarize their brand of groove euphoria—there's nothing menacing or malicious here, just funky guitar scratch, a mixture of warm Rhodes and greasy Hammond, some occasional blooper-reel chat and bizarre song titles like "Nothing's Very Easy When Your Baby's in the Lake" and "Jesus Was A Plumber." Naturally, it ends with a 98-second hallucination called "Moon Over the Delaware." – JT
---
Television – Marquee Moon
(1977; Elektra)
All superheroes need origin stories, and this is Tom Verlaine's. Alongside classmate Richard Meyers—better known as Richard Hell—the erstwhile Thomas Miller escaped the privilege and isolation of the Sanford School in Hockessin to hide in Gotham and fight for artistic justice. The duo formed the band Television, but Hell was quickly replaced by bass player Fred Smith. Verlaine would soldier on and lead a tour de force debut that resonated within post-punk but bulged with jammy moments both jazzy and psychedelic. If he had left his creative itch unscratched in Delaware, who knows how many years' worth of musicians would have missed out on the inspirational gravitational pull of Marquee Moon. – AB
---
George Thorogood & The Delaware Destroyers – Move It On Over
(1978; Rounder)
The safe pick for this Wilmington blues-rock band is their fifth album Bad to the Bone, its title track used in countless wrestling entrances, stripteases, and action-comedies on the way to becoming their best-known song. But this second album is leaner and meaner, has more radio hits, and performed better on Billboard's Top 100. There's little balladry here beyond plangent takes on Elmore James and James Moore, the Destroyers working best when Thorogood rumbles through tales of men and women with questionable intent. New and tired ears alike might find his riffs hackneyed now, yet he's a scion of classic-rock stations from coast to coast. Traversing Chuck Berry's OG rock'n'roll ("It Wasn't Me"), Hank Williams' country ego-trippin' ("Move It on Over"), and Elias McDaniels' accusatory R&B ("Who Do You Love?"), this set of music is a microcosm of the band's career, forging a path that no aspiring Delaware blues act has followed in the four decades since. – AB
---
The Caulfields – Whirligig
(1995; A&M/Universal)
With the exception of Live, grunge's runoff into modern rock in the mid-1990s largely missed the Delaware Valley and surrounding area. Newark's Caulfields and their debut Whirligig were lost in the morass of major labels throwing countless bands against the post-grunge wall to see who stuck. You might remember "Devil's Diary" for its "I'm bigger than Jesus now" refrain, but oh, if only you'd stuck around for the rest of this album's literary alt-rock. It keeps pace with Matthew Sweet and The Posies, passing mile markers like Joe Jackson's power-pop and The Smithereens' barroom confessionals along the way. We really should've had more of a chance to pick John Faye's knotty vocab and squishy riffs over the Silverchairs and Semisonics of the world. – AB
---
Matthew Shipp Trio – The Multiplication Table
(1998; hatOLOGY)
Though Delaware isn't renowned for being an epicenter of jazz, it was the birthplace of two acclaimed and influential jazz artists who were connected in a way. Matthew Shipp was born in Wilmington in 1960, a few years after Clifford Brown's death, but his mother was a friend of Brown's. And though Shipp's musical career didn't truly begin until he moved to New York City, his origins and family ties no doubt played a significant role in his eventual musical direction. Now 58, Shipp's proven himself intimidatingly prolific—he has 95 albums, including some far-out collaborations with the likes of Spiritualized's Jason Pierce, hip-hop weirdos Antipop Consortium, El-P and countless major players in jazz. The Multiplication Table isn't a bad place to start, however, its trio arrangements a solid sampling of hard bop and avant garde sounds complete with a handful of standards delivered with maximum intensity. – JT
---
Boysetsfire – After the Eulogy
(2000; Victory)
My brother lived in Delaware for a couple years, and one of the things I remember him relaying about the state's culture was that its rock 'n' roll success stories were mostly limited to two acts: George Thorogood and emo up-and-comers Boysetsfire. The latter was still a fairly new band at the time, and since then they've found a bigger platform and a wider audience. But what makes Boysetsfire interesting even among what was becoming a pretty quickly oversaturated market of emotionally charged punk was their balance of raw aggression and melodic immediacy. At times, their second album After the Eulogy leans more toward hardcore than post-hardcore, though there's a post-Fugazi (and post-Rites of Spring) dynamic of hook-laden intensity and earnestness. Much of the album is a relic of its time—numerous pick slides, unwieldy and pretentious song titles and the like. But it also kicks ass, so score one for Newark, which by the way is pronounced "new ark," as in "Lost, Raiders of the." Don't let anyone from Jersey tell you otherwise. – JT
---
"Awesome" – Delaware: A Subtle Spectacular
(2005; AWESOME)
"Awesome" were a Seattle-based multimedia fringe theater ensemble whose first marquee production was a 2004 avant garde musical story asking a pivotal question: Does Delaware really exist, or is it just some sort of obtuse Bermuda Triangle where Wilmington, Dover, and Rehoboth Beach should be? While the sketch comedy elements of the absurdist stage show might have been vital in situ (apparently there's a legendary waffle-making scene), this cast recording remains weirdly engaging and affecting. Infatuated with the ocean beyond the state's shoreline and mermaids just beneath the surface, "Awesome" made challenging, shapeshifting sound in the vein of Sufjan Stevens, Beirut, and The Polyphonic Spree. – AB
---
The Spinto Band – Nice and Nicely Done
(2005; Bar/None)
This Wilmington crew lived the high school rock band dream, with nearly a decade of small-time toil before Nice and Nicely Done lifted their profile. It was their first album that wasn't self-released, and the resources and spread that came with a more established label paid immediate dividends. Lead single "Oh Mandy" could have been a gloriously desperate twee hit on its own, but it sure didn't hurt that it ended up in a Sears commercial in the early days of the indie-bands-selling-out debate. From the relationships ending in "Did I Tell You" and "Brown Boxes" to the attraction to TV screens in "Late" and "Japan is an Island," the rest of the album's tales of escape from/avoidance of interaction live up to The Spinto Band's promise. – AB
---
Bob Marley and the Wailers ‎– One Love at Studio One
(2006; Heartbeat, 2006)
The Wailers of the mid-to-late 1960s—before "Bob Marley and"—were in chrysalis. They were wrapping up their affiliation with Studio One but not yet affiliated with Island or Tuff Gong. Bob had also just married backup singer Rita Marley (born Alfarita Constantia Anderson), and her cousin Constantine "Vision" Walker was brought into the Wailers' fold. One Love at Studio One collects dozens of recordings to help fill in this part of the band's timeline, including when Bob left Jamaica to live with his mother in Wilmington, squirreling away money earned at jobs with Du Pont and Chrysler. It shows The Wailers' peppy ska and romantic rocksteady roots—and even full-speed-ahead pop efforts—prior to their embrace of languid and politicized reggae. It also includes tracks made in Bob's absence, shining light on talents like Rita, Walker, and Wailers bandmates Bunny Wailer and Peter Tosh. Most of the albums in this list describe what Delaware giveth; here, we see what happens when Delaware taketh away. – AB