31 Bands that should be in the Rock and Roll Hall of Fame

Let's just get this out of the way: Awards and ceremonies are a dubious measure of artistic worth. In fact I'll be the first to admit that even though we run our annual list of the best albums of the year, that's just really a collection of "favorites", and any omission should not be interpreted as not being the best. And gold statuettes are a cool honor to receive, but that's not why anybody makes music. The same can be said of the Rock and Roll Hall of Fame, which for more than three decades has been annually inducting legends of popular music into its hallowed halls, albeit on a highly selective basis. As a result, it has some major holes in its list of inductees, which is to be expected—like any institution that seeks to honor the "best" of anything, its methodology can seem at times arbitrary.
But look, if we're going to do this, let's do it right. Ahead of the Class of 2022 induction, I've highlighted 31 acts that have been eligible for more than five years (though one is perhaps a matter of perspective) that each deserve induction despite either never having been nominated or missing out on the final ballot one or more times. It might not happen next year or the year after that, but each of these artists is overdue for recognition in the Rock and Roll Hall of Fame.
---
Big Star
Power pop legends Big Star were never that wildly commercially successful, so it's not necessarily that surprising that in all this time, the Memphis group never made the final ballot. And yet, the group's influence is immeasurable, such that legend in his own right Paul Westerberg once claimed "I never go too far without a little Big Star." (And yes, we'll get to The Replacements soon enough.) Given that bands such as Cheap Trick, The Cars, and R.E.M.—each of whom carried Big Star's influence forward in their own unique ways—there's more than enough argument to warrant their induction.
---
Björk
If you want to take the more liberal view, Björk's been induction eligible as a solo artist for 20 years, since her first album was released in 1977, when she was only 11 years old. Her album that was literally titled Debut, however, was released in 1993—clearing that 25-year eligibility hurdle in 2018. Either way, Björk isn't the sort of artist that requires much thought in this arena, each permutation of her sound bringing about new innovations, whether on the trip-hop approach of Post, the orchestral sound of Homogenic or the mystical art pop of this year's Fossora. That being said, she has yet to be even nominated, which needs to be rectified as early as possible.
---
Kate Bush
The Rock Hall's already teased us with the possibility of inducting Kate Bush a few times, making the nomination ballot three times already. Of course, a lot has happened with the legendary artist since then, namely the return of her 1985 Hounds of Love single "Running Up That Hill" to the charts, courtesy of its prominent use in Stranger Things. While that alone isn't reason to induct her, a breathtaking body of work rife with innovation and stunning songwriting certainly is.
---
Can
You might notice that a lot of my picks fall well outside the expected lane of a safe Rock and Roll Hall of Fame pick. That doesn't mean I'm wrong, especially when so many of the bands that have been inducted already have taken influence from these bands, few of them having left an impression as deep and as wide as Can. An unusual merger of psychedelic rock with jazz, improvisation ("instant compositions" as they called it), 20th century modern classical composition, funk and avant garde sounds, Can rewired the language of rock music, which in turn played an influence on previous inductees such as Radiohead and Eurythmics (and close to the entirety of underground rock music over the past 40 or so years).
---
Captain Beefheart
Frank Zappa was inducted into the Rock Hall way back in 1995, but his fellow oddball bandleader and sometimes collaborator Captain Beefheart still hasn't had the honor. On albums like his 1967 debut with the Magic Band, Safe As Milk, Don Van Vliet brought a left-field sensibility to psych and garage rock, while just two years later he completely took rock music apart and put it back together again into a piece of abstract expressionism on Trout Mask Replica. That dazzling and strange feat alone merits at least a nomination.
---
Nick Cave
Nick Cave has never won a Grammy, and despite having scored numerous films with fellow Bad Seed Warren Ellis, he's never won an Oscar either. Suffice it to say the singer/songwriter, author and post-punk innovator probably hasn't been on the Rock Hall's radar all that much either. And yet his body of work is consistently strong, much of it highly influential, if most of it left-field and frequently macabre. To say nothing of his even wilder records with The Birthday Party. Yet Cave is one of the best songwriters of his time, able to offer haunting storytelling and poignant reflections of love and grief alike. His is a singular talent, though the potential sight of all the Bad Seeds on stage would likewise be a thing to see.
---
Chic
This one feels a little like a kick in the pants. Chic have been nominated to be in the Rock and Roll Hall of Fame a staggering eleven times, more than any other yet-to-be-inducted artist, but have fallen just short each time. Doesn't that fact in itself suggest that the group belongs in the Rock Hall? The disco-funk pioneers left an indelible impression on pop music in the '70s, one that continued through the '80s with Nile Rodgers' various productions—including albums by David Bowie, Madonna and Duran Duran—up to the present, with Chic's most recent album having been released in 2018. Nile Rodgers did get the Award for Musical Excellence, which maybe makes this a technicality, but it's time Chic finally get the honor they deserve.
---
Nick Drake
Nick Drake wasn't a "rock 'n' roll" artist per se, but considering the Rock Hall includes a range of artists wide enough to include both Public Enemy and Dolly Parton, and that likewise includes folkier artists such as Cat Stevens or Leonard Cohen. Drake released only three albums in his short lifetime, but the English singer/songwriter's influence is immense, having made an impression on a vast spectrum of indie folk as well as showcasing his breathtaking songwriting and guitar-playing skills.
---
Brian Eno
OK, so technically, Brian Eno did get inducted into the Rock and Roll Hall of Fame as a member of Roxy Music, but if Peter Gabriel can be inducted twice, and Eric Clapton can be inducted three (?!) times, then I say we do the same for Eno. From making inimitable pieces of visionary art rock like Another Green World to helping define and popularize ambient music, Eno's influence is crucial and nearly immeasurable. Besides, he missed out on the ceremony the first time on account of his commitment to cutting down on his carbon footprint.
---
Eric B & Rakim
In recent years, hip-hop's representation at the Rock and Roll Hall of Fame has grown considerably, with Public Enemy, N.W.A., 2Pac, Notorious B.I.G. and Jay-Z all having been inducted. But one of the biggest oversights is the immortal duo of Eric B and Rakim. OK, not a complete oversight—they were nominated in 2012 and somehow the duo never managed to come up again in the first stage of the process. Ten years later, it's time to revisit their nomination. Rakim's lyrics of fury and the production scope of Eric B left a massive impression on generations of hip-hop to come.
---
Fugazi
Punk is one of the major blind spots in the Rock and Roll Hall of Fame, outside of a few key artists such as The Clash and The Ramones. To say nothing of post-hardcore, which isn't even acknowledged. Fugazi, however, became legends through both their musical innovations in fusing punk energy with more progressive approaches and arrangements as well as their work ethic, keeping ticket and CD prices low as well as playing exclusively all ages venues. Fugazi didn't just reinvent punk rock, they changed the business model as well.
---
Hüsker Dü
There's an argument to be made for nominating Bob Mould on his own—the Twin Cities singer/songwriter helmed two all-time great bands, plus he's had a long and prolific solo career marked by numerous peaks. But Mould's first great band, Hüsker Dü, more than deserves the nod on its own. The group's evolution is remarkable in hindsight, from hyperspeed hardcore raveups to the epic narrative of Zen Arcade and eventually their power-pop peak. Hell, they deserve it for Zen Arcade alone, but that's only one chapter in their brief but incredible story.
---
Iron Maiden
Metal is something of a blind spot in the Rock Hall. Black Sabbath and Metallica have each been inducted, and this year, Judas Priest earns the Award for Musical Excellence. (Still counts!) Somehow, Iron Maiden had never been nominated until 2021 and missed the ballot this year. As one of the biggest heavy metal bands of all time, commanding massive crowds worldwide and injecting a sense of operatic drama into metal ever since Bruce Dickinson's arrival with The Number of the Beast, they changed the game. And that deserves acknowledgement.
---
Joy Division/New Order
Punk's representation in the Hall has slowly grown over the past couple of decades, with The Stooges, Ramones, The Clash, Sex Pistols and Patti Smith having cemented their place. But as far as post-punk goes, there's not much to speak of beyond The Cure and Depeche Mode. Though there's no better time than the present to make good on that vacancy by inducting both Joy Division and the band they became after the death of vocalist Ian Curtis, New Order. One brought darker textures to punk songwriting, the other struck a world record for synth-pop. It may or may not get the rest of the band to bury the hatchet with Peter Hook, but both bands deserve the recognition regardless. A million Unknown Pleasures t-shirts can't be wrong.
---
King Crimson
Here's a curious one: While progressive rock is pretty well represented in the Hall of Fame (Pink Floyd, Genesis, Yes), King Crimson is nowhere to be found. Not even nominated, and they've been eligible for 28 years. Frustration about the prog legends' absence from the Hall has been well registered, and justifiably so: The group became legends with their debut, In the Court of the Crimson King, and only continued to reshape rock music into more experimental forms over their sprawling and diverse body of work. That they've never even made it past that first step of being considered for nomination makes it clear how big of a blind spot this is.
---
Fela Kuti
Fela Kuti has been nominated both this year and last year, though thus far hasn't been inducted, though it feels like it's only a matter of time before the Afrobeat legend is officially in. (Then again: Chic.) Still, Fela Kuti's place in the Hall of Fame is more than warranted, given that he pioneered a style of music and left an impression on artists who have already been inducted, such as Talking Heads. As an activist, prolific recording artist and innovator, Fela Kuti is one of the most important musicians of all time, let alone on this list.
---
The Meters
The Rock and Roll Hall of Fame includes a fairly sizable chunk of New Orleans music history, from Louis Armstrong and Fats Domino to Dr. John. It's still missing one major piece, though: The Meters. In all fairness, the group—who delivered a singularly funky instrumental sound from the Crescent City—has been nominated four times, yet they never made it to the final ballot. The problem, as far as I can see, is not enough of those casting votes have heard "Cissy Strut." That should fix that.
---
The Replacements
As mentioned earlier, The Replacements likewise deserve a spot, with the caveat that Big Star receive the honor first (perhaps inducted by Paul Westerberg himself?). Regardless, the group more or less created the template for North American indie rock while completely upending any and all expectations about what anyone wanted them to be—Michael Azzerad's Our Band Could Be Your Life noted that their best shows would sometimes happen when nobody was watching, and their most hyped performances would become total chaos. All the while, they created some of the best pop music ever spun left of the dial.
---
Sade
The Fader recently tweeted, "Who would you want to hear featured on a new Sade album?" To which Twitter collectively replied (varyingly phrased), nobody but Helen Adu herself. That's the thing about Sade—no marketing gimmick can improve upon what's already perfect, and no Sade listener is going to fall for it anyway. The UK group's mixture of pop, jazz and R&B is legendary for a reason—they're the only band that sounds like this, and they're so damn good at it. And commercially successful I might add, which makes their omission even more curious. Granted, theirs is an aesthetic that "rock 'n' roll" fails to capture, but that's never been a problem before.
---
Silver Apples
For quite a few years, one of the go-to responses for bands that merit inclusion in the Rock and Roll Hall of Fame was Kraftwerk, who finally earned the honor under the "Early Influences" award. A similar case could be made for Silver Apples, the psychedelic rock duo whose blend of hypnotic synth drones and pulsing rhythms represents some of the earliest of what we might call electronic pop music. Though pretty far outside the mainstream, the music Silver Apples made in the '60s was years ahead of its time, a feat that deserves recognition in one form or another.
---
Siouxsie and the Banshees
In 2019, The Cure were inducted into the Rock and Roll Hall of Fame. And by extension, Siouxsie and the Banshees—which once briefly included Robert Smith as a member—are that much closer to entry. Not that they've ever been nominated, but as one of the defining voices of goth rock and post-punk—helping to establish both the sound and the look—they'd get my vote.
---
Sonic Youth
It's hard to imagine the last 35 years or so in indie rock having happened the way that they did without Sonic Youth. It's also hard to imagine it having been nearly as interesting. Since their experimental no wave beginnings on to EVOL, Sister and Daydream Nation, Sonic Youth redefined underground rock in America, stretching its structures, changing its tunings, reshaping its sound and always re-emerging with something new and thrilling. While another live performance from the group at the ceremony is unlikely, to say the least, the group nonetheless deserves the honor.
---
Soundgarden
Soundgarden earned their first nomination in 2020, the third grunge band to be in the running after Nirvana and Pearl Jam but certainly one of the first to deserve it. On albums like Badmotorfinger, Soundgarden fused heavy metal's intensity and maximalist approach with a more underground-influenced grime and radio-ready hooks, which likewise translated into greater commercial success. They sit at the crossroads of grunge and metal, which makes them far from a likely candidate for entry, but if they were nominated once, it could—and should—happen again.
---
Sparks
Having recently watched The Sparks Brothers, I can't necessarily fault the Rock Hall entirely for overlooking the long-running fraternal Los Angeles duo. They've been overlooked before. And yet they've delivered some of the greatest records in glam rock, disco/synth-pop (with superstar producer Giorgio Moroder), reinvented themselves about a dozen times, and were even parodied in a Paul McCartney video. Not bad for some scrappy underdogs. The Mael brothers have yet to make the nomination ballot, however, so it still might be a little longer.
---
Suicide
Suicide's likelihood of making it into the Hall of Fame anytime soon is low, I acknowledge that—and yet, Alan Vega and Martin Rev were arguably the first American synth-pop band. (See possible exception above: Silver Apples.) Though their approach was more like a dirty, droning rock 'n' roll, the template of synth programmer-plus-singer (see: Erasure, Soft Cell, Yaz, Pet Shop Boys) basically starts here. Though Suicide likewise deserves merit for their influence on industrial music, and feats of avant garde terror like "Frankie Teardrop"—OK, maybe that one's an acquired taste. The significance of their contributions to rock music, however, aren't up for debate.
---
Television
Considering how many guitar heroes have earned their space in the Rock Hall, it still doesn't seem right that Tom Verlaine and Richard Lloyd aren't yet among them. A unique band among the Class of 77, Television didn't play punk rock in the same way that The Ramones did, but rather explored space, melody and more progressive explorations with their music, delivering something that stands as a uniquely innovative musical project all its own. One thing's for sure, though: Rock 'n' roll albums don't get much better than Marquee Moon.
---
Thin Lizzy
Of all the bands mentioned here, Thin Lizzy are perhaps the one whose omission I found most surprising. The hard rock legends were nominated a grand total of once, in 2020. Even though they've been eligible for decades. The Irish group have been massively influential on rock and metal over the past 40 years or so, and deserve induction based on Jailbreak alone, and yet that doesn't even take into account the rest of their other 11 albums, most of them comparably badass.
---
A Tribe Called Quest
A Tribe Called Quest has made it to the nomination process a couple times thus far, but to date still haven't been inducted, even though they've been eligible for eight years. As one of the founding groups in Native Tongues, as well as innovators behind albums such as The Low End Theory and Midnight Marauders, A Tribe Called Quest are one of the most important groups in hip-hop, and the fact that they've come close a few times already essentially confirms that they've more than earned their place in the Hall.
---
Townes Van Zandt
When Dolly Parton earned her nomination into the Rock and Roll Hall of Fame, she initially was hesitant to accept the honor. She did, however, graciously accept that nomination shortly thereafter, along with a winking note about how one day she'll write a great rock 'n' roll album. Country and rock 'n' roll are both part of the same American musical tradition, however, and if we're inducting country artists (and there's no reason why we shouldn't), Texas troubadour Townes Van Zandt should be near the top of that list. As a legendary outlaw country singer/songwriter, Van Zandt's desolate songs are far from the most commercial in country music's history, but by all means among the most poignant.
---
Scott Walker
I'll just go ahead and admit right now that I don't anticipate seeing Scott Walker admitted into the Rock Hall anytime soon, if mostly because he was mostly a cult figure throughout his career outside his Walker Brothers hit, "The Sun Ain't Gonna Shine Anymore." But his orchestral art-pop albums of the '60s, coupled with his reinvention in the '80s and '90s and eventual push into harrowing avant garde material and drone-metal collabs prove just how innovative and singular an artist he was in his lifetime.
---
Support our Site—Subscribe to Our Patreon: Become one of our monthly patrons and help support an independent media resource while gaining access to exclusive content, shirts, playlists, mixtapes and more.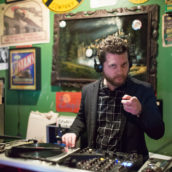 Jeff Terich
Jeff Terich is the founder and editor of Treble. He's been writing about music for 20 years and has been published at American Songwriter, Bandcamp Daily, Reverb, Spin, Stereogum, uDiscoverMusic, VinylMePlease and some others that he's forgetting right now. He's still not tired of it.