10 Essential Self-Referential Songs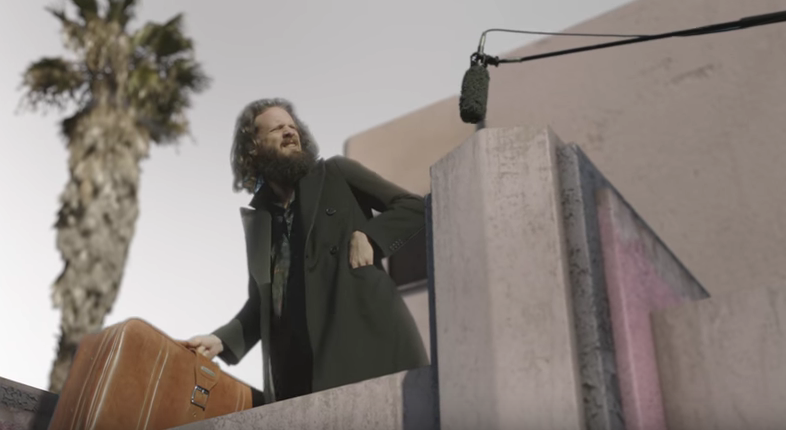 Plenty of bands have songs that bear their name. Black Sabbath's very career began with a song titled "Black Sabbath," in fact. But it's another thing entirely for a band to show up in their own song, whether in the form of characters or in elaborate references to their past work. But then again it takes a special kind of artist to pull it off without sounding too self-serving or absurd. We assembled a list of 10 examples where an artist finds their way into a song in unexpected and clever ways. These self-referential songs might be too clever for their own good, but they're still ones we're happy to call essential.
---
The Beatles – "Glass Onion"
from The Beatles (The White Album) (1968; Apple)
The Beatles were a pop culture phenomenon with an elaborate mythology, fan conspiracy theories and all manner of stoned interpretations. So they did what any band with a good sense of humor and a penchant for provocation would do: Write a song with heavy references to various other songs in an effort to playfully poke holes in the idea that there are deeper meanings wrapped up in their cryptic, psychedelic wordplay. There are nods to "The Fool on the Hill," "Strawberry Fields," "Lady Madonna," "Fixing a Hole," and in the coup de grace, John Lennon's declaration that "The Walrus is Paul." Antagonistic? A little, but it's too clever to be pure provocation, a snarky little highlight on their weirdest, messiest album. – JT
---
David Bowie – "Ziggy Stardust"
from The Rise and Fall of Ziggy Stardust and the Spiders from Mars (1972; RCA)
David Bowie's first album with his band of glam-rock ringers, The Spiders from Mars, featured a sci-fi narrative about an alien rock star who arrives on planet Earth to save it from extinction. That's essentially the gist of it, but it's also just kind of about rock 'n' roll in general, and on "Ziggy Stardust," Bowie's own band makes an appearance. "Ziggy played guitar, jammin' good with Weird and Gilly," Bowie sings, giving a nod to his bandmates Trevor Bolder (Weird) and Woody Woodmansey (Gilly). The actual Spiders from Mars ended a lot differently than they did in the song: Bowie simply continued to evolve as a solo artist while the other members continued without him, sans Mick Ronson, who made a number of appearances later on in Bowie's career. Sure beats being killed by an angry mob.  – JT
---
Iggy Pop – "Dum Dum Boys"
from The Idiot (1977; Virgin)
In the late-'70s, David Bowie and Iggy Pop—each at a crossroads in their career and in need of detox—relocated to Berlin for a period of creative fertility that resulted in some of the best albums that either artist made. One of them, Iggy's solo debut The Idiot, was heavily marked by Bowie's own pen, though one of its standout tracks surrounded the aftermath of Pop's former band, The Stooges. In the song's hazy opening, Iggy runs down a "where are they now?" of past bandmates ("oh what's Rock doing? He's living with his mother/What about James? He's gone straight") before running through the unglamorous glory days of the band, clashing with the hippie culture of the time ("People said we were negative/They said we would take but never give"). And then of course there's the title. What's a synonym for "dum dum boys"? Think about it. – JT
---
Devo – "Jocko Homo"
from Q: Are We Not Men? A: We Are Devo! (1978; Warner Bros.)
Devo's early days, and for that matter pretty much their whole career, has been as much performance art as pop music. "Jocko Homo" serves in part as their manifesto, mission statement and origin story, part of an elaborate theory of "devolution" upon which the band was founded. It's a peculiar dirge, built on changing time-signatures and jerky rhythms, and climaxing in a call-and-response chant of "Are we not men? We are Devo." It's Devo's entire oddball persona referenced and encapsulated in a song. – JT
---
Minor Threat – "Minor Threat"
from Minor Threat (1981; Dischord)
Plenty of artists have tacked their names onto de facto theme songs that reside on self-titled releases. (Icehouse, anyone?) One of the most compelling examples comes from Ian MacKaye's D.C. punk pioneers, with this song from their namesake debut EP from 1981 and the compilation of the same name three years later. In about 90 seconds, the band both establish their intent as game-changing anti-adult rebels ("Go to college, be a man, what's the fucking deal?") and snidely downplay their influence ("Pay no mind to us/We're just a minor threat"). The harsh musical power, you expect. The blink-and-you-miss-it wordplay? Maybe not so much. – AB
---
T Bone Burnett – "The Strange Case of Frank Cash and the Morning Paper"
from The Talking Animals (1987; Columbia)
Before T Bone Burnett became Hollywood's most omnipresent musical consultant, he wrote and performed clever songs that doubled as morality plays and micro-investigations into Christian dialectics. They were a scream, really. "Frank Cash," co-written with Tonio K, begins as a spoken-word narrative about a streaky gambler who eventually finds himself on the incriminating end of an accidental shooting. Dissolving into a dreamlike courtroom sequence, Frank addresses the court before sentencing: "Your honor and ladies and gentlemen of the jury—all this has been happening to me because of this guy named T Bone Burnett! He's been making all this up! And I just want to say I don't believe in him! In fact, I don't even think he exists! Not only that, but this song is OVER!" But it isn't: After a prolonged pause, Burnett/God hops right back into the groove and provides an update, in which Frank gets a suspended sentence and turns his life around. "I gave him back all the money he'd spent," Burnett adds. Somewhere in this vaudeville there's a message about belief, the nature of calamity, the cloak of character and divine grace, but you wouldn't be faulted for just enjoying Burnett's modernistic way with folktales. – PP
---
Janet Jackson – "Nasty"
from Control (1986; A&M)
Control was the coming-out party for Janet Jackson and the Jimmy Jam/Terry Lewis production team, who happily indulged and supported her efforts to right the ship of her musical career. The album, and this song in particular, ended up being a middle finger to the manipulative and downright dangerous men in her life to that point: father, ex-husband, catcalling strangers. She's neither the first nor the last to stick up for herself in song, but the snarling personalization of her closing bridge here—"No, my first name ain't baby/It's Janet, Miss Jackson if you're nasty"—makes "Nasty" a memorable statement of empowerment. – AB
---
Jon Spencer Blues Explosion – "Sweat"
from Orange (1994; Matador)
The blues have long hosted stories told from the first person and the third, describing musicians' interactions with mates, outlaws, and even the Devil himself. Jon Spencer's power trio has a catalog full of modern takes on the form; throughout it, you'll regularly hear "Blues Explosion!" as an in-song exhortation in the same manner as James Brown would call out The JB's and its members. This cut from the Explosion's mid-'90s masterpiece Orange finds Spencer and the band expanding on that notion in a pronouncement of their on-stage power, their sweat literally marking their territory on tours crisscrossing America. – AB
---
Randy Newman – "The Great Debate"
from Dark Matter (2017; Nonesuch)
Randy Newman's longest-ever track delves into the topic of Christian faith, vis-a-vis scientific fact. More like a comic operetta, "The Great Debate" depicts a coming-of-minds between religious fundamentalists and science experts in an auditorium in the Research Triangle of North Carolina. (Which is a fantastic narrative detail: Where are God and science more likely to run up against each other?) It's actually a kangaroo court run by the fundies and their smarmy pre-approved emcee, though. They dismiss the scientists' explanations of dark matter and evolution because of all their Jesus. Just as they're about to dig into climate change, one of the "true believers" steps up and throws a curveball at the religious leader of proceedings:
"You're an idiot. You're a strawman, a fabrication. You see, the author of this little vignette, Mr. Newman, self-described atheist and communist, creates characters like you as objects of ridicule. He doesn't believe anything he has you say, nor does he want us to believe anything you say. Makes it easy for him to knock you down; hence, a strawman. I, myself, believe in Jesus. I believe in evolution also. I believe in global warming and in life everlasting. No one can knock me down."
This single "meta" moment is compelling, because Newman almost calls his entire pop career into question. Has he contributed, in his own small way, to the current dynamic of rash demonization and caricatures of entire peoples, as aggravating as their worst avatars can be? I don't think so myself—but then again, my beliefs are closer to Newman's. By inserting a non-burlesque Christian as the only rational person in the proceedings, Newman makes a startling self-assessment and offers brief hope of honest and even-handed discourse between two sworn opponents.
That is, until the emcee responds: "Oh, we can knock you down, mister. We can knock your communist friend down, too… We've been knocking people like Mr. Newman down for years and years!"
Well, there you go. I'm headed to Costco to stockpile Spaghetti-O's. – PP
---
Father John Misty – "Mr. Tillman"
from God's Favorite Customer (2018; Sub Pop)
Just a couple years after releasing one of the most affectingly surreal albums about love in the modern era, Josh Tillman and his wife Emma hit a rocky period that came to be documented in Father John Misty's fourth album God's Favorite Customer. It's an album of loneliness, depravity, frustration and mass consumption of chemicals, and it becomes a sad, humorous meta-commentary on "Mr. Tillman," wherein he becomes a character in his own song. Narrated from the perspective of a hotel concierge who observes his increasingly more troubling behavior: "You left your passport in the mini-fridge, and the message with the desk here says the picture isn't his." And if that wasn't enough, another singer/songwriter makes a cameo: "Jason Isbell's here as well, and he seemed a little worried about you." The couple seem to have patched things up, and Tillman's in better shape, but in hindsight it did make for some peculiar, inspired storytelling. – JT