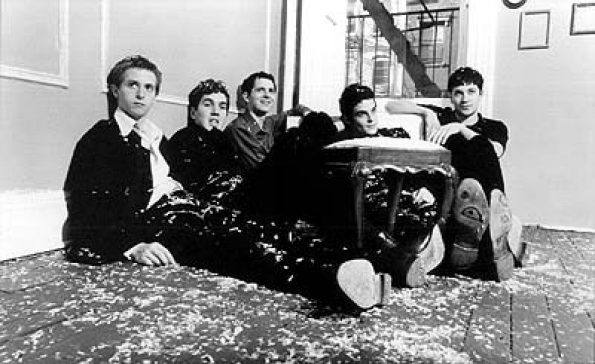 The history of pop music is littered with one-hit wonders, primarily because, as hard as it is to score one hit song, it's even harder to do it a second time. But not as much is written about those artists who existed for one solitary album and subsequently broke up. Sometimes, in the case of the Sex Pistols, a band burns bright for a short period of time and then flames out. Other times, as in the case of The Avalanches, they keep holding out the promise of a second album, even if that never materializes. Neither of these artists is on our list, the former because we found ten better albums (someone out there just gasped), and the latter because… well… sigh, they might release another album, and we're just not quite ready to write their epitaph just yet. But we have nonetheless assembled ten great albums by ten great artists who struck gold once and called it a day.
The United States of America – The United States of America
(1968, Columbia)
Buy at Insound/iTunes
American psychedelic outfit The United States of America stirred up one crazy, carnivalesque atmosphere on their self-titled album. A style-hopping trip-out of an album, the sole full-length from this mind-altering outfit rocked like Jefferson Airplane one moment, gurgled into space like Silver Apples the next, and blended in some elements of Pink Floyd and the Velvet Underground in between. While the group disbanded after this release, their influence lives on, having made a sizable impact on the music of bands like Pram and Broadcast. And no matter how weird the band got, outstanding tunes like the breathtaking ballad "Love Song for the Dead Che" are a reminder of their brilliance.
The Millennium – Begin
(1968, Columbia)
Buy at iTunes
The Millennium have been the subject of a large number of archival releases that have emerged in the last couple decades, but 1968's Begin remains their sole studio album, a sprawling journey of psych-pop, chamber pop and late-'60s jangle that's lush and sunny and epic. The most expensive album released by Columbia at the time, Begin was probably a little too ambitious, and proved a commercial disappointment. But as an artistic achievement, it's anything but. The album's stunning song cycle takes the listener through a colorful blend of sounds and styles, all of which sound fresh today. Gary Usher and Curt Boettcher may have gotten more impressive returns over time, even if the album's initial release didn't make a huge impact, but more than 40 years later, Begin stands as a psychedelic-era classic.
Josef K – The Only Fun In Town
(1981, Postcard)
Scottish post-punk band Josef K actually recorded two albums, but decided to scrap the original Sorry For Laughing and start over, many of its songs ultimately ending up on The Only Fun In Town. The album that finally made it to the public's ears is a jerky, abrasive and energetic one, burning out in around 30 minutes and exploding with nervous energy. Like a twitchier, less morose Joy Division, or Wire's weird Scottish cousins, Josef K offered a unique and exciting kind of abrasion during the post-punk era, despite their relative obscurity. But Josef K-influenced acts like Franz Ferdinand have brought the band's name into a new era, which also resulted in the release of retrospective Entymology in 2007. Perhaps their hooks weren't quite as unshakable as those of Talking Heads or XTC, but tracks like "Fun 'n' Frenzy" certainly made them one of the most interesting bands of the early '80s, and in their unique way, one of the best.
Tones on Tail – Pop
(1984, Beggars Banquet)
Bauhaus launched an astounding number of side projects and offshoot bands, most of them easily qualifying as one album wonders, including Dali's Car, The Bubblemen and The Sinister Ducks. Of this batch of short-lived projects, however, Tones on Tail rises to the top of the heap, not only for their excellent single "Go!", but for their sole full-length album, Pop. Slightly less abrasive than Bauhaus, Tones on Tail nonetheless carried on that band's dark tradition, melding post-punk with jazz and synth-pop to create something sinister but fun. "Movement of Fear" is a Lynch-ian trip through harrowing jazzscapes, while "Performance" stands as one of the band's strongest singles, its synthesizers pulsing with intense energy. Though the band never released another album, their outstanding EP and singles material more than make up for the absence.
Rites of Spring – Rites of Spring
(1985, Dischord)
Buy at Insound/iTunes
Washington, D.C.'s Rites of Spring, which Fugazi's Guy Picciotto and Brendan Canty, are largely considered the godfathers of what we now know as emocore. That may be reason enough for some people to avoid it, but whatever tripe the genre hath wrought, its roots lie in emotionally gripping and intense hardcore. For all intents and purposes, Rites of Spring's self-titled album is a punk rock record, and an amazing one at that. Musically abrasive but steeped in philosophical questions and a search for deeper meaning, Rites of Spring pushed away from a largely political punk rock template into one much more introspective. How that later turned into an overwhelming trend of sensitive pop-punk bands with album covers depicting sullen girls, I'll never understand, but one can hardly blame Rites of Spring, because for one short album, they brought something new and exciting to punk rock.
Company Flow – Funcrusher Plus
(1997, Rawkus)
Buy at Insound
Depending on who you ask, Company Flow either changed hip-hop for the better or completely ruined it, though I'd be highly skeptical about anyone who dare say the latter. When Company Flow released Funcrusher Plus in 1997, there was nothing else like it. A dark, space-age, sinisterly humorous piece of work that spanned topics ranging from sci-fi to domestic violence, and lots and lots of slams to wack-ass rappers, Funcrusher Plus ushered in a kind of post-modern age of hip-hop that laid the blueprint for Definitive Jux, which makes sense when you consider that CoFlow emcee El-P started the label. But this 19-track monster was inevitably going to be impossible to follow up with something nearly as massive, so they just didn't. But El-P, Mr. Len and Bigg Jus have reunited for some live dates, so while new music may or may not ever materialize, at least Company Flow lives on.
Jonathan Fire*Eater – Wolf Songs for Lambs
(1997, Dreamworks)
Buy at iTunes
Back in the '90s, New York garage rockers Jonathan Fire*Eater were pegged as one of the next big buzz bands to watch, having been swept up in a wave of "alternative" major label signings that, curiously, often received little to no marketing effort despite having the benefit of Sony, Universal or Time Warner money available. In all fairness, Jonathan Fire*Eater likely didn't fit into the commercially viable mold of Nirvana and Radiohead soundalikes that plagued alternative radio for the better part of a decade. But their eerie, jangly garage sound nonetheless proved refreshing and highly impressive, with Stuart Lupton's affected vocals driving a rickety train of scratchy guitars and blazing farfisa. Wolf Songs For Lambs is an incredible effort, boasting a number of memorable tunes ranging from "No Love Like That" to "A Night In the Nursery," the latter of which, in retrospect, would have made a snappy single. Readers will no doubt be shocked – shocked—to learn that a major label contract didn't equate to commercial success, and following the band's breakup, three of its members joined The Walkmen, whose career has been far more productive and lasting. Meanwhile, Stuart Lupton started a solo career later on, to little fanfare, though after a disastrous SXSW performance, that might be for the best.
Faraquet – The View From This Tower
(2000, Dischord)
Buy at Insound/Buy at iTunes
Mathematically-minded D.C. post-hardcore outfit Faraquet formed after the dissolution of Smart Went Crazy, and for a trio, they proved incredibly dynamic. Their time together was short, despite a recent reunion, but the jaw-dropping burst of inspiration they displayed during their three short years together is nothing short of amazing. Their sole album, The View From This Tower is a whirlwind of technical but high energy rock akin to Slint on caffeine, or Fugazi covering King Crimson songs. But, no matter how flashy the instrumentation, these are accessible, even catchy tunes, in particular "Cut Self Not" and the brief "Song for Friends to Me," which climaxes in the refrain, "You fall again and you're FUCKED!" Devin Ocampo and Chad Molter formed Medications after the two split with bassist Jeff Boswell, but there's no denying that, whatever creative differences proved insurmountable, this trio kicked some serious ass in their short run.
Cannibal Ox – The Cold Vein
(2001, Definitive Jux)
Taking Company Flow's vision of dystopian hip-hop to even darker and weirder realms, Vast Aire and Vordul Mega, with production from El-P, made one of the grimiest, most darkly futuristic sounding rap albums of the '00s, which is saying a lot considering how deep both sci-fi themes and gritty narratives ran during the decade. The album is a gritty vision of New York, infested with vermin and predators, with eerie soundscapes backing the duo's twisted humor ("Those who have more than them/prepare to be vic-tems", "You were a still-born baby/ Your mother didn't want you but you were still born"). It's a long album and one so sprawling that merely creating this sole masterpiece likely took a lot out of the duo, who have since split and have from time to time exchanged less than friendly words. But The Cold Vein is nonetheless a mind-blowing legacy to leave, even if that's it.
Life Without Buildings – Any Other City
(2001, Tugboat)
Buy at Insound
Melodic and weird Glasgow post-punks Life Without Buildings released a live album in 2007, but technically that doesn't violate the one-album rule, for the delightfully bizarre Any Other City stands as the one and only studio album in the band's discography. Largely unheralded at the time of its release, Any Other City slowly made the rounds during the '00s, ending up a major influence on bands like Love Is All and Los Campesinos! in the ensuing years. Hearing it for the first time can be an invigorating and disorienting experience. Once you get past the initial "what is this?" instinct, the album slowly begins to make sense. Vocalist Sue Tompkins' yelps stand in stark contrast to Robert Johnston's gorgeous guitar work, which has more in common with Slint or Sunny Day Real Estate than LiLiPuT or The Raincoats. Nonetheless, the push and pull between the two creates an interesting dynamic that's both challenging and very cool. I can't say I blame them for not releasing a second album. Hell, I'm not even sure how they pulled this off in the first place.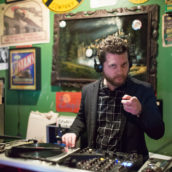 Jeff Terich
Jeff Terich is the founder and editor of Treble. He's been writing about music for 20 years and has been published at American Songwriter, Bandcamp Daily, Reverb, Spin, Stereogum, uDiscoverMusic, VinylMePlease and some others that he's forgetting right now. He's still not tired of it.