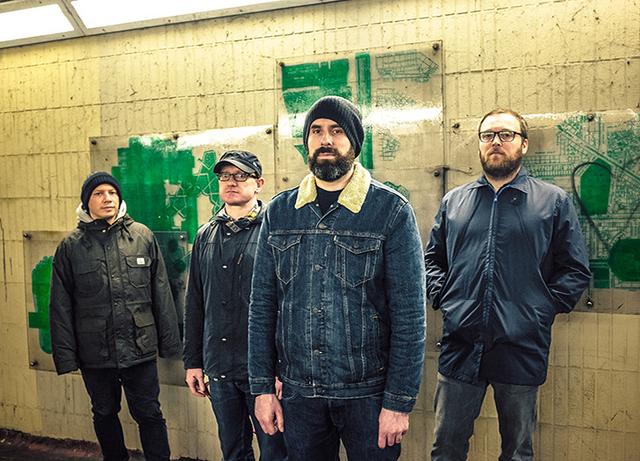 Beginner's Guide aims to provide readers with entry points into the catalogs of artists with complicated, massive, or sometimes difficult discographies. It's not a completist's guide, but instead a way of introducing an artist to a listener so that they might be able to navigate through deeper waters after a few spins. So come on in — there's a lot to discuss.
In an early interview with The Express, Mogwai co-founder/guitarist Stuart Braithwaite described the audience reaction to their live sets as follows:
"I think most people are not used to having no lyrics to focus on. Lyrics are a real comfort to some people. I guess they like to sing along and when they can't do that with us they can get a bit upset."
That statement might be the best way to summarize what makes Mogwai less accessible than many other instrumental acts. Mogwai are intensely driving at times and beautifully sparse at others, but never really produce sounds that one would describe as overwhelmingly noisy or disruptive. However, in an age where lyric-driven music is largely expected, they use the musical vocabulary of rock to write instrumental pieces that speak with the power and focus of contemporary classical music.
That's to say that Mogwai are no Fucking Champs or Ratatat; they don't write party jams and even the most pop-influenced of their work is more profound and overwhelming emotional art-rock than background music for a social situation. Mogwai's music expresses complicated emotions without the traditional use of the human voice and, for typical indie-rock audiences, that can be difficult to process. Sure, the band offers several lyrical moments, but in those cases the voices and words act as an additional instrument, and hardly ever the focal point of the composition.
Like many acts sandwiched into the genre, Mogwai rejects the term post-rock to describe their music, and I would tend to agree. Rather, I would say that the band has reinvented what rock means to them, re-purposing alt- and indie-rock tropes to cover new compositional and emotional ground. And, as much as they challenge their listeners, the musicians in the band are constantly challenging themselves to shift and develop their own approach to creating their art. It's best to keep an open mind when exploring their discography, and not to pigeonhole their approach too much—that's a mistake many earlier fans made, resulting in an under-appreciation of some high-quality, landmark albums.
Mogwai's music is ever-changing and, as evidenced by Rave Tapes—it's impossible to predict what they will do next. What we can do is offer five accessible albums that represent different moments and approaches throughout their prolific career. In essence, these are the best Mogwai albums to listen to if you've never heard them before. So, without further ado, we present the Beginner's Guide to Mogwai.
Listen to our Essential Mogwai Spotify Playlist.
---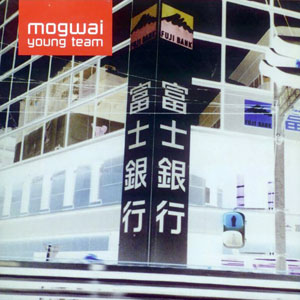 Young Team
(1997; Chemikal Underground)
When it comes to Mogwai, the best introduction is probably their critically acclaimed full-length debut, Young Team. Featuring abstract vocal samples, intricate guitar-driven melodies, and the loud-quiet instrumentals that encompassed the beginning of the band's career, it's an expansive yet accessible foray into the band's catalog. While a first-time listen can be draining, (Mogwai's tempo in early recordings tends to either drag back or rush forward, and they have a tendency to stay in minor keys for, well… always) Young Team is a versatile listen, with plenty of surprises — soothing and jarring alike.
Consisting mostly of slow-brewing jams and surprising moments of aural explosion, Young Team takes what is essentially a post-punk base of sounds and twists those influences into 10 gorgeous, cinematic tracks. Compositions like "Tracy,""Katrien," and "Yes! I Am A Long Way From Home" build on a quiet, repetitive melody until eventually radiating with sound and breaking into abstract, dissonant noise. "Like Herod" and "Mogwai Fear Satan," on the other hand, offer a louder, more bipolar approach to the same contrasting dynamics. The former's verses are soft yet brooding, creating a sense that the high volume chorus could break out at any moment. And when that hook finally appears, it's indescribably exhilarating, with it's roaring guitars and crashing rhythm section.
Like many debut records, Young Team is Mogwai at their most raw; the core sound of what makes them such a standout band. While no Mogwai record is a flop — each deliberately and artistically executed in their own right — the band would go on to experiment with a variety of sonic directions, often returning to small ideas visited on Young Team and expanding upon those concepts. As such, this record is essential Mogwai and a perfect launching pad for a new listener approaching their discography.
---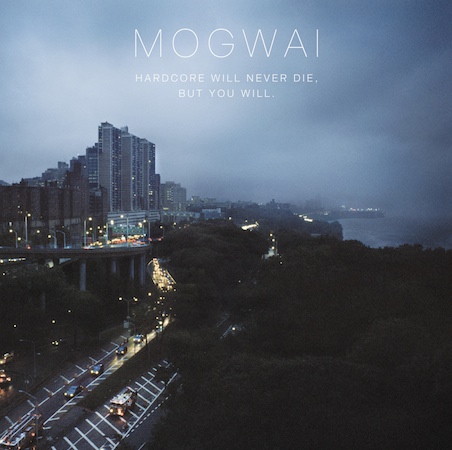 Hardcore Will Never Die, But You Will
(2011; Sub Pop)
While it would be difficult to make the case that any Mogwai record is truly pop, Hardcore Will Never Die, But You Will definitely comes the closest. It is, by all means, the band's most condensed record thus far; showcasing tightly fleshed-out song structures and a heavy use of catchy hooks at the root of each track. From opener "White Noise" onward, the band's approach is more trimmed than ever before. Rather than dragging on song-sections for effect, the compositions on Hardcore Will Never Die take a "less is more" attitude, using the band's songwriting skills to create subtle layers of sounds whose effect grows on the listener over time, rather than surprising the ear buds all at once.
The direct approach of Hardcore Will Never Die came at a good time in the band's discography. 2008's The Hawk is Howling, while a fine record, featured long and repetitive pieces that were sometimes more exhausting than fulfilling. And while that record marked a return to the loud/quiet, guitar-centered approach the band pioneered on Young Team, it perhaps showcased why it is so important for an experimental band like Mogwai to move forward in new directions in order to remain progressive and surprising. Hardcore marked a new approach to writing for Mogwai and, as a result, brought a new, dynamic energy to the band's work. And based on what we've heard from Rave Tapes so far, this new approach is likely to take the band in some exciting new directions.
---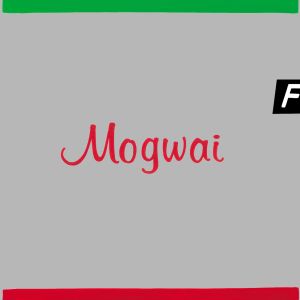 Happy Songs for Happy People
(2003; Matador)
Their fourth full-length record, Happy Songs for Happy People was the first Mogwai album to feature a heavy departure from the quiet/loud/louder format of their first three records. While featuring its fair share of loud moments and guitar-focused melodies, Happy Songs is largely a synthesizer and piano-based record, and also relies quite a bit on classical string instruments for many of its quieter moments (e.g. "Moses I Amn't," "Stop Coming to My House," "Killing All The Flies.") As a result, the range found throughout the record is often more mellow than what we've encountered on this list so far.
There are still small explosions of contrast throughout Happy Songs, marking the record as a solid medium point in the band's song-writing progression over the years. The heavily-processed vocals in "Hunted By A Freak" and "Killing All The Flies" create the tension found in much of Mogwai's earlier work, and the latter's second half showcases a rather satisfying explosion of sound. But overall Happy Songs for Happy People was a more understated work for Mogwai, an album that displayed their growing knack for more linear songwriting, yet disappointed some by lacking the energy that made their first records so surprising and recognizable. Still, the record is damn beautiful in its own way and a must-listen for long-time fans and newcomers alike.
---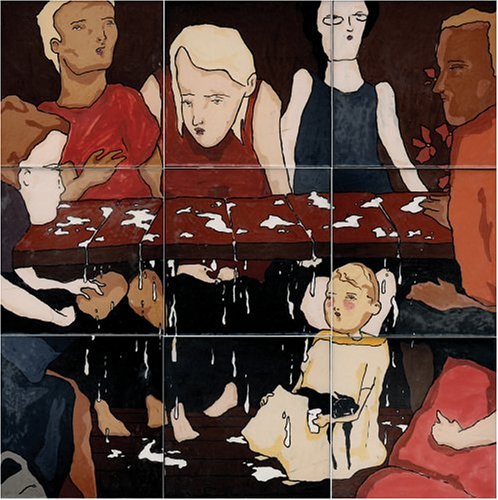 Mr. Beast
(2006; Matador)
Perhaps the best indicator of Mogwai's artistic dedication to their work is their ever-changing approach to their own music and refusal to stick with whatever worked on the last album. For 2006's Mr. Beast, that meant a more restrained approach to songwriting, basing pieces on formulas that restricted the band from reinventing their previous work. That's not to say there aren't loud ("Glasgow Mega Snake," "We're No Here,") and quiet ("Auto Rock," "I Chose Horses,") moments throughout the record, but they tend to come in their own song-shaped packages, rather than as contrasting parts of individual compositions.
For the most part, though, the songs sit somewhere on the middle in terms of volume, and are often clean-cut in their path from A to B. A couple tracks ("Acid Food," "Travel is Dangerous,") are even centered on lead vocals in a way that is unfamiliar for the band's discography, with the instrumentals making way for vocals, rather than vice versa. These elements make for great individual pieces throughout, but lead Mr. Beast to have a less steady album flow than most of the band's discography. Still, it is a great entry-level album, and you're sure to find a handful of tracks that you will love right on the spot.
Perhaps the best reason to visit Mr. Beast can be found on tracks like "Friend of the Night," "Emergency Trap," and "Folk Death 95," which show a new side of Mogwai that had developed in their foray into work on film soundtracks. In 2006, Mogwai created the entire soundtrack for the documentary Zidane: A 21st Century Portrait, and also worked with Clint Mansell and Kronos Quartet on the score for Darren Aronofsky's The Fountain. As a result, the band's knack for strong but subdued score writing bleeds through on most of the instrumental tracks on Mr. Beast.
---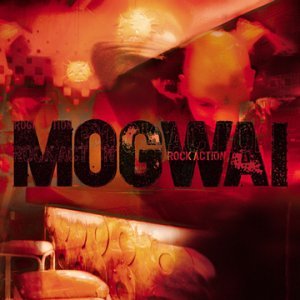 Rock Action
(2001; Matador)
Rock Action, Mogwai's third full-length, is possibly their most concise record. Consisting of six songs and two interludes, clocking in under 40 minutes, it was the band's most gentle release at the time. And, with its subtle use of synthesizers and less angular transitions, the album foreshadowed the changes that would come on follow-up Happy Songs for Happy People.
Still, despite obvious differences in timbre, the songwriting and album flow on Rock Action are very reminiscent of Young Team, with a dark and angular focus present throughout the record. The slow build of opener "Sine Wave" uses heavily distorted vocals and drums to crescendo to the song's peak and break into the melancholy flow of "Take Me Somewhere Nice." Then, supported by subtle synth waves, the piano and vocal driven "O I Sleep" serves as a mild opener for the sweeping growths and drops in "Dial : Revenge."
The pace picks up in the album's second half with "You Don't Know Jesus" and "Two Rights Make One Wrong," displaying the band's signature guitar work; two pieces joined by the distorted percussion interlude of "Robot Chant." The lurching closer "Secret Pint" is also reflective of the band's early work, offering a quiet guitar driven meditation that slowly fades to black. While it might require the most intent listening of the albums on this list, Rock Action is still an accessible Mogwai release, perhaps serving as a helpful bridge into longer-yet-ultimately-satisfying records such as Come On Die Young and The Hawk is Howling.
---
Also Recommended: Come On Die Young, known as CODY by fans, is a fantastic Mogwai record but its darker mood, long length, and slightly disjointed feel make it an album better appreciated by listeners already familiar with the moods and sounds that the band likes to play with. Similarly, Ten Rapid, a compilation of early recordings, is a slightly haphazard record but features many gems from the Young Team era.
Mogwai's soundtrack work, while a much different experience than their studio albums, is a great way to experience the band in a different light. In particular, the soundtrack for Zidane: A 21st Century Portrait is a softer, yet satisfying, view of the band's developing approach to composition.
Advanced Listening: As mentioned above, The Hawk is Howling is a harder pill to swallow, largely because of the unrestrained length and scope of most of the album's compositions. It is probably best appreciated after the listener is fairly familiar with Mogwai's modus operandi and can appreciate the band's artistic approach and intent as much as the songs themselves. It's also important to note that The Hawk is Howling is the only Mogwai record to completely lack vocals of any sort, which means there is never a true break from the heavy feel of the album's instrumentals.
Similarly, Mogwai's two remix albums Kicking A Dead Pig, (which features remixes of their early work,) and A Wrenched Virile Lore, (which reinterprets tracks from Hardcore Will Never Die,) are highly rewarding but a probably a little abstract for new listeners. As you can imagine, a Tim Hecker or Kevin Shields remix of a Mogwai track is pretty dense.