Run the Jewels announce "Tag the Jewels" graffiti project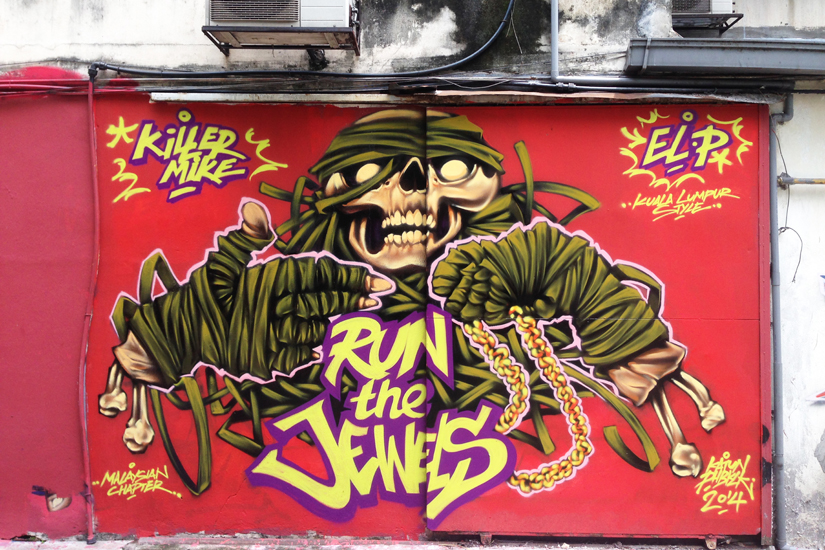 Run the Jewels — the duo of El-P and Killer Mike — just released Run the Jewels 2, which is Treble's current Album of the Week. It's… amazing. And it's free, in case you missed out on that memo (get it here). And to coincide with the release of the album, the duo has launched some pretty amazing promotional campaigns, including the previously announced Meow The Jewels cat remix album. And today, they've announced "Tag the Jewels," a worldwide graffiti project in which street artists in different countries have put their own unique spin on the album's cover art. It's a pretty impressive gallery so far, based on the Tumblr page they launched, which features artwork from artists in India, China, Germany, Sweden, Saudi Arabia, Los Angeles, New Zealand and Brazil, just to  name a few of the locales where the art has shown up. The image you see above is by Katun, in Malaysia.
Run the Jewels has also shared an iTunes bonus track from the new album, titled "Blockbuster Night Pt. 2" — a sequel of sorts to "Blockbuster Night Pt. 1." The track features Despot and Wiki, and you can stream it below.
Run the Jewels has also announced that they'll be performing on "The Late Show With David Letterman" on Halloween. So make sure to get home in time with your sack of candy corn, DVR it, or find a bar where they're showing "Letterman."