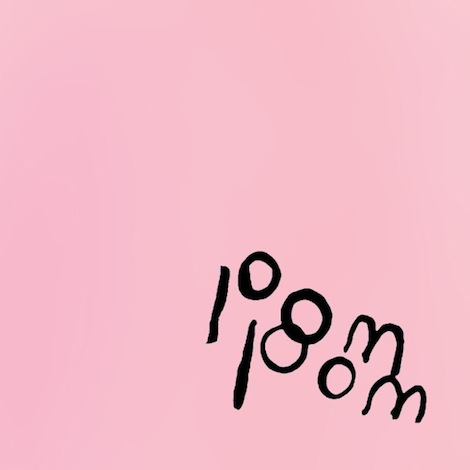 Last winter I read Thomas Pynchon's Vineland, a sprawling book that mined post-hippie movement Northern California. It's a book that perfectly captures the moment when ideals are eroded, the light gets dimmer, and the idea of a utopia becomes more and more suspect. Profound in its poetic descriptions of end of the road characters and the indifferently bucolic landscape, the novel has a sneaky way of coming into my head. Perhaps it's where I live – Oakland, not far from the ramshackle settlements described in Vineland – but perhaps more so, its depiction of faded ideals amidst a din of a disinterested, if not overtly hostile, world seems especially present.
Not long after reading Vineland, I was listening to House Arrest by Ariel Pink's Haunted Graffiti. It's combination of jangly pop guitars and fuzzy, laid back vibes recalled Pynchon's burnouts. A sort of indie rock l'enfant terrible, Ariel Pink is an artist that is constantly playing with form and expectation. His albums with Haunted Graffiti are full of a hazy psychedelia, brimming with a specific kind of West Coast grime – recalling '60s burnouts that later became successful but retain the stain of being burnouts nonetheless.
pom pom, one of the few albums by Ariel Pink without the Haunted Graffiti addition, expands on the clearer, more polished songs that were evident in Before Today and Mature Themes. Well, as much clearer and more polished as Pink could possibly be. Falling under the Robert Pollard School of Throw All the Tracks In, pom pom doesn't aim to convert. It extends Pink's oeuvre of nostalgic pastiche. It's a return to a broader set of references than the '80s skewing Mature Themes, finding inspiration in '60s and '70s AM radio. Weird and inscrutable as his music often is, at the very root is a mining of the past. Incorporating sounds like the static of the radio, Pink's music is inextricably tied to those moments of sitting in the car and aimlessly turning the dial.
Despite the nostalgic lean of his music, Pink's public personality is a decidedly more modern affair. With recent clashes with Grimes and his unfortunate comments about Madonna, it's hard to not think of Pink's antics as trolling. Seemingly gleefully taunting, teasing and attracting internet commenters, his off-the-cuff comments have an air of immaturity, a sort of haughty dare to a more PC world. Any casual internet user has encountered comments like these before, but Pink's place in the media (however small in comparison to the likes of, say, Taylor Swift or Diplo), casts them in a more uncomfortable light.
Unfortunately, with a new album comes promotion. So in advance of pom pom's release came interviews in The Guardian, Spin, a rather unfortunate profile in The New Yorker, and even a click-baity "Who Said It?: Ariel Pink or Glenn Beck" on Pitchfork. His charming, scattershot lyrics spilled into actual conversations with writers, and free from a cluttered soundscape, snippets like "I love pedophiles" and perhaps more damning, "Everybody's a victim, except for small, white, nice guys whojust want to make their moms proud and touch some boobies," echo far too uncomfortably the kind of language spewed by Gamergate or 4chan or certain comments on Reddit.
So what do I do as a fan of Ariel Pink's music? As I get listen to songs like "Sexual Athletics" or "Black Ballerina," I can't help but get creeped out, their crude funkiness underlining that creep factor. So do I put my annoyance with his comments on hold when I listen to the undeniably sunny and bubbly opener "Plastic Raincoats in the Pig Parade" or the sublimely daze-y and New Wave riffing "Picture Me Gone"? I feel at a loss. Unlike the burnouts of Vineland waking to a cruel hangover of Reagan-era omnipresence, Pink participates in a kind of modern sinisterism, something more pervasive and banal – i.e. trolling, the casual objectification of women, the unique kind of pseudo-victimization that happens to white males.
I reached a kind of breaking point and I admit it might be due to the fact that, personally, I have little patience for this type of music anymore. While House Arrest and The Doldrums are still eminently listenable and tied of a specific period of my life, listening to Mature Themes and pom pom, I find myself growing weary.
So perhaps this is both isn't and is a recommendation. While pom pom is a good enough album, it's arguably not a huge stretch from his previous records and perhaps it's almost too referential to past songs (with "Goth Bomb" explicitly borrowing its lyrics from "Where Does the Mind Go" from FF). And I can't argue against the album for listeners who are more able to set aside personal politics in their listening habits (and by all admission, I don't apply this wholesale to all my listening habits. Let the comments and trolling begin). But maybe in the face of these cringe-worthy and eye roll inducing comments, I at least wanted a bit more variation. Instead I experience a different kind of nostalgia – one where Ariel Pink was just this guy making music and I wasn't even sure what he looked like, much less what his opinions were on the hot topics of the day. So instead of re-listening to pom pom, I'll just hit play on House Arrest instead.
Similar Albums:


Foxygen – …And Star Power


Julian Casablancas and the Voidz – Tyranny


Ariel Pink's Haunted Graffiti – Before Today