Azealia Banks : Broke With Expensive Taste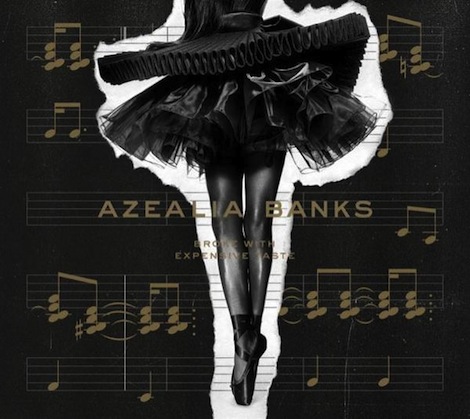 All I ever really needed to know about Azealia Banks I learned in three songs. There was the song that stamped her on the public consciousness in 2011 and 2012, "212." Between Lazy Jay's electro-trap soundtrack and her malevolent embrace of the word "cunt," AB's first impression was that of a gangsta artiste out to [re]position New York as the winner of all rap battles past, present, and future. Then came two other tracks from her 1991 EP: "Liquorice," acid techno and acid tongue portraying the white man's jungle fever, and the title cut whose video solidified her as one classy/sexy motherfucker—Bizarro Minaj, if you will.
Enthralled by these first sounds, I'm saddened that Azealia's had to fight years of label indifference and a few pinches of institutional sexism to push beyond them. That her proper debut album Broke with Expensive Taste dropped independently on the web this month speaks to some level of incompetence in how Universal Music handled her, and I hope every cent they don't make off of her hits them in the 'nads. It also shows that Banks was legitimately concerned about striking iron while it had any heat left. She's been on the fringe of newsworthiness for too long—I'm actually pretty sure I tried to listen to her Fantasea mixtape but it left about as much of an impression as a fart in the wind—and some of her professional bridges have burned since the days of "212."
But damn, this album was worth the wait. Broke with Expensive Taste is a sonically dense release, with smart genre references darting in and out of her fluid vocals. There are hints of everything from Latin-inflected R&B ("Idle Delilah," "Miss Loco") to London rap-meets-Baltimore club ("JFK"). And carrying on the legacy of "Liquorice," Banks professes an ongoing love of modern electronica that propels songs like "Miss Cameraderie." The production roster reads like it was pulled from Resident Advisor instead of Okayplayer: Pearson Sound shows up here, as do Lone, AraabMuzik, and Machinedrum. For real, she and MJ Cole shine on "Desperado," a song which might manage to resurrect UK garage all by itself.
Banks' vocals are a pretty patchwork quilt of streetwise, bed-sexy, and glimpses of soul. One minute she swiftly twists words to simultaneously suggest guns or alcohol, the next she coolly hints at celebratory lesbian encounters. And the next, somehow, she fronts a credible '60s surf tune in "Nude Beach A-Go-Go," interpolating a song from Ariel Pink's latest album pom pom. Now I'd be lying if I said making your way through Broke with Expensive Taste took no effort, but the treasure map will lead you to more gems—"Wallace" and "Soda" in particular are anthemic Beyoncé kryptonite. Azealia is clearly this year's most credible Banks, ahead of Goddess Banks and Interpol's Paul. And I'll vote for Interpol taking Azealia up on her Twitter offer to play with them; that tour's heat would melt eight feet of snow.
Similar Albums:


Charli XCX – True Romance


Spank Rock – YoYoYoYoYo


M.I.A. – Kala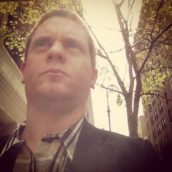 Adam Blyweiss
Adam Blyweiss is associate editor of Treble. A graphic designer and design teacher by trade, Adam has written about music since his 1990s college days and been published at MXDWN and e|i magazine. Based in Philadelphia, Adam has also DJ'd for terrestrial and streaming radio from WXPN and WKDU.