Belle and Sebastian : Girls In Peacetime Want to Dance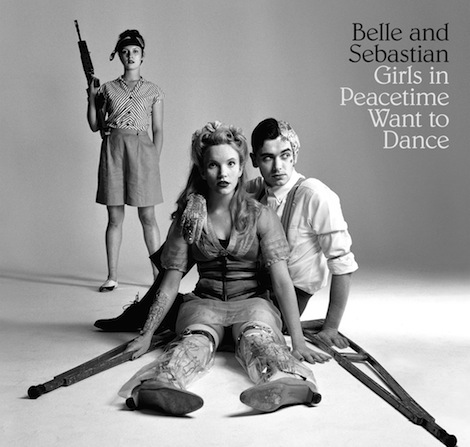 This is the ninth record by Belle and Sebastian. Before we dive head-on into this review, let's take a minute to consider that fact. This Glasgow-based indie-pop band has managed to survive almost 20 years in the music industry (despite its growing reality of less-than-ideal sales) for one reason: They dish out album after album of genuine, narrative-based songs that fans can truly connect to. Even if we cast aside the soundtrack Storytelling, that's seven albums of wistful, pleasantly-evocative pop under their belt– and that's nothing to shrug at.
That being said, reviewing Girls In Peacetime Want to Dance is almost like reviewing two or three entirely separate EPs whose tracks have been interspersed together to form a somewhat confusing whole. This new LP contains a solid handful of songs that constitute a true return-to-form for the band. Songs like "Allie", "The Cat With The Cream" and "Perfect Couples" recall the nonchalant world-building of If You're Feeling Sinister and The Boy With The Arab Strap, their verses containing an almost cinematic scope of character development and nuanced exploration of complicated emotions. Upon hearing those tracks, I find myself whisked back to the era of The Smiths or Nick Drake, ready to analyze indie-pop on a literary level
But for almost every one of those triumphs, Girls In Peacetime contains a sub-par attempt at freshening the band's sound. That isn't a terrible thing in of itself — Dear Catastrophe Waitress' mission was to restructure the band's sonic appeal, and turned out quite lovely. But the issue here is that the majority of the songs here that attempt a more modern pop song (most of which attempt an electronica-tinged, disco-heavy sound) lose themselves in musical experimentation and forget to be meaningful in the lyrically-robust way at which Stuart Murdoch is best. "The Power of Three" is forgettable, "The Book Of You" feels phoned in and "The Party Line," the album's most straight-forward attempt at modern pop, doesn't resemble a quality radio-pop single or a meaningful Belle and Sebastian song.
The issue here isn't that there's anything wrong with a disco revival, or that Belle and Sebastian are incapable of successfully adjusting to a more hip set of instrumentals. (History has proven otherwise.) Rather, this particular attempt at genre-mashing seems to have had a 50/50 success rate when it comes to the band carrying over the qualities that make them a truly great record. There's, at the very least, an extraordinary seven-song EP hidden away in this album, consisting of heartfelt explorations of the human psyche. I just hope that Belle and Sebastian can find it in themselves to fully immerse themselves in that return-to-form next time around.
Similar Albums:


The Smiths – Strangeways, Here We Come


The Magnetic Fields – Distortion


The Shins – Port of Morrow