10 Essential Sports Songs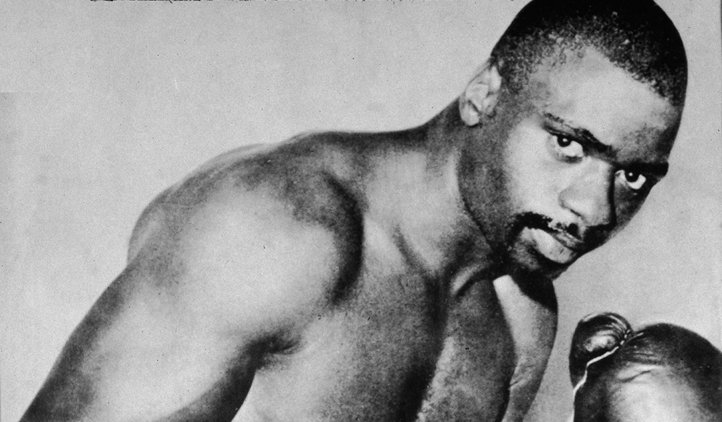 This weekend, millions of Americans will take part in that most American of traditions, in which we gather on our couches with bean dip and frosty cold brews to witness football's greatest event: The Super Bowl. In fact, it's the biggest spectacle in sports, period — the Katy Perry halftime show should make that perfectly clear. So it seemed only apt that we at Treble pass around the pigskin in musical form and queue up a top 10 of songs about sports, anthems for athletes, and ballads of the baller. We opted out of novelties like "The Super Bowl Shuffle" in favor of songs with a bit more narrative meat (for the most part), and based on the long list of tracks considered for this feature, boxing is far and away the sport that's inspired the most heart-wrenching musical tales. By contrast, basketball is a solidly reliable metaphor in hip-hop songs. We tried to keep the playbook diverse, though it was hard to find any representations of curling (outside of the title of The Constantines' Tournament of Hearts). In any case, here are 10 essential sports songs; get in the huddle!
---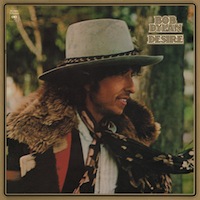 Bob Dylan – "Hurricane"
from Desire (1976; Columbia)
Not about a sport but about a specific athlete, and not about their prowess on the field but news made off of it, this passion play kicks off Dylan's 1976 Desire album. It tells the story of Rubin "Hurricane" Carter, but not the petty criminal-turned-middleweight boxer with a respectable 27-12-1 record and with a nickname borne of his fierce fighting style. Instead, we encounter Carter having been wrongly accused, convicted, and imprisoned for a 1966 multiple murder. Dylan and songwriter Jacques Levy created the song as part of a mid-1970s campaign seeking Carter's retrial or release, eventually won in 1985. It stands out from the rest of Dylan's catalog not just for its subject matter—biographical and historical as well as a protest against racism—but for its particular brand of musicianship. Along with a taste of his signature harmonica we get a memorable melody propelled by violin and a female chorus. It's frenetic as much of Dylan's upbeat songs were, but with tightly wound energy instead of the loose, shambling joy we usually hear. It's therefore no surprise that "Hurricane" is a fan favorite despite Dylan almost never performing it live. – AB
---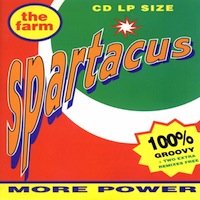 The Farm – "All Together Now"
from Spartacus (1991; Sire)
On Christmas Day, 1914, in Ypres, British and German troops emerged from the trenches during a day-long truce and played a game of soccer in No Man's Land. The cessation of fighting to have a kickabout was seen universally as fleck of light in what would prove to be one of humanity's darkest moments. The game entered the popular imagination mainly due to a Robert Graves story published in 1962. Statues have been erected outside of stadiums around the world commemorating it. There was a funny joke about a goal being disallowed in an episode of "Blackadder." And it is the subject of "All Together Now," by Liverpool dance-rock band The Farm.
The song, which is essentially Pachelbel's "Canon" on a good hit of ecstasy, reached number four in the UK charts in 1990, and the ebullient chorus — "All together now/ in No Man's Land" — found a home on in soccer stands around Britain. But the twist in all of this is that The Farm and the rest of them were commemorating a fiction. According to most contemporary accounts, the game didn't happen. It was more likely an instance of fraternization that involved kicking a ball around, but not a full-fledged match. But it's no less a testament to the best aspects of the human spirit, that we would want some thing like a game of soccer between soldiers who spend their waking hours being ordered by distant superiors to kill each other, to be true. – SC
---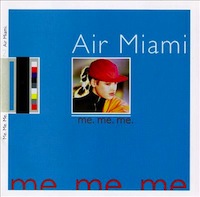 Air Miami – "World Cup Fever"
from Me, Me, Me (1995; 4AD)
The lyrics to "World Cup Fever" are pretty simple: "Hey, hey, hey, she's got it/World Cup fever" and so on. But the lyrics don't really matter; sure, a lot of the songs here are noted for their clever or surprisingly emotional storytelling. Not this one, though. Washington, D.C.'s Air Miami (yep, not really from Miami) put their energy into cultivating a good jangle and a lots of frenetic energy instead of going into detail about the sport itself. But the energy is there, and it's easy to imagine this giddy new waver playing over a highlight reel. It's not too early to get this one ready for 2018. Catch the fever! – JT
---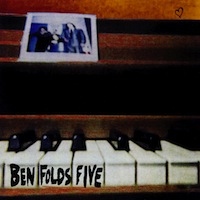 Ben Folds Five – "Boxing"
from Ben Folds Five (1995; Caroline)
The second song about boxing on this list, or more specifically a boxer, the closing track on Ben Folds Five's debut album is simultaneously as charming and heartbreaking a song has ever been penned about an athlete. Folds builds a lyric around a fictional conversation between Muhammad Ali and famed announcer Howard Cosell, in which Ali confesses his doubts, fears and regrets long after the shine on his career has worn off. He sings of how "ambition has given way to desperation" and "I'm scared and lonely and tired." But it's not until the chorus, in which the wounded narrator admits that they both saw the inevitable was coming ("The whole time we knew/ A couple of years I'd be through"), only to close out with knockout blow, "Has boxing been good to you?" – JT
---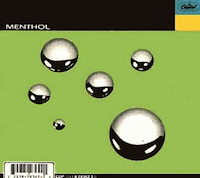 Menthol – "Perfect Spirals"
from Menthol (1995; Capitol)
'90s alt-rock trio Menthol might have spent their short-lived career in Chicago, but much of their charm came from their more rustic origins in rural Illinois. "Perfect Spirals," a cut from the band's self-titled Capitol debut, captures the bizarre way that sports and religion are often inter-weaved in a small town. Based on frontman Balthazar De Ley's interactions with fans of Notre Dame's football team, the track follows the in-game exploits of a messianic quarterback who wins the big game by the grace of god. It's a crunchy, grungy tune with a quirky sense of self-awareness. The question remains, though: Were the fans in on the joke? – ATB
---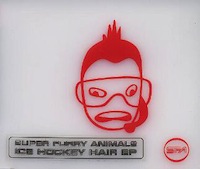 Super Furry Animals – "Ice Hockey Hair"
from Ice Hockey Hair EP (1998; Creation)
The Furries tackled two sports on this six-minute between-album mini rock-opera: Hockey and table tennis, though for all of Gruff Rhys' mentions of pucks hitting the back of the cage, this isn't really a song about sports. In fact, it's not even really a song about hair, "ice hockey hair" being a slang term for a mullet. No, this is a good old fashioned love song filtered through the lens of frosty-cold hockey action and table-top summertime games. But that's sort of what Rhys and the Super Furry Animals do best: Slather otherwise simple and beautiful songs with curious references and oddball humor. Not that this isn't an anthem, when you get down to it; crank this up when it's time to take a lap around the ice, hoisting the Stanley Cup. – JT
---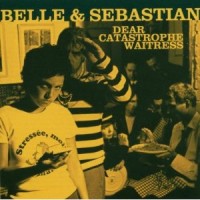 Belle and Sebastian – "Piazza, New York Catcher"
from Dear Catastrophe Waitress (2003; Rough Trade)
Belle and Sebastian could have easily comprised half this list of we wanted them to, having chronicled the loneliness of a middle distance runner, and the romantic myths of the stars of track and field. But there's also this ditty, which may or may not have anything true-to-life to do with the New York Mets' (at the time) catcher Mike Piazza. It does have a lot of charm, and a great melody, and is for my money one of the best songs in the band's catalog. Piazza in this case is really just an extra in a saga of the courtship of Miss Private, but then again, who among us hasn't had the experience of getting wrapped up in a romantic feeling with sports as a backdrop? – JT
---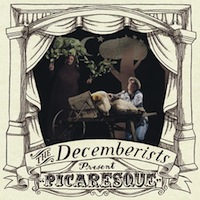 The Decemberists – "The Sporting Life"
from Picaresque (2005; Kill Rock Stars)
Well, of course a song by The Decemberists about sports would, in fact, be about the utter humiliation of being terrible at sports. It's an all-too-relatable feeling, though it takes on a far more painful context in Colin Meloy's hands. Just as he's able to narrate an epic war against a whale, the biography of a prostitute or an album-length fairy tale, Meloy makes athletic failure into utter tragedy. The hapless protagonist suffers the condescension of his coach, his father and — worst of all — his girlfriend, who ditches him for the captain of the other team. That's gotta sting a bit, but The Decemberists mask the anguish with the swing of a breezy, Smiths-like rhythm. – JT
---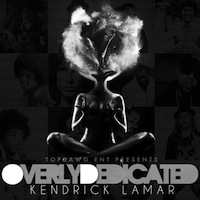 Kendrick Lamar – "Michael Jordan"
from (O)verly (D)edicated (2010; Top Dawg)
Michael Jordan probably is the greatest NBA player of all-time, and Kendrick Lamar may be on his way to becoming one of the best artists in hip-hop history. However, Lamar has a long way to go before being a household name of MJ's stature. There has always been a parallel between rap and basketball, and the crossover appeal between the two goes deep. Hell, even some NBA players — most notably Shaq and Kobe Bryant — released their own hip-hop tracks (which weren't very good, unfortunately). There are rappers who wanted to be pro basketball players, and pro players that wanted/want a rap career. Luckily, most of the rappers stuck with rap and the ballers stuck with ball. Lamar once dreamed of making fortunes in the NBA, but realized in high school that he was too short (5 feet, 4 inches). On "Michael Jordan," from 2010's mixtape (O)verly (D)edicated, Lamar pays respect to the NBA legend with this Lil Wayne referencing bridge: "Michael Jordan bitch, Michael Jordan bitch…that means I'm too much for these niggas / I'm three much for these hoes / Wayne told me that and that's just how it goes." Indeed, MJ was too much for the rest of the players in the league, especially for Bryon Russell in the 1998 NBA Finals (he fell!). "Michael Jordan" is far away from Lamar's finest moment, but ScHoolboy Q shows up, so, that's cool. – JJM
---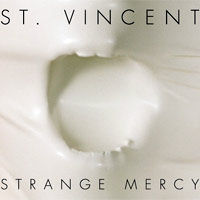 St. Vincent – "Cheerleader"
from Strange Mercy (2011; 4AD)
Whether or not you count cheerleading as a sport or not — this is, apparently, still a very active and emotional debate — by their very nature, cheerleaders are the supporting players of football, standing on the sidelines to encourage the men tackling each other behind them. As it turns out, such deference isn't exactly in Annie Clark's wheelhouse. "Cheerleader," the third track on the excellent Strange Mercy, is a vehement rejection of anything less than the spotlight. She won't go back to a side role in The Polyphonic Spree or Sufjan Stevens. She's done supporting her imprisoned father. "Cheerleader," which remains the showstopper of her live set even four years later, is a stunning declaration of St. Vincent's will to power. It's enough to make you forget about those guys grappling on the field. – SP
You might also like: