A few years back, I led Treble's search for and discussion of the best albums to play in the background of, ahem, sexual congress. I'm proud to say we actually did some empirical anecdotal research on the topic and I stood by the results, but I mentioned in the intro that Björk's 2001 album Vespertine really should have been on the final list. That recommendation came from personal experience (giggle), without knowing that the LP was, in fact, her own often explicit document of the relationship she had just begun with artist Matthew Barney. I only learned of their pairing through advance press elsewhere on Vulnicura, her brand new album, because it's been made abundantly clear that this one documents their breakup.
Björk started writing most of the lyrics and string arrangements for Vulnicura in 2013 as a therapeutic distraction from the newness of divorce. Unlike some of her other albums, she also crafted the majority of the beats to support them. Neo-industrial artists Arca and The Haxan Cloak may be getting a lot of professional momentum out of their instrumental and mixing duties here, but Vulnicura finds Bjork solo in more senses of the word, and more publicly, than ever before. In handling both the split and the professional responsibilities of making music—each seemingly buoyed by her swift response to the premature leak of the album—she deserves new and different levels of respect.
That's a singularly important term hovering over Vulnicura: "respect." It's no accident that we clearly hear the word sung in the first and last tracks ("Stonemilker," "Quicksand") as well as the midpoint ("Family"). Björk attaches the album's nine songs to a loose timeline of events and feelings surrounding the breakup. To hear such a basic angry/sad word threaded throughout this storyline, I can't imagine who did what to whom as this marriage waned. Clearly, though, Björk lays the blame at Barney's feet, is curious if she will see emotional recovery, and fears for the future of their daughter Isadora. Her vocabulary is still flowery, but she cuts back on metaphor and mysticism in favor of blunt observations, questions, and demands. "Show some respect/Between the three of us."
One of the bugaboos about Björk has always been that her octave range, hiccuping delivery, and guttural syllables make her catalog a love-it-or-hate-it proposition. Maybe it's age, maybe it's just her being reserved about the topic at hand, but there's a significant sense of vocal restraint on this album. Her singing throughout Vulnicura is a thing of measured and vulnerable beauty. Others have gushed about the ebb and flow of the album's 10-minute centerpiece "Black Lake," but I think the sweeping "Lionsong" is the real killer here, with Bjork overdubbed and flanged into a morose barbershop quartet: "Maybe he will come out of this loving me/Maybe he won't."
Even on this purposefully dour LP, there's a delicate balance between the drum machine and the orchestra. Vulnicura feels like the album where Björk has at last mastered, and made accessible, her string arrangements. Meanwhile, avowed fan Arca helps her play hide-and-seek with some of her biggest hits—this could be an "Enjoy" beat, that might be a melody lifted from "All is Full of Love" or "Who is It." Their clattering rhythms appear even at the album's bleakest points, be they buried in "Black Lake" when the anguish of divorce is still fresh or supporting what's to come next, a year later, in songs like "Notget."
As both a music fan of a certain age and a survivor of divorce, I can speak to the power of mixtapes—those great sonic hieroglyphics decoded into human emotion—in courting love, confirming it, attempting to resuscitate it, and mourning its loss. In this context, Vespertine and Vulnicura serve as beautiful and now unfortunate stelae bookending a huge chunk of Björk's life. Suddenly alone again as she nears 50, Björk has chosen to work through her five stages of grief in song, in public. If you share one or both of my affinities mentioned above, and hopefully even if you don't, listening to Vulnicura may very well leave a lump in your throat.
---
Label: One Little Independent
Year: 2015
---
Similar Albums: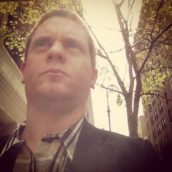 Adam Blyweiss
Adam Blyweiss is associate editor of Treble. A graphic designer and design teacher by trade, Adam has written about music since his 1990s college days and been published at MXDWN and e|i magazine. Based in Philadelphia, Adam has also DJ'd for terrestrial and streaming radio from WXPN and WKDU.