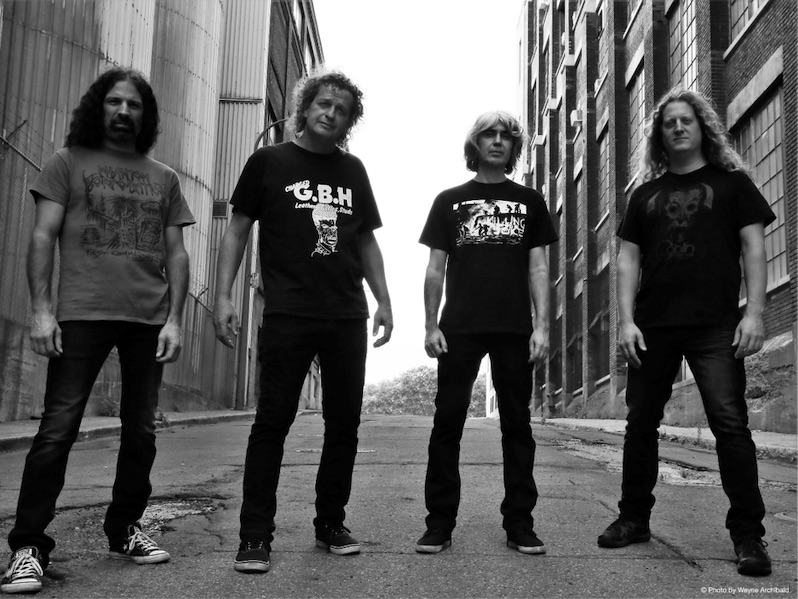 Wayne Archibald
Anyone who lumps Voivod in with any other genre of metal could benefit from this introductory course to one of the most influential, original and rabidly-followed rock and roll bands in the last 30-plus years. These boys from Canada have created music that ranges from screaming thrash to Rush-style prog to straight-forward hard rock, but on every album are signature elements of their sound: dissonant chords, odd time signatures, homemade sound effects, thunderous drums and thought-provoking lyrics delivered with conviction. The evolution of their music is worth its own story, alongside the history of the musicians involved.
In the early '80s, Denis "Snake" Belanger, Denis "Piggy" D'Amour, Michel "Away" Langevin and Jean-Yves "Blacky" Theriault (heretofore referred to by those nicknames) formed Voivod in Jonquiere, Quebec, pulling influences from NWOBHM, hardcore and '70s prog-rock. The end result coincidentally aligned with the young speed metal scene, but it was clear that there was more to the music than power chords and blazing solos. Conceptually, they broached topics of nuclear war, animal abuse and pollution. Away's artwork, which adorns not only all of Voivod's albums and merchandise but that of other bands' as well, illustrates these points, completing the experience for the fan.
In the later part of the decade, the sound broadened as the band began experimenting with melody, dynamics and storytelling, inching ever closer to prog and further from metal. When Snake and Blacky left in the early '90s, Eric Forrest took on vocal and bass duties and steered Voivod back towards thrash with two respectable but inconsequential releases. Voivod temporarily called it quits in 2001 following Forrest's departure after a car accident, but Snake returned to the band soon after, and with Jason "Jasonic" Newstead on bass, they released a self-titled album in 2003, an effort strong enough to remind the metal world of Voivod's existence.
In 2005, Piggy succumbed to colon cancer, and the world (not the metal world, not the rock and roll world, not the music world, but the world) lost a true innovator and visionary. Two more albums were released using studio recordings and notes Piggy left prior to his death. In 2008, Dan "Chewy" Mongrain, a longtime fan, joined Voivod on stage and soon became a permanent member.
In this 2007 interview with Dave Grohl, he outlines the experience of discovering and then becoming a Voivod fan, of following and anticipating and imitating (or attempting to imitate) this unusual cast of characters. Voivod is currently touring with Napalm Death and others, and they are working on new music for what would be their second album with Chewy on guitar. Based on their latest single ("We Are Connected," available online), they may still have more to teach us all. In the meantime, here is your homework—a starter pack of the best Voivod albums for listeners diving into their sci-fi thrash world.
---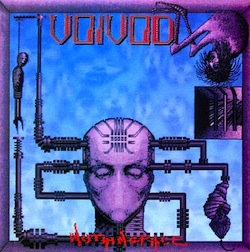 Nothingface
(1989; Mechanic/MCA)
Nothingface is the prototypical Voivod album — the one that put them on the mainstream map, the one that first appeared on the Billboard Top 200, peaking at 114. It is unlike all that proceeded it in that it was cleaner, more crisply produced (partially owing to it being the band's major label (MCA) debut), but it was not shockingly different. The opening notes of "The Unknown Knows" are deceptively simple, but once the verse kicks in, Piggy's unusual chords confuse and entice. Inside of six minutes, the song contains eight distinct parts, ending in a different world than it began, but it all makes sense. That's par for the course for Voivod, and your first test: if you can follow that, and if you can dig it, you may continue. Nothingface also features a cover of The Pink Floyd's "Astronomy Domine," which became their most recognizable hit. Despite not being representative of their work, it was consistent with the "space metal" moniker that they earned on their previous two releases (described later in this guide). Nothingface also featured a more [relatively] mellow side of Voivod (the beginnings of "Missing Sequences" and "Into My Hypercube") which earned them comparisons to Rush and King Crimson. That sound was explored further, with mixed results, on their next two releases, but on Nothingface all of the pieces fit.
---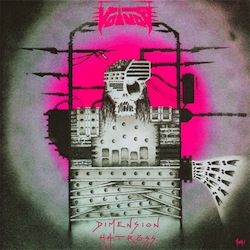 Dimension Hatröss
(1988; Noise)
Now that you know how they gained notoriety, it's time to dive in to the best Voivod album. Dimension Hatröss is not only a fully-realized concept album; it also represents their liberation from the shackles of thrash. Over the course of eight chapters, Voivod's mascot cyborg Korgull, frustrated with the ruins of earth and the barrenness of this universe, mixes "the four basic forces" and creates his own (the speedy "Experiment"). In this universe, beings develop and evolve quickly, primitive creatures who worship Korgull as their god (the pounding and menacing "Tribal Convictions"). They follow the course of humankind: intelligence begets technology which begets rebellion, manipulation and war. Ultimately, Korgull destroys his creation ("Cosmic Drama"). Voivod outdoes themselves with the sound effects; Dimension Hatröss is best appreciated in stereo as Piggy's dueling solos compete in different ears in "Brain Scan" and other moments. Backwards vocal loops, jungle sounds, explosions—they complete the picture and make this more than a record; it's an artistic achievement, yet each song stands on its own.
---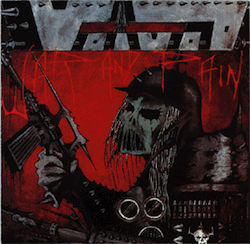 War and Pain
(1984; Metal Blade)
When discovering a new band, it's important to learn how they started. It answers the questions "how did they record and release an album in the first place? Someone saw something in them; what was it?" With Voivod's debut, it's clear. In 1984, extreme versions of hard rock hit their strides. Metallica's Ride the Lightning, Venom's At War With Satan, Anthrax's Fistful of Metal were all released that same year. War and Pain begins with ominous guitar-created sound effects followed Snake screaming "Voivod!" like a battle cry. On the surface, the opening track fits in with the rest of the genre, but upon further dissection it's atypical. Those chords are not power-chords; the verse stanzas are broken up by mini-solos; the modulation in the solo reveals expert songwriting instincts. The crazy time signatures and mood shifts are not yet present, but Voivod is already challenging their audience.
"Suck Your Bone" is an all-out metal assault with one of the best solos in the history of rock, but contained in the verses is an unexpected drum beat. Listening to War and Pain in 2015, it's difficult to comprehend the ground that album broke and the minds it blew, but more remarkable is that it was barely a peek at what Voivod was capable of.
---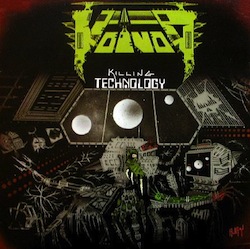 Killing Technology
(1987; Noise)
On Voivod's third album, they began putting all of the pieces together. The sound was relentlessly heavy and crunchy, with neither shine nor sheen, but there are elements of melody, of prog-rock changes and of more developed themes. Killing Technology's intro is almost a full minute long, which not only tests the listeners' patience but also sets them up for the notion that this is an album that needs to be listened to as a complete work. While the story is not as fleshed-out as Dimension Hatröss, there are common themes that are consistent with its prequel: mankind's abuse of mankind, animal-kind and the planet. Killing Technology not only solidified Voivod as one of the top names in speed metal; it also primed them to break away from the second wave, from the onslaught of bands that eventually diluted the genre. Songs like "Tornado" and "Order of the Blackguards" show a level of songwriting depth that the newcomers could not match, and the playfulness of "Cockroaches" reminded everyone that this doesn't all need to be so goddamned serious.
---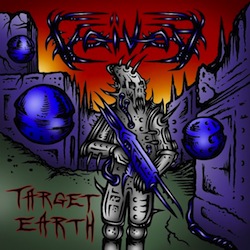 Target Earth
(2013; Century Media)
Now that you understand where Voivod came from, it's important to know where they are going. Piggy died in 2005. No one can ever replace him. Chewy, understanding that Voivod's mission and sound are key, was able to take everything he learned and help craft an album of songs that respect the band's history but also make the best use of his own tools. He is a fluid and careful musician, bottomless in potential and creativity, and insisting or expecting him to play or sound like Piggy would be a waste of his own talents and against the forward-moving attitude that the band has always had. Target Earth is complex, daring and fierce. There is more harmony here than on any other Voivod record; there is more French than on any other Voivod record. And there is no sign of slowing, which for their dedicated and steady fan-base, is comforting and encouraging indeed.