10 Essential Sci-Fi Metal Albums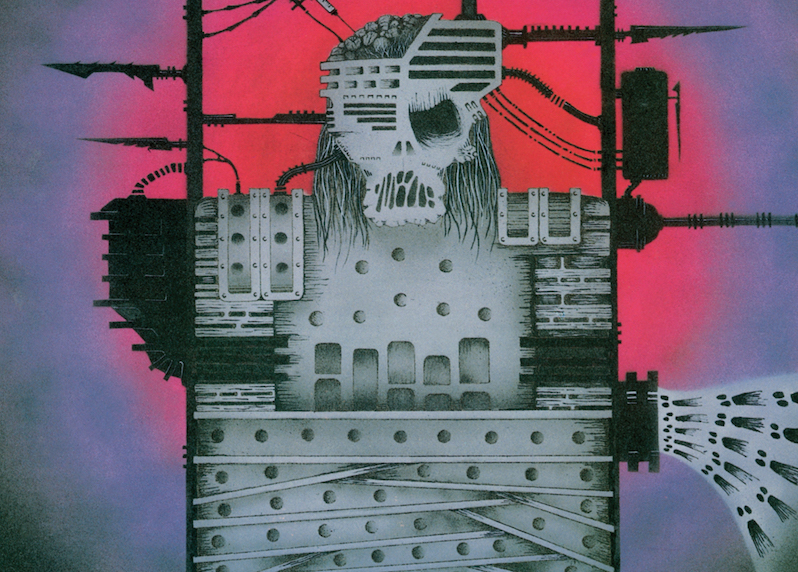 Thematically speaking, metal has a few comfortable lanes: horror, fantasy, and often social commentary under the guise of ostensibly escapist themes. But metal has also expanded well beyond the known universe and launched itself into outer space on various occasions. Most recently, Blood Incantation have been mining pulp sci-fi for inspiration, but science fiction has been part of metal since as far back as Black Sabbath's "Into the Void," and gaining more prominence in the '80s with bands like Judas Priest, Iron Maiden and especially Voivod. With Halloween ahead of us, it seems an apt time to examine some of the best heavy metal albums that threaten bodily harm from extraterrestrial invaders. In space no one can hear you scream. Unless you're Bruce Dickinson.
---
Iron Maiden – Somewhere In Time
(1986; EMI)
Following up the raw, aggressive Powerslave, Iron Maiden chose to streamline things and go into a darker, more introspective place. The most futuristic element of 1986's Somewhere In Time was also the most divisive among long-time fans—the use of keyboards. They had vowed not to use them back on Piece of Mind, and yet it's the first thing you hear when the album opens. Complaints in this regard are unnecessary, though, when you consider how hooky and polished the songwriting is, with tracks like "Wasted Years" being among the band's best. Bruce Dickinson pulls lyrical inspiration from various science fiction novels, and the band even gallops back in time with sprawling epics like "Alexander the Great." – Wil Lewellyn
---
Bolt Thrower – Realm of Chaos
(1989; Earache)
Bolt Thrower on the surface always seemed more blunt object than elegant, sophisticated instrument, though there's truth to both sides. Once their albums got started, they essentially carried through with a reliable, non-stop pummel for 30 or 40 minutes or so. Realm of Chaos is a similarly direct and brutal album, but it's also conceptually inspired by miniature game Warhammer 40,000, which is set in the 41st millennium. But within these battles of Space Marines and Carnifexes are more earthbound narratives about unending war, ideologies as forces for destruction and humanity being hell-bent on self-destruction. So in essence it's a science fiction album, that's also a political commentary, which just happens to rip from start to finish. – Jeff Terich
---
Voivod – Dimension Hatröss
(1989; Noise)
It was difficult to select one Voivod album for this list; nearly half of the Canadian space-thrash albums "take place" extraterrestrially. However, 1989's Dimension Hatröss has the most fleshed-out concept of them all, sonically and thematically. Hatröss follows Voivod's mascot, Korgull, who, fresh from witnessing the destruction of earth, creates his own planetary system. He learns that being God isn't all it's cracked up to be, however, as he experiences his creations' rapid evolution from humble and obedient subjects to manipulative and dangerous psychic overlords.
Musically, Hatröss starts with spinning sound effects (listen with headphones!) and a 7/4 introduction that foreshadows the chaos within. Snake's vocals are smooth and melodic, a contrast to the growling heard in their first three albums. Even as Hatröss eschews Voivod's earlier thrash sounds with drummer Away's more plodding beats ("Tribal Convictions" and "Psychic Vacuum") and eerie arpeggios and high-on-the-neck riffs composed by the late axe-master Piggy ("Brain Scan," "Cosmic Drama"), it loses none of the thunderous power that Voivod was already known for.
Dimension Hatröss is, taken as a whole, a space-opera, and I'm a little surprised that no one has attempted to turn it into a visual piece yet. The visuals implied in the lyrics and sounds are other-worldly for sure, making this album indispensable for any sci-fi fan or metalhead alike. – Chad Gorn
---
Edge of Sanity – Crimson
(1996; Black Mark)
Death metal mastermind Dan Swanö has always operated on a level well outside of the logical world (those who haven't delved into Pan Thy Monium should definitely explore its strange terrain). But with Crimson, his band Edge of Sanity brought not only a strong melodic core and accessibility to a sprawling single-track album (with track separations added on subsequent reissues), but a dose of humanity to a dystopian future narrative. Crimson's plotline is set in a future where humanity is unable to reproduce children, leading to earth's last child gaining magical, evil powers. Given that the album is meant to be listened from front to back—it's not like you can break a single off of this massive formation—the linear narrative carries what ultimately makes for 40 spectacular minutes of music. – Jeff Terich
---
Cynic – Traced in Air
(2008; Season of Mist)
The long-awaited follow up to Cynic's 1993 debut, Focus, finds their second phase launching them into a whole new orbit. The theme of the album is how time doesn't exist— a kind of metal album for Buddhist aliens. It flows rather than shreds, and the vocals shift from being robotic to more elf-like. But not Lord of the Rings elves, more akin to those pyschonaut Terence McKenna speaks of as being machine elves of the psychedelic dimension. The album is sonically heavier than Focus, but no less overt in its prominent jazz influence, with tracks like "Evolutionary Sleeper" showing they could defy time and be the band from the past and a band from the future at the same time. – Wil Lewellyn
---
Mastodon – Crack the Skye
(2009; Reprise)
It makes perfect sense that the first album in which Mastodon fully embraced progressive rock as an aesthetic—before fully transitioning into hard rock as they did on their last three albums—is the one with the most far-out, astral themes. Following a series of sludge albums centered around man's epic battle against nature (including their 2004 masterpiece Leviathan), Crack the Skye found Mastodon blending the personal with the "ethereal world," as bassist/vocalist Troy Sanders put it. There's a long and complicated plotline involving a paraplegic who travels via astral projection, wormholes, a golden umbilical cord, reincarnation in Rasputin's body…there's a lot going on. The details can always be caught up on later, but with highlights like the dark and soaring "Oblivion," the galloping "Divinations" and the colossal closer "The Last Baron," it's worth the repeat cosmic journey. – Jeff Terich
---
Blood Incantation – Starspawn
(2016; Dark Descent)
Colorado's Blood Incantation have become the poster band for alien-invasion death metal, so much that they've essentially become Metal Twitter's favorite meme. It's affectionate, of course; if the band didn't shred, they wouldn't be worth joking about. And their 2016 album Starspawn, an epic mix of cosmic horror themes and utterly jaw-dropping feats of death metal majesty, is one of the decade's highest peaks for extreme metal. Of course, the pulp-novel alien figure adorning their latest album seems to suggest that they're winking back at us, but their musical ability, combined with some of the best contemporary metal songwriting, finds them reigning over a specific but highly advanced space-death kingdom. – Jeff Terich
---
Oranssi Pazuzu – Värähtelijä
(2016; 20 Buck Spin)
Admittedly, the lyrical content of Oranssi Pazuzu's music is pretty hard to decipher unless you're fluent in Finnish. So it's probably best to rely on the band's own words in describing the central narrative of 2016's masterful Värähtelijä, whose title translates as "resonator": "The 'resonator' refers to an organic alien symbiosis inside your guts, that is growing inside and changing you, and in the end you lose track of your identity. As the album title, it naturally refers to the resonance that the album induces between the listener and the cosmic horrors of the mind." Alien causes psychedelic freakout—got it. Though interpreting that comes pretty naturally given harrowing journeys like stunning opener "Saturaatio" and the mind-bendingly intense "Hypnotisoitu Viharukous." – Jeff Terich
---
Artificial Brain – Infrared Horizon
(2017; Profound Lore)
Well, it's kind of right there in the name: The phrase "Artificial Brain" essentially connotes a kind of dystopian, the-robots-have-come-to-kill-us future on its own, without much of a deeper examination. In fact, that's almost exactly the theme behind Infrared Horizon, except for the fact that humans have gone extinct and the universe is populated by robots and cyborgs. Which is a grim thought, if a possibility that seems increasingly less outrageous the weirder and more terrifying technology tends to get. Then again, Infrared Horizon is also simply a kickass technical death metal album that harbors the alternately melodic, complex and avant garde sensibilities of innovators such as Gorguts and Krallice. – Jeff Terich
---
Tomb Mold – Manor of Infinite Forms
(2018; 20 Buck Spin)
Tomb Mold is a perfect death metal band name. It's grim, involves death, and is generally kind of gross. Though the lyrical content of the band expands well beyond classic horror tropes into conceptual cosmic threads, some of which are more metaphysical than purely sci-fi. (A nugget from the epic title track of their 2018 album Manor of Infinite Forms: "Bear witness to the manor of infinite forms:  Timeless/ Chaotic/ Destructive.") Indeed the Canadian death metal act seeks out forms of inspiration beyond the obvious, whether it's space-age philosophical musings or type-o teleportation in the case of "Blood Mirror," all of which form a psychedelic thematic spiral at the center of what are ultimately some of the most badass death metal bruisers in the past decade.    – Jeff Terich
---
Support our Site—Subscribe to Our Patreon: Become one of our monthly patrons and help support an independent media resource while gaining access to exclusive content, shirts, playlists, mixtapes and more.