It's Rock 'n' Roll: An Interview with Torche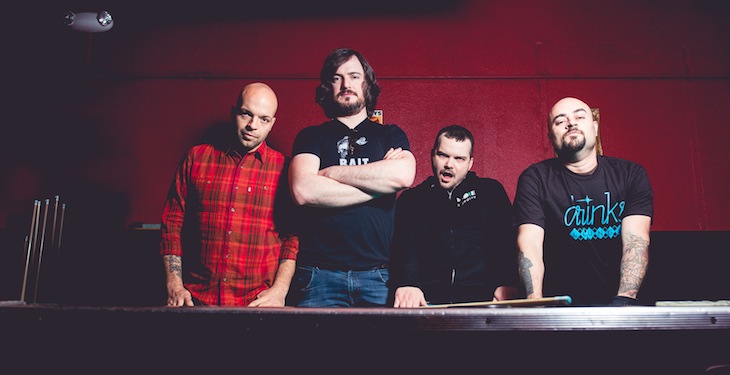 "It's a unique lifestyle, and not everyone can do it."
It's midnight in Miami, on a Tuesday night, when Torche bass player Jonathan Nuñez is finally able to get out of the studio. He's been recording another band, House of Lightning, featuring his bandmate Rick Smith, and Torche singer Steve Brooks' bandmate in Floor, Henry Wilson. And when he's finally able clear some time out for a late-night phone call, it'll be one of the last blocks of open — if not necessarily "free" — time he has before the band is back to full-time touring mode, with month-long excursions planned for both Europe and the eastern half of North America.
As the release date of Torche's new album, Restarter, hovers just a few days over the horizon, Nuñez has a full plate — not necessarily a surprise coming from a musician in a band that has not only released an impressive amount of material in 10 years (four albums, four EPs, a demo, two splits and at least five singles), but continually evolve and mold their pop-informed heavy rock sound into new shapes every time they emerge from the studio. Yet it's not a reputation for being workhorses that Torche has cultivated over the past decade. Through albums like 2008's Meanderthal or 2012's Harmonicraft, they've presented themselves as a good-humored, hook-heavy alternative to the sometimes self-seriousness that plagues metal. They're a party band, and their style of blistering, no frills, on-to-the-next-one live performances is more like that of The Ramones than Opeth.
You don't build up a catalog like Torche's without a little elbow grease, however. And with the band split up in different cities — Nuñez and Smith in Miami, Brooks in San Francisco, and guitarist Andrew Elstner in Atlanta — it requires more effort on their part to make it happen. But the longer they work together, the faster and more straightforward the process of hammering and forging their unique shape of metal becomes.
"When everyone's together, we're not wasting any time," Nuñez says in a phone interview from Miami. "We definitely work faster [together], because the pressure kind of is on. 'I flew in yesterday, I fly out seven days from now. Let's write one or two songs a day.' We're pretty intense and there's no filter as far as anything goes. If there's an idea we let each other know if we like it immediately. Or what could make it better."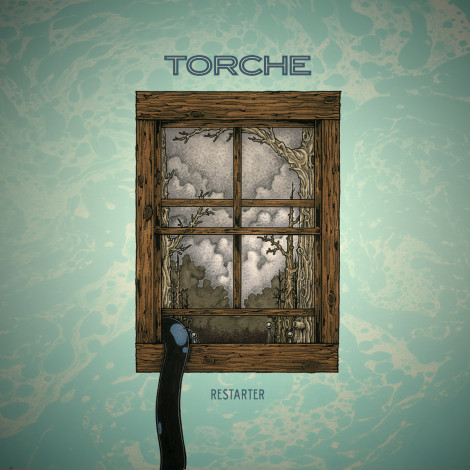 If a week is all Torche needs to come out of the studio with something as powerful and pummeling as Restarter, then lord help us if the quartet should ever be blessed with a month dedicated to nothing but songwriting. Their fourth full-length, Restarter is easily the heaviest of the group's records, as well as the one that by and large boasts the slowest tempos of any Torche record. Not that the group has shelved their high-speed barnburners at all; the trio of "Bishop in Arms," "Loose Men" and "Undone" are, combined, five minutes of fists-in-the-air rock 'n' roll joyriding.
But the band wears their sludgier mantle well this time around, using these slower tempos and heavier textures as a foundation for letting even more detailed and rich arrangements to emerge. "Minions" doesn't race toward its climax, but after three minutes of satisfying chug, the band clears a path for some transcendent and psychedelic riff trails. And the kraut-beat title track almost approaches shoegaze with its heady layers of guitars and effects, making its evolution from driving to hypnotic over a gradual but consistently engaging eight minutes.
Restarter sounds considerably different than the band's last album, Harmonicraft, and that's by design; once a Torche album is in the books, it's time to try something new.
"We're definitely always our own harshest critics," Nuñez says. "We're happy with our records because we put in work. And we make sure we give it everything we have. But when it's done, now it's on to the next thing. We'll start saying 'on the next record it would be cool to do this'. And then we'll forget about it for a while because we've been touring.
"With us, trying new things, or taking it on the road – the actual sonic aspect of the band can influence when you start writing a riff," he adds. "The sound of your equipment can start influencing the vibe. It's a really interesting relationship a player will have with his instrument — the tuning, the tone of the amp, or the pedals. So I feel in the last couple years our sound started to change. Subconsciously there's someone back there taking some notes … you're not vocalizing it with everybody, it's just kind of in your brain. You have this agenda of what you want to play."
Restarter is the band's first release on Relapse, a venerable outpost for metal music that turns 25 this year. And before Torche arrived there, they went through a period of leaping from one label to the next — first Robotic Empire, then Hydra Head, and later Volcom, whose label has since been retired. And in a way, the move to Relapse almost feels like validation after 10 years that Torche belongs in the hallowed halls of metal's iconic artists.
It's not that simple, though. To draw such a conclusion would be to decide, conclusively, that the band's unconventional mix of stoner rock, pop, punk and psychedelia is, in fact, metal. And not even the band is really ready to draw that line.
"To us, it's definitely rock 'n' roll," he says. "If you take the classic bands that everyone's heard, like Sabbath or Zeppelin, they had an array of songs. Loud, quiet, upbeat, really slow — that's what makes a record.
"A lot of bands, whether it's what they're going for or not, feel kind of like… they stick to a formula," he adds. For people like us, who are into so much different music and so many different ideas and approaches — and all the different things we've been exposed to… why would you want a song to be just like the previous song, and the song before that? If you're going to have 10 songs that sound the same, to me that's not appealing. It's tiring."
Torche may or may not conclusively be a metal band. They are, however, a group that plays loud, heavy, and with an emphasis on making the listening experience both consuming and a lot of fun. And in those moments where the fun takes over — their hook-forward, driving, most unapologetically rock 'n' roll songs — they make it sound effortless. But it takes a lot of work to get to that point — work that couldn't be done without the commitment and camaraderie that go into everything Torche does.
"It's a long process – getting together, finding the right musicians, finding your sound," Nuñez says. "It takes a lot of hard work, a lot of sacrifices but it's rewarding when you're writing, what I feel, is honest music.
"When you're doing it because you love doing it, and you bring out your creativity and your personality and put it into the music — and people enjoy it — It's not like any other experience."
You might also like: