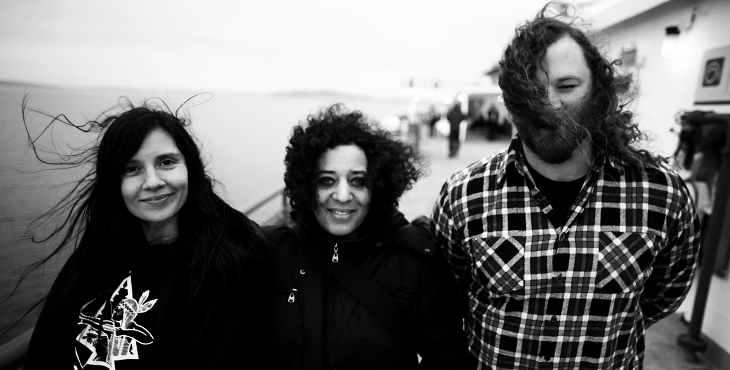 When Hydra Head Records announced in fall 2012 that they were no longer planning to release any new music, Seattle metal/post-hardcore trio Helms Alee suddenly found themselves without a label home.
The band — comprising guitarist/vocalist Ben Verellen, basisst/vocalist Dana James and drummer/vocalist Hozoji Margullis — had released two excellent under-the-radar releases on the revered Los Angeles metal imprint: 2008's Night Terror and 2011's Weatherhead. And just when it seemed the band had begun to build up a full head of steam, this setback found them in the unenviable position of trying to figure out what to do next.
"We didn't know what we were going to do," says Verellen in a phone interview with Treble. "We knew we were going to keep playing. It's kind of hard to say how it would have gone.
"It was scary," he continues. "It took the steam out of the band for a minute."
Rather than wait for the right label to come along, however, the three musicians took matters into their own hands and started putting the wheels in motion for setting up their own label entity to release their music. They paid the license fees to start a business, launched a Kickstarter campaign to fund the recording of their third album, and by mid-2013, the group seemed ready to take on the challenge of financial autonomy.
But like unseasonable warmth on the day you remember to bring an umbrella, Los Angeles label Sargent House signed the band just as they were ready to take the plunge into label ownership — a fact that Verellen says may have saved the band a lot of trouble in the long run.
"[Running a label] is a ton of work, is the main thing we figured out early on. And it's really expensive to do well," he says. "And really time consuming. We're not just sitting on our hands enough to be like, 'We started this thing, so maybe we should put out records by our buddy bands.' That sounds awesome, but it sounds… distant."
Helms Alee's first album for Sargent House, Sleepwalking Sailors, is the band's best yet — a powerful mixture of soaring rock anthems and booming metal heaviness. But it's not an easy one to pin down. The band has long evaded heavy metal traditionalism in favor of a more nuanced approach, and while Verellen can let out a mighty roar on tracks like "Pleasure Center" and "Pinniped," there are just as many moments like standout "New West," in which a subtler, almost shoegaze-like sound takes over.
Verellen spoke to Treble on a rainy February afternoon, about the new album, defining the band's sound, and how their sense of humor is an important part of the band's image.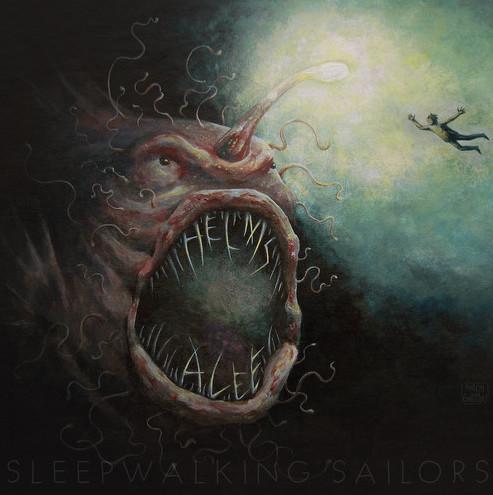 Treble: When you started to work on Sleepwalking Sailors, was there a specific direction that you were following?
Ben Verellen: Not really, no. I think if the way it works for us is, we practice pretty regularly three times a week. After a few years of doing that, we kind of looked around and said, we have enough music to do a record. And I think that the songs kind of dictate what's in the record and what the record's gonna be instead of, let's make this record. Let's make a really pissed off record or a little noodly one. If we stay around for long enough then we'll have enough music to do something with.
Treble: Compared to Weatherhead, it feels like there's more space on this record, and occasionally some even more aggressive parts.
BV: Man, it's so funny. I always think that we're drifting in one direction farther than another. Like "All these songs are too mellow or pissed off" or whatever. But then it turns out I'm wrong. Like, all these songs are really mellow. But there's a bunch of noisy screaming and weirdo stuff. I have a pretty separated understanding of all that stuff.
Treble: Is it easier to get some perspective on an album after it's done?
Totally. Yeah, for sure. I think it would take a few months before you can actually hear something without having your head stuck in it. Especially when we were recording, and we were doing all these other songs. I couldn't keep straight which songs were going on what. And it's funny because a few months later and it's all being manufactured, the vinyl shows up and you listen to it, and you really take it in. You hear it how it stands as a standalone piece of music. And it's like 'oh, it's cool how that goes into that'. It's ridiculous how unintentional some of the things end up.
Treble: Humor seems to be a pretty important aspect of the band's identity — is it important for that to come across in what you do?
BV: I appreciate a lot of music that's really serious, and you know, in a way, nobody wants Slayer to be silly or whatever. But we're just not like that. It would not be believable for us to be standing in front of a brick wall, vibing the camera and standing in the shadows. It just – we're just way too goofy for that to come across. So we might as well just embrace our ridiculousness.
There's plenty about the band that's sincere and heartfelt. But it's first and foremost about getting our rocks off. We're not the Descendents — we're not singing about fart jokes. There's a time to… I guess, if you have something important to say, say it. But I'm a human being. If you're not serious all the time, I think it's important to acknowledge that.
I think it's weird, especially when heavier bands feel like "My favorite band is Neurosis, and they look frightening, so they must be frightening in real life" People are just… everybody's so different. I think people would be better off if they embraced everything about them and the relationship with their bandmates that makes them unique.
Treble: Given how non-traditional a heavy band Helms Alee is, do you still consider yourselves a metal band?
I mean, I don't really try to think about it too much. I usually tell [people] it's a rock band with a bunch of singing and a bunch of screaming and a bunch of melodic stuff, and some guitars and bass and drums. It's kind of a weird one I guess. But I'm proud of that in a way, as much as it might be confusing and might make it kind of hard to find our place. I just… I don't know. I think for me, personally, it was probably mostly the combination of three different people from three different backgrounds that makes it kind of oddball.
We wouldn't be capable of pulling off any particular vibe like a heavy metal vibe effectively. We wouldn't do it well.
You might also like: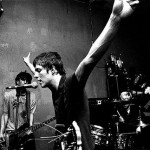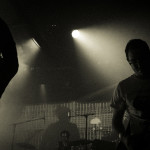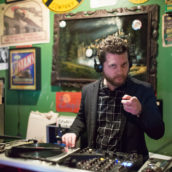 Jeff Terich
Jeff Terich is the founder and editor of Treble. He's been writing about music for 20 years and has been published at American Songwriter, Bandcamp Daily, Reverb, Spin, Stereogum, uDiscoverMusic, VinylMePlease and some others that he's forgetting right now. He's still not tired of it.