THEESatisfaction : EarthEE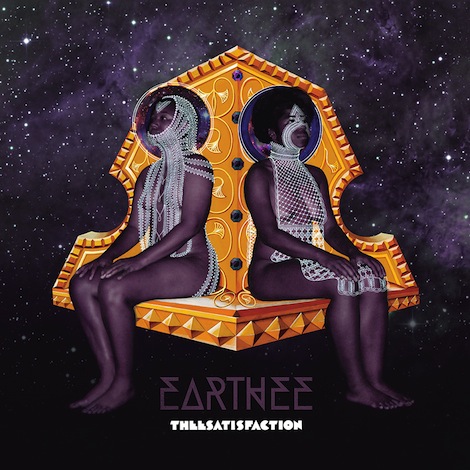 Within the first five seconds of album opener "Prophetic Perfection," you can sense that something has changed for Stas and Cat, the two Seattle-based musicians that make up THEESatisfaction. The beats have slowed down and the glitchy excitement of 2012's awE naturalE has waned, now replaced by a silky, interplanetary jazz that brings to mind Sun Ra or Herbie Hancock's work with The Headhunters.
There's an unavoidable sense of world building to EarthEE that goes above and beyond the aesthetic framework THEESatisfaction constructed on their debut. Fittingly enough, this elegant change in pace is most comparable to a similar move made by fellow Seattleites and collaborators Shabazz Palaces, as that group progressed toward their own sophomore effort, Lese Majesty. Both acts debuted quite solidly, only to blow those previous works out of the water by tightening their approaches musically and thematically. But while Shabazz Palaces increased the potency of their delivery with a verse heavy double LP, THEESatisfaction choose to give their musings ample room to breathe.
The album's opening statement alone — "Said the bird to the water/ May I take a sip?/ May I dip my toes in it?" — is a strong predictor of what's to come. EarthEE is a record about nature and society; history and evolution; provocations and permissions. Whether they're getting funkier on "No GMO," taking it slower on "Blandland" or diving deep into ethereal moments of spoken word on "Recognition," there's a sense that Stas and Cat are not quite of this world, but floating above it, observing. Cat's powerful alto and Stas' verses blend into one spirit, engulfing each instrumental and feature into one streamlined statement.
But to fall too deep into paranormal haze would be a mistake; for all its mystique and space-age glamor, EarthEE is, at heart, a heavily personal record. The album's centerpiece — the dark and swirling "Post Black, Anyway" — runs circles around its titular double entendre to create a statement of purpose regarding personal identity in a society that has often already decided what your skin color, gender or sexuality mean before you've even agreed to own that label. Earlier, as Cat croons "I'm a master/ With the tricks up my sleeve/ You must believe/ I will achieve/ Life times pass/ I still succeed," it reads less like braggadocio and more like the singer is questioning the visibility of her own worth. Because if there is one question mark among the plethora of exclamations to be found on EarthEE, it is "When is the world going to see me for me?"
EarthEE is a powerful record, crafted by two black, queer women in a time when many people would encourage you to think that it's easier than ever to be any one of those three things. But THEESatisfaction, through powerful metaphors and otherworldly imagery, are clever enough to reveal just how often all people are asked to hide behind that very sort of facade. EarthEE is too diverse and splendid of a record to be considered one note, but if there is a single idea to be cultivated from these thirteen tracks, it's that there should be no Earthly persuasion powerful enough to keep somebody from being who they truly are. I'm not sure if that message is the mission statement for the future of hip-hop but, from where I'm sitting, I couldn't think of a better moment for that to be the case.
Similar Albums:


Shabazz Palaces – Lese Majesty


Flying Lotus – You're Dead!


Erykah Badu – Erykah Badu : New Amerykah Part One (4th World War)