Time to Create: An interview with THEESatisfaction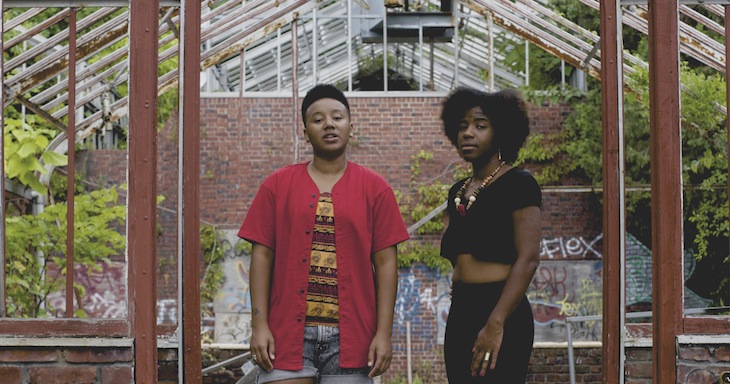 "I think it's time to create," Catherine "Cat" Harris-White says, toward the end of a call with Treble and THEESatisfaction partner Stasia "Stas" Irons.
The statement is simple enough, but seems to resonate with greater potential when filtered through Cat's warm tone. Even before the release of their breakthrough LP awE NaturalE in 2012, the duo exhibited masterful control of their artistic presence. Write-ups are keen to label Cat as the group's 'singer' and Stas as 'the rapper.' In practice, however, the two form more of an inseparable unit. While both artists are prolific and distinguished as solo performers and producers, there's something extraordinary about the moment the two step behind a song together — both women coo, croon, rap and recite poetry simultaneously, swirling around each other to form a mesmerizing whole.
Sophomore follow up EarthEE adds to that established canon by gifting the act's grooves with a little more room to breathe and injecting that space with layers of experience and experimentation. In the three years since awE NaturalE elevated the duo from local legends to nationally recognized artists, THEESatisfaction have traveled the world, sharing their music with new audiences and meeting places and people they only dreamed of encountering before. And this widened appeal has only emboldened the duo's creative spirit.
Stas and Cat have used this time between albums, taking advantage of their resources to promote solo efforts and facilitate creative spaces like their Black Weirdo Parties — curated creative spaces designed to bring out the best of underground culture new and old. More importantly, they've allowed themselves to grow and expand as individuals, remaining intact as a band without forcing that union to hold too many restraints on their lifestyles, creatively or otherwise.
"I moved out to Brooklyn," Stas explains. "I've lived in Seattle my whole life, and I just wanted to pick up on some different vibes and, y'know, have some different experiences. So I know, for me, just hearing the different sounds, being on the train and, like, being in a different environment and community, it influenced my writing a whole lot."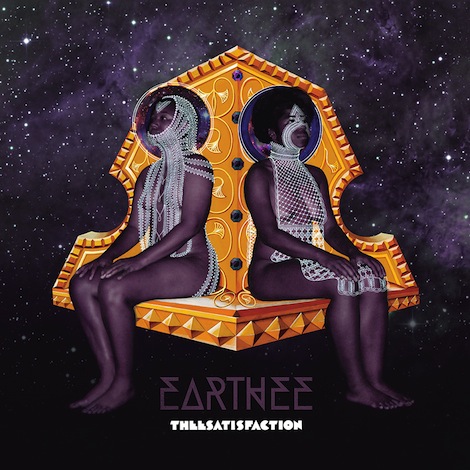 There's a kind of beautiful irony in how, recording as a bi-coastal unit on EarthEE, Cat and Stas sound more intertwined than ever. While the duo is clear in interviews that their romantic adventure together has come and gone, their artistic entanglement appears to be in full blossom and bearing its most complex and powerful fruit to date. Even under the shadow of influences like Sun Ra, Herbie Hancock and Erykah Badu, they carve out a distinctly modern niche in the realm of psychedelic soul, blending hip-hop, poetry and R&B into a decidedly mystical haze.
The success of EarthEE owes a lot to the duo's collaborators, who help create a thick sonic fog for the listener to get lost in. But what's interesting about the way THEESatisfaction work is that, even though the record boasts some outstanding guest appearances, not once does their presence feel like a shadow over Stas and Cat's work. The duo are careful to not force collaboration. They don't chase down or premeditate their features, preferring to let partnerships form naturally — an approach that lends itself well to the artists' fluid songwriting style.
"We already really knew that we wanted to work with Shabazz [Palaces] again," Cat says, "and Erik [Blood, the record's co-producer; frequent collaborator with Stas, Cat and Shabazz Palaces] is kind of a no brainer because he really knows our sound and just knows how to get things right for us.
"We reached out to our friend Taylor Brown, Tay Sean, from Seattle," she continues. "He plays some synth, which is not really something he's known for. We just wanted to experiment and expand our live instrumentation, especially since Stas and I approach making beats differently on this project."
"We wanted to make sure that we grew as musicians and artists," Stas adds. "I don't think we kind of have a concept or an end goal. We try to keep everything as free and loose as possible. We had a couple songs that didn't make it to awE NaturalE that were included on EarthEE, just because we wanted the two albums to be kind of related to each other. But, other than that, we just jammed out. Sometimes Cat would make a beat and send it to me, or I would send her something. Or Erik would have an idea on something, and we really just kept it open."
That's not to say EarthEE lacks for monumental alliances. For a duo as well-received as THEESatisfaction, "keeping it open" attracts some pretty heavy players, including Meshell Ndegeocello and Peter Lynch, who contributed bass and trumpet to the record, respectively. Both artists, previously strangers to Stas and Cat, found their way onto the record through social media.
"That was just something — a gift from the Universe," Cat says about working with Lynch. "We met from the internet, through text messages and Twitter and random things like that. We didn't meet until after recording, actually. It was just really a gift from the universe how the record came together. You don't really search too hard for people to collaborate with. There's a lot of people we like, but it all happens in due time. This record just kind of came together really peacefully."
But for all their emphasis on a loose and open writing process, it's important to remember that Cat and Stas are two incredibly gifted writers with some powerful and potent impressions to make. This is, after all, a duo formed by two queer, black women; identities that still receive pushback in the music industry, much less the world in general. EarthEE bounces from topic to topic in such a fluid and delicate matter that it would be easy to get caught up in the melodious poetry of it all. But the duo hit hard, tackling topics ranging from the misappropriation of hip-hop culture on "Blandland" to the commodification of 'green' living on "Save the Planet." Even some of the record's most seemingly straightforward moments, such as album centerpiece "Post Black Anyway," are often shrouded in layers of cultural nuance.
"While we were writing for the album, I spent a lot of time on Twitter," Stas explains. "I think it's a useful tool to find out information immediately, especially with hashtags and the little communities that we place ourselves in, and the people that you can block, and the people that troll your account. It's just ridiculous. It's a fun game. So, with 'Post Black [Anyway]' I was literally talking about black Twitter, and this was happening around Mike Brown, Eric Garner murders and a lot of people were looking to Twitter to find out information on what was going in Ferguson and in New York, so it was literally people posting about black lives mattering and literally posting black, and it was also just a play on the post-racial society, or post-black, which is something that doesn't exist. That was my little junk."
Stas and Cat's vocals on EarthEE can often come off as understated: Layers of poetry masked beneath production that creates something comparable to a psychedelic, alt-R&B shoegaze. But in each of their compositions lies a fierceness — the discernible bravery of two artists putting themselves forth in a world that doesn't always seem quite ready for who they are. Toward the end of the call, when asked about what artists should do in a time where the Internet has made all people more aware of each other's struggles — more observant of sociopolitical events like those surrounding Ferguson, Missouri in 2014, or Indiana in the past month — Cat offers "I just think it's time to create," before pausing to reflect and reiterate herself:
"I just think it's time to create," she says. "It's definitely time to express ourselves as much as possible and be fearless, because people are going to do what they want to do. It's kind of how it's always been. We just need to voice our opinions and our creativity in whatever way that we can. I think that's something that Stas and I have always believed in. I've always believed in that. Getting your voice out, however possible, in order to find yourself and really heal in these times that seem open, but aren't as open as you'd like them to be."
"Just learn more about your craft and what you want to do," Cat adds as we wrap up our call.
"Because most things are possible."
You might also like: