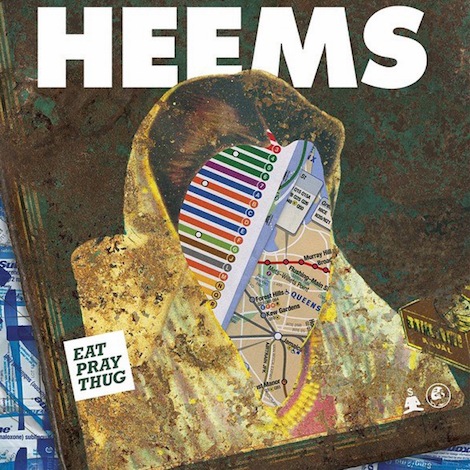 When Himanshu "Heems" Suri describes his major label debut album Eat Pray Thug as "post-9/11 dystopian brown man rap" in an interview, it doesn't sound pretentious, or even like a joke. (Though I Imagine Heems has his tongue at least a half-inch in his cheek when saying it out loud.) It's frankly inspiring. Because despite the dire "real hip-hop head" opining about hip-hop's direction and the diluted anemia of the Wiz Khalifas and Tygas atop its charts, rap's cultural dominance has allowed it to introduce a wider range of voices, perspectives and sounds than most of us ever could've imagined. Heems is yet another example of this.
The macro and micro realities of NYC existence have always been a part of Heems' music. Here they take a darker turn than many listeners who hear the description "solo album from Das Racist dude" might expect. This is clear right from the second track, "So NY." If you're listening casually, it sounds like one of the album's more light-hearted, bohemian-anthem tracks, but this bomb lurks within: "I'm so New York, yo, I live with my momma/Had to leave Williamsburg and all the white drama/Had to leave my home, they kept callin' me Osama/Had to leave home 'cause of drones and Obama." Unsubtle, but both effective and affecting. Later tracks like "Flag Shopping," "Suicide By Cop" and the biting closer "Patriot Act" more or less drop all humorous pretense and go for the throat, making for some of the most fascinating explorations of identity politics in recent rap history.
Slightly less successful are the songs delving into relationship issues, like "Home" and "Pop Song (Games)." It's not that Heems can't discuss these subjects — he certainly has before, and in any event he's not exactly trying to pull an Atmosphere. But compared to the incisiveness of the rest of the album, these tracks don't cut as deeply, and the '90s-house sound of "Pop Song" sticks out like an MDMA-dusted sore thumb from Eat Pray Thug's overall sound.
If you're looking for the droll comedy and musical hodgepodge/flipping-through-the-radio vibe of the Das Racist releases, you won't find it here, but don't be alarmed. Heems chooses to dive headfirst into his emotional baggage and razor-sharp sociopolitical/cultural insight, eschewing the use of humor as a crutch without eliminating it entirely. Personal observations and political commentary aren't new for Heems — as listeners of his Wild Water Kingdom and Nehru Jackets mixtapes will know — they're just more dominant here. And Heems hasn't stopped being a machine gun full of cultural references — which, alongside Kool A.D. and Dapwell, made Das Racist seem like an Adderall-fueled Paul's Boutique — and this helps keep the proceedings from becoming overly grim or preachy.
The production, handled by a ragtag crew including Harry Fraud and Dev Hynes, is more sonically cohesive than any previous Heems work. Perhaps the best comparison is the early-to-mid 2000s output of Definitive Jux, El-P's sadly defunct independent collective. Rappers like Cannibal Ox, Aesop Rock, Camu Tao and El himself tackled similar issues of American sociopolitics through a distinctly sardonic New York perspective, with beats that often sounded like Parliament and Nine Inch Nails' bastard offspring. Eat Pray Thug would fit right in with Def Jux classics like The Cold Vein and Fantastic Damage. Hints of traditional boom-bap, skittering Southern trap percussion and South Asian sounds are also present throughout. Highlights include the creeping horrorcore piano and grimy bass synths on "Flag Shopping," the exuberant polyglot bounce of first single "Sometimes" and the murky funk of "Al Q8a."
Like Heems' previous work, Eat Pray Thug won't be for everybody. Those looking for traditional bars and flow may well be driven batshit. Heems (who once called himself "worst rapper on this track, but third coolest") has never worried about staying perfectly on beat, and on "Patriot Act" he pretty much abandons "rapping" in any typical sense. Sometimes this is more awkward than endearing. The production may also be alienating to such listeners, as it almost certainly will to anyone looking for a clear single, and the album's end is somewhat abrupt. Finally, anyone who has alarm bells go off in their head at the thought of "hipster/blog rap" will probably hear them upon firing up this album.
Those who stick around will enjoy a substantial album, the product of an artist who's trying to more critically examine his political, personal and sonic obsessions. It's not an easy listen, but its adventurous sound, Heems' thoughtful, endearing and witty persona and brevity (under 40 minutes) prevent it from ever becoming a slog. Even at this early stage, it seems 2015 is set to have its fair share of marquee rap releases, but Eat Pray Thug is too intriguing to be ignored now or forgotten later in the year.
Similar Albums:


El-P – Cancer 4 Cure


Danny Brown – Old


Kool A.D. – Not OK