Cannibal Ox : Blade of the Ronin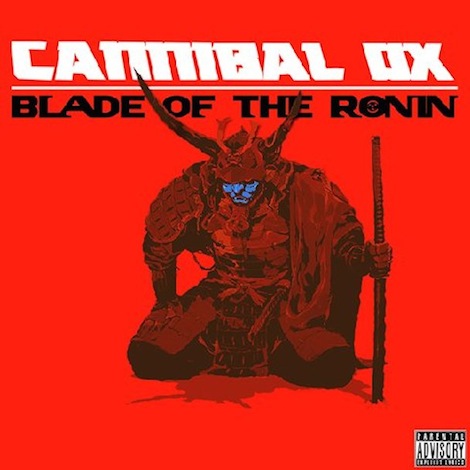 To say that "good things come to those who wait," is true more often than not. And thanks to social media and a limitless amount of information accessible at any time, legends seemingly never die, either. These days, counting anyone out is not only unfair, it's downright ignorant.
To call Cannibal Ox — MCs Vast Aire and Vordul Mega — a legendary hip-hop group is complicated. The Harlem duo released only one album, 2001's The Cold Vein, up to this point. But the release was seminal enough to gain instant credibility as one of the best offerings of New York's avant garde hip-hop scene. The Cold Vein's stimulating beats and sounds have stood the test of time by finding a perfect medium between sounding unstable and covered in lush cream. Cannibal Ox had the production wizardry of El-P, who, rising from Company Flow's ashes, took Vast Aire and Vordul Mega under his wings before exploding into an immaculate career of solo albums and creations that is now running as strong as ever with Run The Jewels. In November 2012, when Cannibal Ox announced a follow-up to The Cold Vein, Vast Aire told Billboard that the duo had "fallen out of touch" with El-P, who said this in a May 2011 Facebook post: "There won't ever be a can ox album produced by me again and that's a fact."
Time goes by, people change, and by choosing a different producer, Bill Cosmiq, Cannibal Ox assured that Blade of the Ronin would be different. It only takes a few listens to determine that Blade of the Ronin is the lesser of Cannibal Ox's two full-lengths. But since The Cold Vein is remarkable, Blade of the Ronin is great when taken on the scale of hip-hop as a whole. The Cold Vein's sounds and beats had more variation from song-to-song; Blade of the Ronin is more like one long bass-induced rap with hallucinating elements being pulled along from behind.
Bill Cosmiq doesn't blow minds like El-P, but his dark moods and laser-like synthesis provide an ample battleground for Cannibal Ox's beat poetry beat down. Vast Aire has one of the most recognizable voices in rap, an astute preacher that is not reluctant to brag ("I'm no average rap God"); that's why all of his ex-girlfriends still love him. Vordul Mega knows how to let raps roll smoothly off of his tongue; he's less aggressive than Aire and maybe more sympathetic ("don't let anything that irritates hurt you").
Vast Aire gives a good example of Cannibal Ox's companionship on Blade of the Ronin's "Iron Rose": "I'm a bloodsucker / I feed on the souls of the dead MCs as Mega burns your scrolls / I'm a pedal from an iron rose, my kung fu is the iron robe." Cannibal Ox came from a shitty "New York Gritty" block, smoke the spinach, and still throw down after 14 years of recorded silence. El-P's absence has put more focus on Aire and Mega as they try to feed truth serum to other rappers.
Similar Albums:


Atmosphere – Southsiders


Aesop Rock – Skelethon


GZA/Genius – Liquid Swords