Earl Sweatshirt : I Don't Like Shit, I Don't Go Outside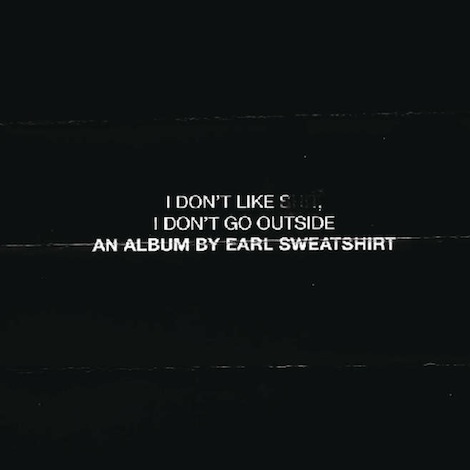 Whether it's truth, fabrication or somewhere in between, any rapper worth their bars has a killer backstory. But Thebe Neruda Kgositsile, a.k.a. Earl Sweatshirt, never had much of a say in the way his narrative was distributed to fans or the media. After notable appearances with Odd Future and a well-received debut mixtape earned Sweatshirt wide-spread fame at the age of 16, the rapper disappeared overnight. Sent to a strict boarding school in Samoa (by demand of his mother, a UCLA law professor), Sweatshirt had no contact with the outside world, and rumors of his whereabouts festered via word of mouth and the occasional news update. Even after his return to the music industry Sweatshirt's narrative was set in stone for him: The young emcee was enrolled against his will, and now that he had returned it was time for him to start back where he had left off. Sweatshirt jumped back into his relationship with Odd Future and crafted his debut studio effort, Doris, the way most OF records are made: With a heavy emphasis on collaboration, OF features and mild-to-heavy obscenity.
Jump forward less than two years, and Sweatshirt seems to hold some reservations about that approach. It's not that I Don't Like Shit, I Don't Go Outside feels like a backwards move by Earl, or even a major diversion from Odd Future's collective catalog. But when you compare the credits of each record, the difference is distinct. Under his randomblackdude pseudonym Sweatshirt produces all but one track with no co-production, crafting a vibe that is more sonically obtrusive and avant garde than the majority of Doris. And while Doris included eight featured rappers (many of which popped up multiple times), I Don't Like Shit keeps it down to a slim four guest verses, focusing on young, up-and-coming emcees rather than well known names. In fact, the only other Odd Future artist on the record is Left Brain, who provides production for "Off Top." If Doris was an indie film, I Don't Like Shit is mumblecore.
For Earl, those perimeters seem self-disciplined, not forced by restraints of time or budget; I Don't Like Shit, I Don't Go Outside is a cage in which Earl Sweatshirt finds his own voice. By vastly limiting his resources and focusing on what he can create as an individual, he winds up with a sparse, dark personal profile that proves the emcee to be more nuanced than many listeners previously anticipated. He doesn't completely negate the narrative set for him or abandon Odd Future on the whole — lines like "It's Golf on that/ bitch, it's Golf on that ball cap" ("Wool") make his allegiance crystal clear. Rather, I Don't Like Shit is the musical embodiment of Earl coming out on his own after a year spent inside his own thoughts; these 10 tracks are bursting with complicated lines involving Earl's fame, friends, family and drug abuse. A line like "Disobeying the doctor/ The good guy prescribe/ faith never caught 'em/ chasing these rabbits/ whole face in a faucet" ("Faucet") lands with a self-critical snare while exclamations towards the end of "Grief" swell with overwhelming pride and determination ("Snakes sliding in the street/ Mama taught me how to not be/like the bodies lying in them").
I Don't Like Shit, I Don't Go Outside feels like the first Earl Sweatshirt outing where the young emcee is truly in charge. But as much as Sweatshirt seems empowered and emboldened by this control, the record plays out more like a journey than a destination, with Sweatshirt continuously finding his voice but not always landing his tracks for a solid finish. But if tracks like "Grief" are any indication, that destination is going to be one dark and profound LP. The only question left is when Earl is going to arrive.
Similar Albums:


Mellowhype – BlackenedWhite


Badbadnotgood – III


Earl Sweatshirt – Doris