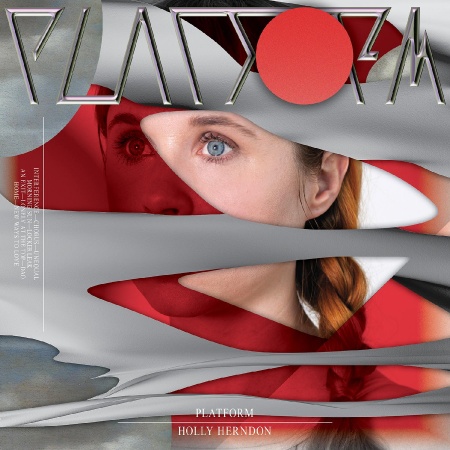 Holly Herndon, an MFA graduate with an appetite for experimental performances, seems just as obsessed with the process of creating music as the end result. Known for intertwining outside field recordings with software patches built into programs like Max/MSP, the divisive clash between the digital world and humanity on her newest record, Platform, has never been so unexpectedly harmonious. Following a three year interim after Herndon's last album Movement (a record that, while jarring, provided a more abstract counterpoint to darker cohorts Oneohtrix Point Never and Laurel Halo), the techno tapestry weaved on her latest record is punchier, moodier, and more refined.
Even so, her fractured portraits of human modernity remain something of a musical Duchamp's Fountain, demanding interpretation but defying it at the same time. Herndon's period at Mills College will undeniably be touted as the defining context surrounding the intellectual challenge of her work, which is not necessarily a bad thing. As things are, her formal training is somewhat of an anomaly in an otherwise untrained world of indie musicians, empowering her in a relatively homogenous crowd. This unique sensibility is immediately apparent from the opening listless hiss of "Interference," persisting up to the helicoptering sample that concludes "New Ways to Love." The complexity and linear progression of each song on Platform are, without a doubt, inspired by an advanced understanding the relationship between the artist's instrument (in this case, an aging MacBook) and the listener's experience (which is still very likely to be on a laptop or phone).
Those expecting a more accessible album will be mining deep into a flurried stratum of stuttering synths and glassy keyboards to find the pop underpinnings. Much of the melody is carried through the acid house thump of sub bass grooves; Herndon's voice, while providing an interesting counterpoint to the Apollonian display of icy beats and fragmented choir chimes, rarely ascends above the mix to lead each song. There are a few noticeable exceptions to this rule however: "Morning Sun" is an angelic take on the hypnagogic transition between wakefulness and dreams with simple, inviting lyrics imploring the listener to "wake up"; and "Home" builds into a crescendo of mish-mashed vocal poetics, providing an overwhelming experience that still manages to satisfy despite landing in a completely unfamiliar musical landscape by its end.
In fact, many of the tracks on Platform end up taking on different forms mid-song, almost as if in a state of perpetual transition. Herndon insists on squelching the common use of repetition, giving the rare use of a chorus an ear-gratifying power. Of course, this manifests itself most effectively on "Chorus" — a lead single that sputters to life after a series of glitched-out voices dance round the fringe of the track. Elsewhere, Herndon dabbles in spoken-word; the monologue behind "Lonely at the Top" comes across a pointed critique at the therapeutic nature of using escort girls or masseuses to boost your ego. As lonely as the top maybe, there is no excuse for abusing your power.
The idea that electronics and computers might replace traditional instruments, such as guitar or drums, might have ran rampant in the eighties, but seems foolish now. Ironically, that possibility has never been more likely than with the arrival of albums like Platform and R Plus Seven. Herndon's intoxicating avant-garde stylings are able to approximate the implicit, strange, and uncomfortable minutiae of the human condition in a way that only electronic manipulation can. Platform is largely an enigmatic array of computer fireworks—often putting up a lively shroud, rather than revealing the deeply personal inner-workings of Herndon's character. Still, that shroud is something to behold.
---
Label: 4AD
Year: 2015
---
Similar Albums:


Oneohtrix Point Never – R Plus Seven


Aphex Twin – Syro


Laurel Halo – Quarantine