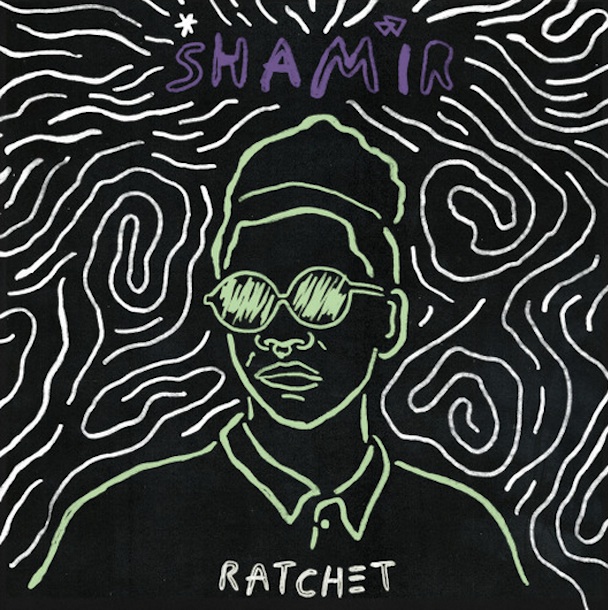 It's fair to say that mainstream radio pop songs have largely become lifeless. Many of them are barely distinguishable from one another, the major-label hit factory having long since grown sterile and predictable. Not that this is true of pop music on the whole; pop music has the ability to be engaging and appeal to everyone. There are some artists that slowly creep up on the radar and churn out records that are not only engaging, or interesting, but full of life. Shamir's Ratchet is one of those records.
A 20 year-old singer from Las Vegas, Shamir Bailey has been making music during his adolescence. He started out in punk bands and tried his hand at country music, but Shamir's path led him to crafting dance-pop songs that are both remarkable and engaging. While trying to land a label deal, he crossed paths with producer and head of Godmode Records, Nick Sylvester. Sylvester, impressed with Shamir's demos, was interested in producing, in his words, "real songs." The result was last year's sleeper hit EP, Northtown, which provided a small glimpse into what this young, up-and-coming artist could offer. A year later, his debut album Ratchet has arrived—an instantly enjoyable record primed to be a summer soundtrack. Ratchet is quite the opposite of what its title is really meant to imply. Rather, it's an album filled with an abundance of energy.
One of the hot topics surrounding Shamir thus far has been his voice, and that's unlikely to change with this record. Sure, it might be surprising and unexpected since it is coming from a man. He's been called androgynous, which is a comment Shamir doesn't oppose. However, the correct term would be countertenor. For lack of a better description, his voice blurs lines, but his vocal exercises aren't too far removed from what Prince has done with his vocals. Despite a friendly and optimistic appearance, however, Shamir doesn't seem to give a fuck about outside opinions. Banger "On The Regular", filled with some unique raps and biting humor (Check the verse: "Haters get the bird, more like the eagle"), features him exclaiming to the world, that he's comfortable with his unique identity. Similarly, "Call It Off," another exceptional track filled with its bouncy beats and droning synths, is probably the best break-up song conceived in recent years. Even his ballads are intriguing, such as "Demon," a melancholic tale of two lovers leading a life of destruction, or the minimalist "Darker." He can do buoyant and outsized, but these two tracks are a testament to Shamir's willingness to expand into much more mature territory.
Shamir's ability to adapt to different styles is actually one of the most appealing aspects of Ratchet. While it's consistently fun and listenable, Ratchet is highly ambitious; Shamir isn't afraid to move into different musical landscapes. He presents an interesting dynamic, and the album suggests that he could be one of the few artists to easily bridge the gap between rap and pop music more smoothly than other artists have tried in the last decade. Ratchet is dance-pop's next best thing.
Similar Albums:


Azealia Banks – Broke with Expensive Taste


Ibeyi – Ibeyi


Lo-Fang – Blue Film